The sixth virtual meeting of oral history of Iran
Methods of Compiling and Writing Oral History – 4
Compiled by: Iranian Oral history Website
Translated by: Fazel Shirzad
2022-08-30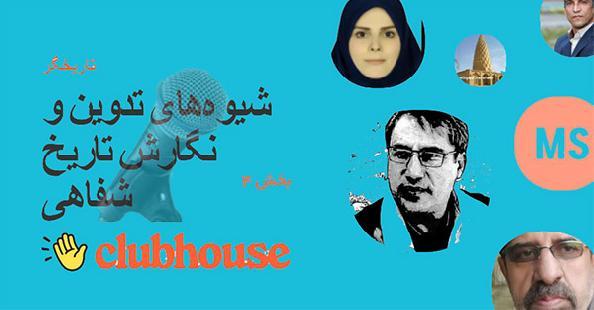 Note: The 6th oral history meeting was held at the clubhouse and the historian's room on Saturday, January 15, 2021, under the direction of Dr. Mehdi Farahani Monfared and performed by Mrs. Musffa. In this meeting, Dr. Abolfazl Hassanabadi, Dr. Habibullah Esmaili, Dr. Seyed Mahmoud Sadat Bidgholi, Dr. Javad Abbasi, Dr. Mehdi Abolhasani Targhee, Ali Mohammad Zamani, Dr. Ashraf, and Dr. Nazila Khalkhali spoke about editing and compiling of oral history.
Ms. Mosffa: I have a question that I have not been answered yet. My question is, does an oral history work necessarily have to be a historian? According to indicators such as verification, the authenticity of the news, and validation of news, which are criteria in historiography, and the position of historiography in oral history, which is one of the missions of a historian, then there is necessarily a direct relationship between a historian and an oral history worker. While between the talks, it was not mentioned that there is necessarily a connection between a historian and an oral history worker. Can anyone come and take over the oral history?
Dr. Hassanabadi: If you consider oral history as a tool and method, we also have people like doctors, psychologists, and historians who use oral history. Oral history is an interdisciplinary subject and we cannot claim that it is only for the field of history.
For example, Dr. Abbasi is not an oral historian. However, he has used oral history as a tool for their work to compile a subject plan called the history of the leftists of the faculty of literature. Now it was necessary to go somewhere, interview, and get information. He have used enough in the text. It was necessary to give a direct quote somewhere. In one place, it was necessary to give an indirect quote. Oral history is used here as a historical source and not as a principle in content production.
If you check, you will see that most of the work that is done in the field of history is generally in the field of supplementing historical data. Many of the projects that are done in the field of history are used as tools and methods to complete the data. Somewhere, it is not for the production of data, but the production of history. In principle, we cannot consider oral history historians in this sense. One of the questions I have for myself is why oral history in the world has only one master's degree in America at Columbia University and one place, as Dr. Tafarshi said, is defined in the Netherlands. At, a special field called oral history has not been accepted in the world.
From this point of view, it is believed that oral history in the interdisciplinary field can be used in various fields of work, and in this sense, we cannot give too much importance to the historian of oral history. Because oral history can be used by a military historian, cultural historian, local historian, etc., and the tools of oral history are available to them. But when we are going to get an output from oral history, it is the goal, the form, and the content.
You may include oral history in a formal structure. At some point, you may use oral history in a structural change. It depends on the job. What Mr. Dr. Esmaili did was a definition that was done in a structure. But I am sure that in many of the contents produced under this oral history, it cannot even be said and it cannot even be used. That is, maybe in the future when this content is available, it is not known how many percent of the original output is left. 50%, 70% or 80%.
After working for 20 years, I have concluded that I should not consider the oral history historian in this sense as a special historical filed under history. The world has accepted the same. Also from the point of view that we do not have any special book in this sense in the field of editing in oral history and editing, and nothing is done. It is also not very popular as a field. This shows that there is a consensus on this topic that oral history is accepted as an interdisciplinary field; As a result, in editing, let's respect everyone's different tastes within the framework of different goals.
Mrs. Mosffa: Thank you very much for your explanation. Mr. Dr. Abolhasani, do you have an explanation?
Dr. Abolhasani: Actually, the current situation in our country is what Mr. Hassanabadi said; That is, oral history is by no means the monopoly of those who have studied history, and most of those who are working with the title of oral history of various subjects are not history scholars. In our traditional historiography, we had both a "chronicler" and "historian" discussion and a "researcher" discussion. In the new world where the way and vision toward history and the past have changed, we have found "historians". I want to figuratively and conventionally use this word that the person who studied history, especially contemporary history, and knows interview methods both theoretically and practically, is an oral history researcher and that person, For example, he simply looks at the newspapers of the 1940s to see what happened in the wrestling sport and lists and asks and verifies during the interview. I want to say that historiography in its new sense in the world, does not have the vision of this method.
We are looking for other issues in the new historiography, from which the same attitude towards the history of the middle and lower levels of society has branched out, and from which these new methods and new mechanisms have been created. We are looking for analysis. We are not just looking to list events and happenings, and certainly, the person who dominates the active and active part of Iran's contemporary history, for example, the period we are living in, must have his question packages, the questions he raises and sits in front of an interviewee and a narrator. It is different from the one who makes a list of events related to that topic.
What do we want to do with the historical background? The industry has taken place in a historical context. Sports in a historical context. Culture, different elements of culture, religion, music, and all kinds of arts have happened and formed in a historical context. Unfortunately, the works in oral history are produced without regard to that historical background and those historical contexts. Therefore, the output of that book will be released very quickly, and its basic and fundamental issues will not be paid attention to in history. Therefore, just as in traditional historiography, we had chroniclers and historians who did not reach the researcher stage, and they mention a handful of examples such as Abul Fazl Beyhaqi, who does a little analysis and seeks to find causes; These are the issues that are showing themselves in oral history.
Some finally recount the events related to that subject in the best conditions and in the best state, without paying attention to the contexts and historical contexts of the event in which it happened. For example, look at the state of our football and the talks that are going on here and there. If right now or ten years from now they want to use oral history about this issue and talk about it under the name of oral history of Iranian football in the 2010s or 2020s, if they do not pay attention to these historical contexts, the conditions governing Iran, political, social and other issues., what we say does won't come out of qualitative data.
I would like to say something here to complete the order of Dr. Hassanabadi. We have an interview, an oral history interview. That counselor, that psychologist that recruiter conducts an interview, but it is not an oral history interview. The oral history interview focuses on historical data, periods, and contexts. So we have an absolute interview. The general and general topic and an oral history interview that is different from the others and its common denominator is the same form and image and its initial structure; but it is very different from the oral history interview and those types of interviews we mentioned.
■
Ms. Mosffa then asked Dr. Khalkhali to continue the discussion
Dr. Khalkhali: I have a question that the present friends have not yet discussed the difference between memoir writing and oral history, which is very important. The second point is that all the discussion and the direction of the conversation have been on the interviewee. The manner of speaking of the interviewee and how the interviewee should speak and what we should do. Should it be written or not? But I think we are ignoring a very important point, and that is that the person who wants to interview must be an expert. You cannot direct the interview unless the person has expertise.
By the way, all the talk about oral history so far is about political oral history, and again I give an example of political oral history. In your [interview] room, there was talk about oral history at Harvard, and since the interviewer was involved in history, he was able to direct and drag the interview in the direction that the interviewee should answer and not go to the sidelines and go so far as to think about what this has to do with what I'm hearing. But in places where they didn't know and didn't have nobles on the issue, it can be said that Harvard's oral history went the other way.
I will come back to another point that this time I will not call it oral history, but after all, it is an interview, and as I said last time because I am working myself, I am constantly thinking that if I ever want to continue this project and ask for help, who should I ask for help? I can help. I said that I am currently interviewing Persian language teachers in the world about Persian language education. I know myself as an expert. Because I am both a linguist and I have worked in Persian language teaching, especially to nobles, and because I encountered a problem, I asked myself what other people are doing. Now if I want to expand this project and want to get other friends to help, I will not bring anyone. First of all, he must have expertise in the field of Persian language education to know what he wants to ask. What does he want to talk about? Should s/he know linguistics? If that teacher ever gave some tips, he knows how to take that tip in the air and turn the direction to the direction he wants.
These points are very important in the oral history interview and the points that were not discussed. That is, is the whole discussion about how the interviewee uses, for example, a Tehrani accent? For example, how should that wrestler speak? These are all very problematic. But the interviewer is more important than the interviewee. We have seen this many times, both in individual interviews and in group interviews, and I would like to ask you to be more careful and talk about the conditions of the interviewer.
To be continued…
Number of Visits: 494