An Excerpt of Manijeh Lashkari Memories
Selected by Faezeh Sasanikhah
Translated by Ruhollah Golmoradi
2022-8-16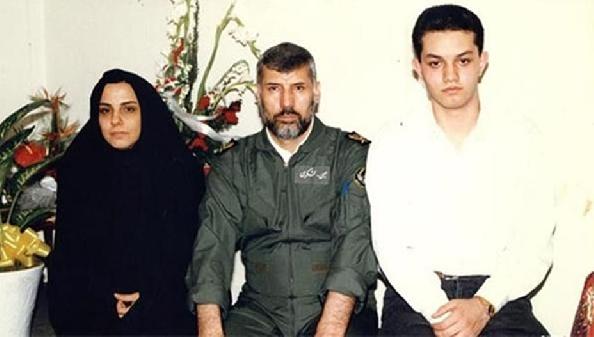 Eight years had been passed; eight years with no news and wait. Air Force told: "Hossein Lashkari is alive." Foundation of Martyrs told: "it's fifty-fifty," because his name was not still in ICRC's list. I was sure he was alive but waiting and loneness bothered me. Foundation of Martyrs, after four years of ignorance, informed wives of those who were missing in action that they can marry.
Everyone from my relatives told me: "How much wait? Who knows how long does this war last or Hossein is surely alive! Get married."
I didn't react to such words and I didn't become upset; even I thought maybe those who are out of this life can see better what is my advisable. On the other hand, I still loved Hossein heartily. I didn't like Ali has a stepfather at all. Ali was the most motivation for me. I had devoted myself to him. I'd like he had a good upbringing and higher education. Ali's educational performance was so good and he was so clever in his teacher's views that after passing the first grade he went three days a week to school in the summer and I myself practiced with him at home. He skipped grade second and entered the third grade.
Our house was in the Mehrabad Air Base. I enrolled Ali in sport club of Pasdaran in swimming, karate, and basketball courses. I took him to the classes with my car every day, waited until his class lasted and we returned together. He had learnt swimming very well. Among basketball and karate, his coaches asked us he choose one of them and practice concentrated to get into better teams. The team was not important for me; I wanted Ali to be happy and not to think like me about what has happened to his life and where his father is. I think I succeeded. He was a cheerful and spirited boy. He saw my situation, understood my and his own loneliness, but he did not suffer. He did not torment himself with useless thoughts. I had almost succeeded in keeping my son safe from what had destroyed me and deprived me of the will to study and do any kind of serious work.
There was a sports club in our neighborhood. Insisted by Ali, I enrolled him in bodybuilding classes. My whole world had become Ali. He went to middle school; had grown up. His face style, his tall height, and his masculine behavior were all like Hossein. When he wanted to leave the house, he would say: "Mom, do you need anything to buy." My interest and my day and night thoughts about Hossein were fading. Ali had filled the void of Hossein. But people's talks continued. They said all the time, "How long do you want to wait?" Everything was repetitive and boring for me except Ali and my family. I didn't care about the words, but when I saw spouses together on Eids or at the parties, I felt bad, but I didn't bat an eye, I was proud. But at night, in my privacy and aloneness, away from Ali's eyes, I shed tears.
Ali had reached puberty age. I enrolled him in Alborz High School. I didn't like he went to Shahed High School. In my opinion, it would be better for him to live with children who had normal conditions. He was shy and taciturn. He didn't like I went to school and participate in parent-teacher conferences, because fathers often came to those conferences, but I had no choice.
What helped me and Ali to bear the situation more easily was that we were surrounded by families whose fathers were captured, died a martyr, and missing in action. In each complex with four units, at least two families lived who had conditions similar to ours. Of course, the condition of the missing in action was the worst, they were in suspense.
Ali had grown up. The house had one bedroom and was located on the third floor. It was difficult for me to go up and down the stairs every day with my hands full of shopping. I went and asked for a two-bedroom house on the first or second floor, which was accepted, and I went to the new apartment.
If I wanted to think about the past, I would go crazy. Sometimes I said to myself: Hossein, where are you to see us? You didn't let me go to the supermarket and you would like to provide everything in my life yourself, now I myself have to go after everything: changing the house; moving furniture to a new house; car breakdown; going to the mechanic; etc. ...
I had become self-sufficient. I was no longer relying on a man in me. For years, I didn't even allow myself to think why I should take my car to a mechanic myself. Everyone who came to my house perceived my loneliness and sadness, and sometimes they expressed it. I was proud; I didn't want to accept that my life was empty and I was alone.[1]
---
[1] Jafarian, Golestan, (2016) Mirrorless Days. Memories of Manijeh Lashkari, Tehran: Sooreh Mehr Publication, p. 85.
Number of Visits: 1116