Methods of Torture in Prison
Translated by M. B. Khoshnevisan
2022-06-14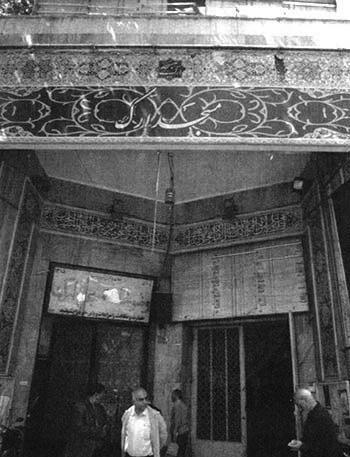 The reason for my arrest was opposing against the 2500-year celebrations about which I talked in my tribunes and speeches. My other crime was the circulation of the Imam's Resalah (treatise) which was distributed in Tehran (Javadieh, Naziabad, Rahahan).
The sources for providing the treatise were misters Mohammad Montazeri, Do'aee and Rahimian. On the issue of the 2500-year celebrations, I had contacts with Ayatollah Seyed Sadegh Rouhani who was a defender of the Imam. But the main reason for my arrest was the speeches that I delivered in Ark Mosque.
That year, I was invited to the Ark Mosque for Muharram ten-day at the invitation of Mr. Tavassoli. A large crowd was coming. On the day of Ashura, I delivered a hot speech.
I also delivered a speech in Dar al-Salam Mosque in Abousaeed Neigborhood. About Ghamehzani [self-injury with poniard in ritual ceremonies], I said that blood should be shed on Ashura, but the blood of the enemy, then I identified the enemy. I also said one thing about Amr-e Beh Maroof Va Nahy Az Mnkar [Promotion of Virtue and the Prevention of Vice], I said that people are more like their leaders than their parents. I hit the ceiling and gave the examples. The ten-day ended and I returned to Qom.
The guys advised me to empty the house of leaflets and books. I thought they would not allow me to be active in Muharram, but they did not, the month of Safar ended, but nothing happened. I thought that no information had reached SAVAK. I was talking again. They knocked on the door one morning. My father-in-law was in our house. Our alley, Haj Zainal Alley, was Eshqi Dead End. When I opened the door, I recognized from the faces that they were SAVAK agents.
They said: Are you someone?
I said: Yes.
They said: Be Silent.
Then they entered the yard. Then I noticed that several people had gone on my roof. They searched the house as much as they could. The last statement of the Mujahedin Khalq was in my pocket. I also had a fatwa attributed to the Imam in my pocket. They flipped through all the books. When they wanted to touch the clothes, I said it was Haja Agha's clothes, do not touch them. I did not wear that long garment when I wanted to get dressed. Both the leaflet and my phone book were in the pocket of that dress.
After I left, since my sister was familiar with such things and her husband had been arrested several times, she had searched the clothes and taken out the leaflet. I was taken to the SAVAK office in Qom. They asked a few questions and then they took me to the intelligence office and took a few photos and I was transferred to Qasr prison at night.
Preparing for torture
When we were arrested, my concern was that the connections were leaked. A number of things I had done before, such as bodybuilding and preparing for torture, and so on, were on the agenda. I worked in brickwork for two months and, according to the Mujahedin, my problems were solved. I started hitting the cable on the soles of my feet and it started from five blows till twenty blows to increase the resistance of my feet.
When the cable is hit on the sole of the foot, it has a lot of sensitive effects and the person gets very tired. The sole of the foot is stronger and more resistant to cable blows. If the cable is hit to the skin of the foot, it will tear and when it becomes hard, it will no longer be useful for SAVAK. The tortures could not continue anymore. There was a special mechanism for whipping the foot. Those who hit with the cable, they carefully in such a way that it was only the sole of the foot and the tip of the cable did not return on the foot. When they hit the cable, their feet swelled and they rubbed alcohol to reduce the burning sensation, and then they forced the person to run so that blood would flow and the foot would not swell. When the feet were swollen, they blistered, and if they hit four or five cables, one lost consciousness. When the wounds opened, we were relieved for a week or two, and there was no interrogation or flogging.
I was in this state for a month and was happy that there was no interrogation. After the wounds healed, they did not hit the cable anymore, they just hung me.
Another form of torture was that we were handcuffed and thrown into a cage or subjected to electric shock. The cage was an iron place where a person was forced to bend, and we were thrown into it, which was very hard. We were held for an hour or two and then when they opened it, it was very difficult to get up and move.
Pouring boiling water or burning was another method of torture. Another torture was the cable of Hosseini. If someone did not surrender or say anything, they would tell him that he would be sent to Hosseini now.
Hosseini enjoyed torture. His cable was the thickest of all the cables. It was carved and ivory.
Another form of torture was pulling nails with pliers, and another was attaching clamps to sensitive parts of the body and giving an electric shock, that is, the electricity was connected for a moment and shook the whole body, and feebleness in every sense pervaded the whole human being. Neurological disorders occur in humans. Some bleed from their ears.
Sometimes, they also measured the people to see what they disliked. For example, they insulted our wives and daughters. My torture agent was Tadayon, who was very big and stocky. When my beard had not yet been shaved, he would take a lighter under my beard and burn it or cut it. While he was hanging me, he hit me several times with a cable so that its bruise was visible for five months.
The worst part of my interrogation was when I was picked up and brought back for no reason. They had nothing to ask and we had nothing to say. My feet were wounded, one of my feet was completely wounded and I could not put my foot on the ground. I was grounded for a week. I was beaten with a cable and its marks had remained.
The five accused in the hands of the interrogator sat against the wall and, if there was anything, sat on a chair and wrote. Torture often happened in that room as well.
As we had sat, I once felt warm water pouring behind me. My clothes got wet. I turned around for a moment and saw that the interrogator was urinating on me in front of people.
Another of their tricks was to send a man named Shah Alizadeh, who was a weak student ideologically, to me, who one night furtively said in my ear that they had sent me to stag you.
Source: Decade of Fifty; Memoirs of Hasan Hasanzadeh Kashmari, Ali Khatami, Mohammad Kazem Shokri, compiled by Faramarz Sho'a Hosseini, The Institute for Compilation and Publication of Imam Khomeini's Works, 1387 (2008), pp. 71-74
Number of Visits: 293