SABAH (85)
Memoirs of Sabah Vatankhah
Interviewed and Compiled by Fatemeh Doustkami
Translated by Natalie Haghverdian
2021-11-23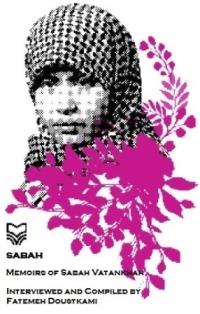 SABAH (85)
Memoirs of Sabah Vatankhah
Interviewed and Compiled by Fatemeh Doustkami
Translated by Natalie Haghverdian
Published by Soore Mehr Publishing Co.
Persian Version 2019
---
Chapter Twenty Two
Twenty second day of the second month of winter of 1980 was approaching. We wanted to celebrate the anniversary of victory of revolution despite being in the war. We decided to hold an exhibition in the hospital. Dr. Sa'adat, Fouziyeh, Afsaneh, me and a few others gathered to think about it. A surgery ward technician, Mr. Karegar, had ideas in cultural events. He had come from Hamedan together with Dr. Afshari's team to Abadan. He drew two three beautiful paintings for the exhibition.
His painting showed Khorramshahr under the bombing and firing of Iraqis. He had written Khorramshahr on the painting. In the painting, the word "Khorramshahr" had been divided into two parts and was somehow a reflection of the situation of the city.
It was decided that we gather all photos and posters which are about Imam and revolution and war from army and Jihad of Abadan. Lots of members from Abadan like Farhanian sisters and specially Masoumeh Ramhormozi did a lot of efforts in this respect. Ten, twelve meters before the emergency, there was a small kiosk which sold flowers before. We had made that place a cultural headquarters. We had placed cultural items such as books, speech cassettes, pictures and "Islam Soldier Magazine" and "Saf" as much as we were able to gather. The key to the kiosk was in my hands. We had a tape recorder in the shop. Some days I broadcasted Abdal Baset Quran cassettes on the speaker of the kiosk. Everybody who wanted to borrow a book or anything else, came to me and I lent them what they needed.
We separated important articles and contents of newspaper including the escape of Shah, arrival of Imam, victory of revolution and beginning of war. We collected the photos of missile and bomb attacks in different cities from newspapers. Then we attached them to a cope and hung them to the trees on both sides of the kiosk.
On the 22nd day of the second month of winter, we broadcasted revolutionary anthems from the speaker of our headquarters and every few minutes we invited patients and those who were in the hospital, to visit our exhibition which was on the occasion of 22nd day of second month of winter. The revolutionary anthems such as: weather is pleasant, flowers rise from soil/ swallow is singing hopeful songs … brought back memories and created a special atmosphere. We broadcasted the monody of "martyrs, salute to the rolling bloods of Khuzestan" sung by Ahangaran. We loved this anthem and we sung it together while we were in the hospital. 22nd day of the second month of winter passed too.
Fereshteh Soleymani was Ali Soleymani's sister. She was from Khorramshahr and was my classmate in high school. She was one of the girls who were Hejab before revolution and recently had joined us in the hospital.
It was almost Nowruz[1]. Although the war had taken our loved ones away and nobody was in the mood of Nowruz, but we wanted to do something to change the atmosphere in the hospital and strengthen the morale of injured and fighters. One day Fouzieh said: "Sabbah! I wish we could have Sabzeh[2] for Nowruz in the hospital. I said: "It is a good idea but where can we get the containers? You know how many we need?"
Fouzieh said: "we have the containers but we don't have grain!" I said: "Where are the containers?" She said: "Yesterday we went to the up floor of the hospital with Afsaneh Ghazi Zadeh. I saw a lot of plastic platters which are used as saucers. When I saw them, the idea of having green leaves came to my mind. I wish we could do something together."
Taleghani hospital had four floors. The men dormitory was on second floor and female dormitory was on third floor. The fourth floor was not used since the beginning of the war. It was scary. I don't know who Fouzieh had dared to go up there. The windows were covered in black pain and it was dark. On the other hand, there was a gossip among the personnel and others that jinn and also the wandering soul of professor Javadi, the founder of the hospital, are also there. As I had heard from nurses, professor Javadi was a greedy man for whom money was more important than the lives of the patients and if a patient reached the hospital almost dying, he asked for money to do treatment.
After the death of professor Javadi some of the nurses said that the people have seen a dog coming out of his grave! They said that since he has been a mean person, he is in torture in the upper world and his wandering soul is roaming on the upper floors of the hospital!
I told Fouzieh: "I will arrange the wheat!" She said: "How do you want to collect his much wheat?!" I said: "Don't worry, I will arrange it."
I had heard from Ms. Angali that her nephew Abbas is working in Fars Jihad. I thought to myself that I will go to Jihad, find him and ask him to give us wheat. I went to Abadan's tenth lane to the office of Fars Jihad. Before visiting Ms. Angali's nephew, I saw Mr. Jazayeri who was in charge of Fars Jihad. He was an old man with white hair. After greeting I told him the reason of my visit. Mr. Jazayeri smiled and said: "What a nice thing to do my daughter! Of course I will give you wheat. We are also packaging nuts which we have bought with the help of the public for our soldiers in the frontline."
He told one of his forces to give me a sack of wheat and take me wherever I want to go. Besides a sack of wheat, he gave me two sacks of nuts and chocolates to pack and give to the fighters with green leaves.
I brought the wheat, nuts and chocolates to hospital. Fouzieh and Afsaneh were so happy to see them. We started working and filled around fifty to sixty pot saucers with wheat to make green leaves. We placed them on the upper floor of the hospital. We still had two weeks to Nowruz. We decided to distribute the green leaves not only to the hospital personnel but also to the fighters of the frontline.
When the Sabzeh were ready, based on tradition of Khorramshahri people, Dr. Ansari, Dr. Sa'adat, Fouzieh and I went and picked lots of Myrtle for our Haft Sin[3] from Minoo Island. MORED was a good smelling plant which was placed on Haft Sin. Minoo Island had a meaningful name. It was really like a paradise. When one entered the island, the scent of palm and its traps were mixed with scent of boxwood plant took the smell of war and frontline and gunpowder away. In Minoo Island, I remembered Zolfaghari palm groves. They both were always green and fresh and the scent and smell of its plants and flowers amazed us. By remembering Zolfaghari, I remembered my co-fighters who had been martyred. Martyrs such as Ghasem Farrokhi that I didn't know is the guest of one of the Imams."
We brought MOREDs to the hospital and with the help of friends divided them into small packs. We made a "Nowruz" package with the combination of one pack of MORED, one green leave, one small pack of nut and chocolate. We reserved packs for the patients and personnel of the hospital and then we divided into two, three groups and went to frontline. Fouzieh, Afsaneh, Belgheys, Zohreh Farrokh Nejad, Dr. Ansari, Dr. Sa'adat and I went to Fayyazieh. The beginning of our route was Fayyazieh frontline and the finish line was Kout Sheikh. A few others such as Masoumeh Ramhormozi took the other packages to the other frontlines.
The frontline was calm on that day. The trenches were ten to twenty meters away from each other. The car stopped besides each trench and we went to the fighters and after greeting and congratulating Nowruz, we gave them the Nowruz package. Their joy was unbelievable at that moment. They couldn't believe that under the shower of fire and bullet, one might think about these things. We were happy to see their joy. Some of the fighters asked us to take a photo with them besides their trenches.
When we finished our task, we all went to Abadan, Khakestan. After the fall of Khorramshahr, this place had become the resort of my loneliness. When we missed our city and families, we went there and visited the graves of the martyrs. We went a few binds of MORED for the grave of the martyrs. When we were returning from graveyard, we heard the sound of cannon explosion and the anti-craft devices started working.
At first we thought that it is an air attack but when the bullets of the anti-aircrafts wrote "60", we found out that the Nowruz is here and the sound of the cannon has been on the occasion of Nowruz. We kissed each other and congratulated Nowruz; while our hearts were filled with sorrow; sorrow of the loss of the city we had lost and families of which each member was in one corner of this land.
I remembered last Nowruz and the years before it. We all had new clothes. We had a complete Haft Sin. My father had already bought lots of nuts and pastry; to fulfill the hearts and eyes of his children. As soon as the Nowruz arrived and the sound of cannon was heard, we all went and kissed the hands of our parents and got our presents. My father gave present to each one of us. Then we joked and smiled and went towards the nuts and pastries on the table. Everybody wanted pistachio and almonds! My mother was furious and said: "What kind of eating is that! Eat all types of nuts."
To be continued …
---
[1] Iranian solar calendar New Year.
[2] Green grass grown by households using grains to be set on Nowruz table.
[3] The table set for Nowruz containing seven ingredients starting with the letter S in Farsi.
Number of Visits: 912