SABAH (83)
Memoirs of Sabah Vatankhah
Interviewed and Compiled by Fatemeh Doustkami
Translated by Natalie Haghverdian
2021-11-09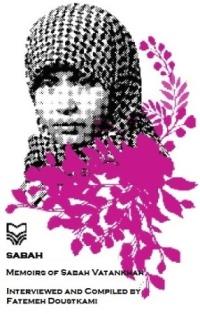 SABAH (83)
Memoirs of Sabah Vatankhah
Interviewed and Compiled by Fatemeh Doustkami
Translated by Natalie Haghverdian
Published by Soore Mehr Publishing Co.
Persian Version 2019
---
At least now she could be covered under martyr foundation coverage and her poverty issue could be solved because she couldn't fee her children. Poor woman was mourning her husband's death with two little children. We would like to do something for her but in that condition, we could not do anything.
We got on the bus. We ate cooked chicken for dinner in Khorramabad; this was the food that my father would bring us home while he was returning from his mission to Pol Dokhtar and Khorramabad. They cooked it in a special way and with special spices and one could remember the taste for a long time.
It was the first week of second month of winter. Late at night we went to Borujerd to uncle Hossein's place. We informed them that we will be staying in Tehran and my father is hospitalized there. The next day we went towards Tehran. At sunset we reached our new home in Koushk Avenue. Mohsen was very happy to see our new house and he and Abbas started wrestling. His giggling voice could be heard in the house.
This was the first time in a while that I could hear their loud and happy laughter. It was as if their hearts had become calm as soon as we distanced from Khuzestan. On the same night, they played a lot with the elevator; they went up and down a lot. The elevator was attractive for them and they had mixed it with a toy. At the end my mom had to reprimand them and they let the elevator go and came inside the apartment.
It was already midnight. We had nothing for dinner and had eaten nothing. I told my mother that I will go with Mohsen to find something to eat.
Mohsen and I started walking. From one avenue to another. In Koushk Avenue, there was no supermarket or restaurant. We walked until we reached an intersection which later learnt that is called Istanbul intersection. There was a big supermarket at the corner of the intersection. We went in. it had everything, coffee and Nescafé and condensed milk and cans and chips. While in Khorramshahr we consumed more coffee and Nescafé than tea; especially on exam nights when we wanted to stay awake and study. Only my father drank tea.
Our first purchase from supermarket in Tehran was a few tuna cans, a few red beans cans, a few packs of bread and some chocolate; it was near one o'clock when we got home. My mother said: "I didn't think that you could find a shop which is open at this hour." I said: "Mother we are in capital. Everything is different here!"
We ate dinner and slept. We felt good although we had to sleep on the carpet on the floor and didn't have anything primary living equipment. The reason was that we felt safe. Safety, was our lost feeling in the last few months. A feeling which is more appreciated by us, war-stricken families.
Around one week had passed since we had arrived in Tehran. Some days, Shahnaz and I would go to Tajrish for shopping by bus. We got on the bus in Ferdowsi square and got off the bus in Tajrish. We only knew this one route. The fruits and vegetables in Tajrish were very fresh and had variety. First we went to Imam Zadeh Saleh pilgrimage and then did the shopping and returned.
One day when we had returned from shopping, we noticed that the elevator is stuck and out of order. We waited for a few seconds and when found out that it won't be fixed soon, we ascended the stairs. Our room was on fourth floor and our shopping was heavy but we had no choice. We were ascending the stairs slowly that we saw Da on first floor. The door of one apartment on first floor was open and Ms. Hosseini was sitting inside cleaning the vegetables. I told Shahnaz with anxiety: "Shahnaz, look, Zahra is also here."
We went to the door. At the same time, Zahra came to her mother. As soon as she saw us, she ran towards us. God knows how happy I was to see her there and in our neighborhood. We hugged and kissed each other with louds voices and excitement. When I kissed Ms. Hosseini, she told me in an upset and sad tone: "Sabbah you knew that my Ali has been martyred and you said nothing! I asked about Ali; how could not you tell me the truth?!"
I suddenly waned. So Zahra had told her that Ali had been martyred. I had never thought of this moment. I looked at Zahra unconsciously. I didn't know what to answer to Da. Zahra intervened and said: "Da I had asked her not to say anything. Sabbah always told me to tell you but I was frightened that you might not be able to cope with it."
Da's tears dropped and said: "No! I wish I could see my son. I didn't see Ali, my son was buried and I didn't see him."
Her voice had a strange pricking pain. She had every right. She didn't have the chance to see his son to the end of her life. Zahra changed the subject of discussion and said: "Sabbah when have you come here? Which apartment do you live in?" I said: "We have been here for one week now. Our apartment is on fourth floor. When have you come? How did you come here?" She said: "We have been here for one month now. We have been introduced through martyr foundation."
Besides auntie Maryam, Zahra and her family were our only acquaintances in Tehran and we were happy to see them. We felt less lonely.
Da went into their apartment. I asked Zahra: "How did you give her the news of martyrdom of Ali?"
She said: "Before coming to Tehran, we went to Malavi[1] to papa and Mimi, my grandfather and aunt. They were living in a tent given to war-stricken families. First I told papa about martyrdom of Ali and asked him to break the news to Da. One morning, after prayers, papa started reciting Hazrat Ali Akbar Rowzeh. Almost all relatives had gathered there to see us. When the Rowseh was over, papa started with an introduction and then broke the news." I said: "What did poor Da do?!" She said: "She took a piece of wood which was near and hit it in her head. She hit herself so badly that her head broke and blood started pouring on her face. She was whining and crying and hitting herself. We couldn't stop her. We made lots of efforts to take her to clinic to put stitches on the rapture. It took her two three days to feel better … she hit herself non-stop and cried and called Ali. God had mercy on us and finally she became calmer. Now thanks God she is much better."
Considering the worrying and follow-ups of Da to have updates on Ali, it was obvious that she is so attached to him, but frankly speaking I didn't think that she would act like that after hearing the news. So Zahra had acted wisely in Khorramshahr by not telling her mother about martyrdom of Ali. Zahra looked at our shopping and said: "Where had you gone?" Had you gone to Imam Hossein square?" We said: "No we had gone to Tajrish. We go either every day or one day in a row for shopping."
Zahra said: "Oh! You go all this way to Tajrish square?! Why don't you go to Imam Hossein square? It is right next to her and is very near. You can find everything there."
Shahnaz said: "We don't know the surrounding. We didn't know that there is a place like this. When we go to Tajrish, we do pilgrimage first and then we shop. In this way we feel better in an estranged city."
At that time we didn't have refrigerator and had to shop daily. About two weeks after our move to Tehran, we had a knock on the door of our apartment. When we opened the door, we saw a person who said: "I am Danapour, Haj Agha Islami's brother-in-law. I have come on his behalf to see if there is anything that we can do."
My mother invited them inside. There were at our place for almost one hour. Mr. Danapour and Mr. Shokouhi were Haj Agha Islami's brother-in-law and were in charge of Islamic Propaganda of Khorramshahr and were both living in Tehran. Mr. Danapour had fittings shop in bazaar and Mr. Shokouhi was an employee of Ministry of Finance. It was obvious from our simple and primary living condition that we needed things. Therefore, two three days after their visit, Mr. Danapour returned to our house with a pick-up full of living accessories. He had brought us stove, carpet, fan, refrigerator and kitchen utensils. Mr. Shokouhi was with him too. They had both did us a big favor. We joked about this with my mother saying that they have brought her dowry.
Although my father's general condition was improving, Dr. Bani Sadr said that aside from the quiver which has caused harm in the structure of the lung, his heart valve has become big and he is suffering a heart condition. Dr. Bani Sadr was a very well educated and skillful physician. Under his order, we transferred my father to Rajai heart hospital. His physician said that in the hospital they will attend to his heart more. He said that the lung has no acute problem to be worried about. Apparently his lung was under control. We took him to the new hospital and after a few days he was discharged and sent home.
When my father came home, Mona jumped into his arms. Mona was six years old and my father was in love with her. Mona loved him too. When she was born, my mother didn't have milk to fee her therefore she had to give her supplement milk. Mona had got used to Geegoz supplement milk which was one of the best brands imported. My father brought one box of supplement milk when he went on mission to Tehran; so that she will always have the milk she liked. He was afraid that if they change the brand, she might get sick.
To be continued …
---
[1] Malavi is an area in the vicinity of Pol Dokhtar.
Number of Visits: 912