SABAH (77)
Memoirs of Sabah Vatankhah
Interviewed and Compiled by Fatemeh Doustkami
Translated by Natalie Haghverdian
2021-09-28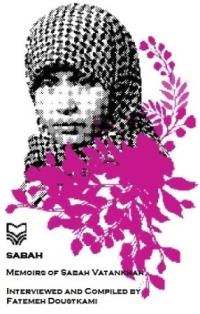 SABAH (77)
Memoirs of Sabah Vatankhah
Interviewed and Compiled by Fatemeh Doustkami
Translated by Natalie Haghverdian
Published by Soore Mehr Publishing Co.
Persian Version 2019
---
On the first day of first month of winter, we were in the hospital when my mother called. She went to telecommunication office of Sarbandar once in a while and called the hospital to know our whereabouts. Although we did not want to make her worry but we had to ask her about Ali. We thought he might have gone to visit them instead of coming to Abadan. My mother said that she has no update on Ali and has not seen him since the day he and Ghasem left Sarbandar.
As time passed, we became more worried. Shahnaz and I went to OPD hospital. We thought he might have been injured. We searched the whole hospital including morgue, but he was not there. We gave his specifications to the nurses so that if they see someone resembling him, to give us a call.
We could not find Ali in Taleghani hospital either. Although it was not easy for us to go to morgues and search among the bodies, but we had no choice. When I was looking for him among the martyrs, I really wished that as Fouziyeh guessed he would have been captured.
One of those days that I had gone to OPD hospital to find Ali, when I returned to Taleghani, Fouziyeh said: "Mother had called. She wanted to know if we had any update on Ali or not. I told her that Ali has been imprisoned! Mother started crying and whining and then hung up."
I told Fouziyeh: "Why have you done that? Why did you say something like that when we are not sure yet? At least we could have told her the news slowly so that she won't be shocked.[1]"
Fouziyeh was repeating the same idea and had no doubts about it. We were having bad days. On one side we didn't have any news from Ali and on the other side, we had become homeless and each member of the family was in one location. The rain season had started in Khuzestan; rains falling for a few days without stopping and made us sadder.
During some of the afternoons when we had less to do, we went to the ice cream factory morgue which was near the hospital. This place had been transformed to ascension and the bodies of the martyrs were kept there prior to handing them over to the families. We searched there and when we found nothing we went to the graveyard of the martyrs of Abadan and asked those in charge about Ali. We had found out that Ali and Ghasem had both disappeared.
One of those days when I was in the hospital, Dr. Sa'adat and another individual who was called Dr. Sadeghi, brought a young girl who was injured. I was so happy to see Dr. Sa'adat. He was happy too. I had no news from him and aid workers for a while. The last time we said goodbye, he and Ghasem Farrokhi were in Milk Dairy frontline.
I asked about the young girl who had been wounded and they said: "this lady had come as aid worker from Tehran. One day she came to Zolfaghari and said that she wants to go forward. We explained that she should not go but she didn't listen to us. She wanted to reach the fighters herself. While she was moving forward, we called her but she was not ready to return. At the same time, Iraqis shot her and she fell down. We decided to go and bring her back but the Iraqis shot all those who moved forward. Apparently, they had noticed that she is alive and wanted to capture her."
Dr. Sa'adat said: "We had two martyrs and three wounded but finally we could bring her back. Those two individuals who had been able to reach her crawling on the ground, said that the slightest movement resulted into bullet showers. We moved our hand, they shot it. We moved our feet, they shot it. We had lots of difficulty to bring her back."
I was very angry with this girl. Why had she put everybody in such a problem?! One two days later when she was better, I approached her and started to talk to her. Then I started showing my upset and said: "Why did you act like that? Why did you endanger a few fighters for your own sake?!"
Poor girl had found out that she had acted wrongly and was just crying. At first I thought she is crying for her pain and injury but she said: "my sorrow and tears are for those two soldiers who lost their lives for my improper behavior."
I told her about our own experience from frontline. I said that we were a team of aid workers and went to different frontlines but considering the situation. I told her that we were so thoughtful that when we thought that some soldiers are busy guaranteeing our security, we wouldn't stay there. I told her that we had been in the war in Khorramshahr since the first day but after ten fifteen days, we moved to frontline with the supervision of soldiers and their recognition of the fronts. There were some places that we dearly wanted to go but when they didn't permit us, we didn't take decision ourselves.
She had nothing to say and was just crying.
It was in the middle of first month of winter that one-night Hamid Khoshnoud came to our base in Arya alley and said that he needs help to write the daily report of activities to be presented to the army. He asked me to take the responsibility of writing these reports. I accepted. During the day when I was done with my tasks in the hospital, I went to their based a few houses away from ours. Masoud would come and report quickly about their status and left. I took notes of what he said quickly and when he left I started drafting the report about the statistics and figures of ammunition and injuries and martyrs in official statements on papers with the header of the army. When ready, I handed them over to him.
This was an interesting task but at the same time understanding some of the issues, was painful to me. Although we had fought in Khorramshahr with bare hands, had noticed the suppression and shortages of soldiers to defend, but with writing these reports and seeing the statistics, I was just figuring out deeply about our war. Most of the days, the daily portion of soldiers for shooting was five bullets per soldier. Or two or three mortar bombs could only be shot in one day.
One morning in the hospital, when my mind was busy with the figures and statistics, I saw a familiar face coming towards me down the hall of the hospital. I focused and was surprised to see Maryam Amjadi. The more she approached me, the more surprised she became. When we were only a few steps away, we jumped into each other's arms and kissed. Her eyes were filled with tears. I could not believe that I could see Maryam alive and Maryam had the same feeling. She also could not believe that I am alive. She repeated: "Is it really you Sabbah?! I thought you have been martyred on 24 day of first month of autumn. The number of martyrs were so high on that day that I was sure you were one of them since you commuted in Khorramshahr a lot on those days." I said: "I thought you have been martyred. The last time on seventeenth day of first month of autumn when I saw you on 106 cannon, this was the last time I saw you. It was as if you disappeared. I told myself that you have been martyred hundred percent."
She was wearing a navy blue manteaux and was wearing a blue scarf. I was so happy to see her that I could not move my eyes from her. She said: "Don't you know what happened that I left Khorramshahr?" I said: "No! How should I know?"
She said: "those days, Ali came to me once and said Maryam lets go to our house and take some clothes and stuff and take them to our siblings. We went and collected two suitcases of clothes and stuff. I didn't want to go out of city but Ali took me out of town little by little without myself noticing it. First he told me that we go to Abadan and deliver the suitcases to a person to take them to Gachsaran. At that time, my mother had gone to Gachsaran with my siblings and lived with one of our relatives. When we reached Abadan he said that since nobody is here to take the suitcases, let's take them somewhere and see if we can find somebody or not …
Finally we reached Gachsaran. I begged him to take me back with him but he didn't agree. I had come out of Khorramshahr without my own will."
Since that day, Maryam settled in the hospital. Maryam was a very secretive person and kept secrets. We had been in Khorramshahr together for one month, but she never told me that she had a colt gun! I asked Masoud Khoshnud to let me take Maryam with me for writing reports. He agreed. Since that day, Maryam came to Arya alley in the afternoons and we wrote the daily reports together. When we saw the list of delivered and spent ammunition on daily basis, we felt pity. The situation was even worse than the resistance days of Khorramshahr. No soldier was allowed to use one wood seller of bullets in 24 hours. Our fighters were suppressed but they fought and said nothing.
To be continued …
---
[1] Mom later explained that when I went home and told Ali and the children about Ali's captivity, Ferdows sat on the floor in the courtyard of the mosque when she heard the news and cried and was most impatient.
Number of Visits: 1628