324th Night of Memory -2
Memories about the Mosul Camp
Adjusted by Iranian Oral History Website
Translated by Ruhollah Golmoradi
2021-06-29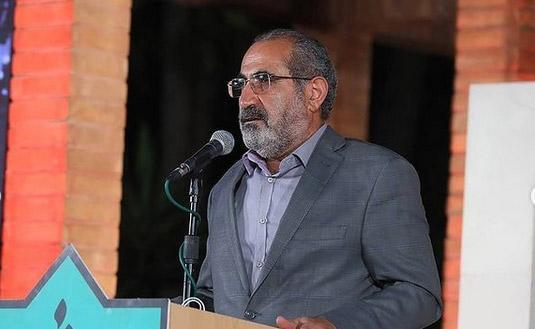 The 324th Night of Memory session was held in person in the open area of Hozeh Honari on Thursday, May 27, 2021. In this program, Engineer Mehdi Chamran, Mr. Bijan Kiani, and Hojjatoleslam Mohammad Hassan Abu Torabifard expressed their memories. This night of memory in which the book "Salam Aqa Seyyed (Hello Sir Sayyid)" was also unveiled was organized by Davood Salehi.
The second guest of the program was gracious Azadeh (freedman) Mr. Bijan Kiani. At the beginning of his remarks, he said, "talking about a great character like the late Abu Torabi saddles us with responsibility, but according to my task, I will tell you a few memories. In three parts, I tell you impact of this great character on people. The first is his influence on character of Iranian prisoners. When we were with him in The Camp of Mosul 1, we saw that from reveille in the morning to the end of the night, he was always pursuing matters related to Iranian prisoners and had no other opportunity for personal matters except for prayer and meals; however, one day one of Basiji prisoners arrived and said my shirt has been torn and the tailor told me it takes a long time to be prepared. Please you mediate to do my job sooner. He takes the shirt from the Basiji Azadeh and says, "Okay, I'm talking to do your job sooner." As those who attended the 14th sanatorium of the Mosul Camp-1 testified, the late Abu Torabi himself personally sewed the shirt at night during his break time so elegantly that owner of the shirt himself did not realize that the honorable person had sewn the shirt by hand.
The narrator continued: "In the same Camp Mosul 1, in order to more control the late Abu Torabi, they imprisoned him in a small non-solitary room at a point and then in a twosome room. The person who was with him in that room was someone who wasn't interested and belonged to Islam and the revolution, but after a while, he tells his friends that when I see Mr. Abu Torabi's behavior, this that spirituality ripples in this man encourages me to pray. When Haj Mr. Abu Torabi heard this, he swears that I have never done anything to impress this person. He was only doing his own thing, but this sincerity was so great that it affects a person who isn't believer. There was another person in the camp who was greeted by the late Abu Torabi whenever he saw him, but he didn't hear any answer, until he finally responded after six months and said, "You finally put me to embarrass." The late Abu Torabi also swears that I would greet you just to do my duty and I had no other intention.
The Azadeh (freedman) continued: "The spy who approached this great Sayyid deceptively and was able to gain his trust, which ultimately led to detect the late Abu Torabi and caused him the most severe torture, when he was transferred again to the camp where the late Abu Torabi was there, he encounters so kindness that he insistently begged to replace him to other place, because he could not tolerate Abu Torabi's affections anymore. This was all his treatment with prisoners at different levels of thought.
The narrator continued: "Perhaps most of you have heard name of "Second brigadier general (in Persian: Timsar) Nizar".[1] He was a high-ranking general belonged to Saddam's tribe and a very arrogant, callous and ruthless person. On the day he visited the camp with a large number of military personnel, the late Abu Torabi presented him with a pair of handmade Giveh made by captives, and when Timsar knew the late Abu Torabi, he bowed majesty of Abu Torabi, and, after a military salute, ordered to heed requests of the captives and operate them. Kazem was an Iraqi soldier and a specific torturer for Abu Torabi. He did not neglect any torture against the captives, especially the late Abu Torabi. But in contrast, the late Abu Torabi stood up in front of him whenever he saw him. It was repeated as many as that caused a change in Kazem's behavior, and friends told many times we saw when Mr. Abu Torabi was washing dresses in the laundry section of the camp, Kazem approached him and talked to him. Because this issue had been repeated several times, it became a mystery to us and we asked Haj Agha why this person is so insistent on being with you and talking to you? The late Abu Torabi does not respond at first, but when they insist, he says, "Kazem is Shia and asks me about his Sharia issues. When they tried to take the late Abu Torabi from the camp and the whole camp was immersed in mourning, one of the people who cried so much was the torturer Kazem, who begged his commander at the last minute to take Mr. Abu Torabi himself to the next camp, and in this way, he tried to spent more time with this great man.
Kiani continued: "Major Hassan was one of the callous torturers in the camp of the missing. He was so abusive to the prisoners that when they tried to transfer him from that camp, the captives celebrated, but the late Abu Torabi told a number of prisoners to go to escort and thank him. When these people did it on behalf of the others, he was impressed and asked the prisoners to pardon him while he was crying. After a while, he also sent a lot of sugar to the camp to distribute between the prisoners.
This Azadeh from the sacred defense continued, "The third level was the Red Cross force. Once, head of the Red Cross delegation suggested to Iraqis that because Mr. Abu Torabi is a religious scholar, they would take him to different camps so that more people would use his teachings. The Baathists had responded that he is not a religious scholar but an Iranian bourgeois. The person had laughed and said it is true he is a capitalist, but his capital is not material, but that his capital is a spiritual one that he has, and I wish other nations would use this person's capital. After his contacts with the late Abu Torabi, Nikolai said when I go to church and see the crucified image of Christ, I unconsciously remember Mr. Abu Torabi's image. Another person from the same Red Cross forces narrated that when I shake hands with this great person, a spiritual peace is injected into me. This was the state that everyone associated with the late Abu Torabi confessed to.
The narrator continued: "When many prisoners were supposed to be released, the late Abu Torabi and a few others remained, and when the freed see them and say that we are sad because we are being released while you are still in captivity, he says I prayed for your release for 10 years and beseeched God to see this moment and I hope you return the homeland safely.
In his remarks, Kiani quoted another memory from his first year of captivity from Mr. Morovvati as saying that, "the camp was divided into two groups of opponents and Hezbollah forces, and because they wanted to abuse us as bondage, there was a disagreement among the guy. That's why we were given restrictions on food and water and rest hours, which lasted four months. In those circumstances, this person (Mr. Morovvati managed and led Azadegan (freedmen), saying that it is no longer possible for us to continue this situation. That's why one night he resorts to Hazrat Zahra and dreams that a veiled woman tells her not to worry and I send my son Ali Akbar to help you. When he jerks awake, he cries out of excitement and some prisoners also notice it. The next day, we were informed that some new captives had come to the camp. After meeting these prisoners, I saw that one of them was a man named Mr. Abu Torabi. When I asked him his first name, I remembered the annunciation that Hazrat Zahra had given me in my sleep. After a short time, with Mr. Abu Torabi's help, problems of the camp would be organized.
At the end of his talk, the narrator said: "The late Abu Torabi wore the same clothes as other captives and ate the food that others ate. He had no material facilities, but he managed and led the great troop empty-handed to return homeland. Nothing but sincerity of the late Abu Torabi and his connection to the source of God's pure nature and his spirit of service and altruism caused this.
---
[1] Commander-in-Chief of Iranian Prisoners in Iraq


Number of Visits: 1202
---
http://oral-history.ir/?page=post&id=9952
---