The 322nd Night of Memory -3
A Dead Person with a Pleasant Smell
Compiled by: Iranian Oral History Website
Translated by: Fazel Shirzad
2021-05-05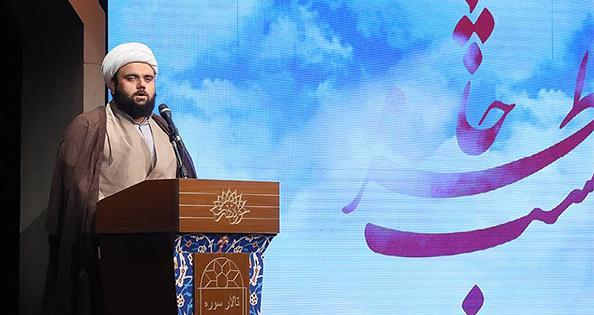 Note: The 322nd Night of Memory program was held in person and online on Instagram on March 25, 2021. In this program, Hujjat al-Islam Seyyed Hussein Naqibpour, Hujjat al-Islam Hassani, Hujjat al-Islam Taherloui, and Ms. Rahmani Nejad shared their memories. In this program, which was especially for jihadist clergymen, Davood Salehi was present as an executor.
The third guest of this program was Hujjat al-Islam Taherloui. He said that when we are called a jihadist, I feel sad because I think about where are we and where are the high-ranking martyrs who offered their prayers in the Ascension! The narrator continued his memories of Behesht-e Zahra (PBUH)[i] as follows:
I always thought that medical staff had a very difficult job and endured a lot of pressure; but when I went to Behesht-e Zahra's (PBUH) purification hall on April 4, 2020, and saw the work of the bathing forces, I realized that it is a job more difficult than the work of the medical staff. The clothes they had to wear and the need to use masks, etc., along with the smell of cedar and camphor on the one hand, and the unbearable heat and sighs and groans of the dead's family, on the other hand, had created a distressing mental condition for these staffs.
The narrator continued: One day in the prayer hall of Behesht-e Zahra (PBUH) I saw an old man moving a corpse cart and no one else was with him. I went forward to help him, and said, "Has the corpse prayer been offered on this body?" The old man said no. I said that it was better to wait for the relatives to come and pray. The man replied, "Hajji, tell me, there is no one but me." when we offered the prayer, I helped take the body to a special ambulance. I asked him, "What do you have to do with the dead?" He said this man is our neighbor. One day I noticed that he was coughing badly and had a fever and had not eaten for several days. I called his children and all of them refused to take him to the hospital. I was asked to do his hospital work. I did it, but after a few days, the hospital called me saying that your patient had died. Again, I called each of his children to release him from the hospital, but each of them gave an excuse and avoided doing so. So I had to do this dead man's affairs and bury him myself. Parents who wake up all night with their children for a cold; A father who does anything for his children, but the children do not come to Behesht-e Zahra (PBUH) even when he dies so that they do not get sick. Taherloui expressed his next memory as follows: On the day of Hazrat Roghayeh's (PBUH) birthday, our work in the purification hall was over and we had gathered our belongings, when a friend came a dead baby and said, "I have brought you a homily for today. A few others and I took a bath. My job was to pour water on this baby's body. Every time I tried to do this, my child's face kept appearing in front of my eyes and I was thinking to myself, and saying, does this baby like water? At the same time, one of our coworkers recited a homily; our thoughts went towards the desert of Karbala and we remembered the six-month child of Imam Hussein (PBUH). When the purification process was over, a friend who wanted to hand over the body to his parents sees that both the mother and the father became collapsed. We used to see a lot of these scenes there every day; for this reason, the morale of the purification forces was extremely vulnerable, and constantly working in the Behesht-e Zahra (PBUH) disturbs the human spirit. Among the purification forces, it is customary that when a dead person is brought to the purification unit, a bucket of cedar water is poured on the body of the dead person to eliminate the bad smell. One day when we had bathed a few corpses had come from the forensic medicine and we were very tired, the head of the morgue asked us to bathe and cover another corpse as the last item. When they brought the corpse, you could smell a very fragrant perfume. At first, I thought I could smell it myself, but I realized very soon that this perfume also reaches my coworkers. We told ourselves that this person may have been perfumed in the hospital. Anyway, we did the purification. The body belonged to a handsome old man with a white beard. When the purification process was over, we can smell that perfume. When we wanted to cover him, I noticed the glue that was left under the corpse; therefore we did the purification again. When the second purification was over, there was still the same smell of perfume. When we delivered the body, I asked one of my clergymen to go after the body and see who his family was and what was the reason for his pleasant smell? When he returned, he cried and said that he had no one. Wasn't there anyone to pay the cost of the dead? He said yes, the officials of Behesht-e Zahra (PBUH) themselves took the body and buried it in block 326.
The narrator also told his last memory as follows: "in Behesht-e Zahra (PBUH), we used to have a lot of family deaths that we should purify them; a couple or two brothers and so on. One day, I saw an anxious parent holding a sign in hand on which it was written:" Ibrahim Mohammad Mirzaei." I was noticed and asked why this dead person was named Ibrahim Mohammad instead of Mohammad Ibrahim. After a while, I realized that this is not a name, but it is the name of two brothers. When the younger brother finds out that his older brother has suffered from coronary disease, he took him to the hospital. A week later, he was informed of his brother's death, and upon hearing this news, he suffered a stroke at work and passed away.
In the end, the narrator prayed that all of us be real jihadists because God loves real jihadists.
---
[i] It is the largest cemetery in Iran


Number of Visits: 1454
---
http://oral-history.ir/?page=post&id=9862
---