SABAH (54)
Memoirs of Sabah Vatankhah
Interviewed and Compiled by Fatemeh Doustkami
Translated by Natalie Haghverdian
2021-04-06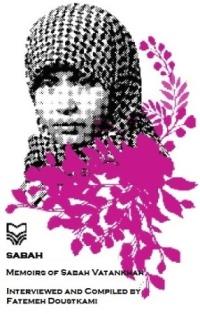 SABAH (54)
Memoirs of Sabah Vatankhah
Interviewed and Compiled by Fatemeh Doustkami
Translated by Natalie Haghverdian
Published by Soore Mehr Publishing Co.
Persian Version 2019
---
I was very worried on our way to the hospital. I was worried for the child. He had lots of shrapnel and I did not know which one of them has created deep wounds and which one has resulted to light wounds. Mosadegh was driving with one hand and was holding the child with the other hand tightly. If he moved his hand away from the child, he would fall out of the vehicle in one of the bumps or swirling movements of the car. The noise of shooting was heard constantly. I was praying to God in my heart to arrive safe and sound to the hospital.
A part of the mattress was hanging out of the vehicle. If Keshvar or I loosened our hands for one second, the mattress and the soldier would fall out. We got to the bridge. The Iraqis had hit the bridge and Mosadegh had to pass the bridge carefully to avoid the fall of the tires of the vehicle into the pits and holes created by the explosion of mortar bombs.
Thanks God we passed the bridge and got to the hospital. When we got out of the vehicle, we were shocked! The whole vehicle was full of holes like a colander. It was God's mercy that none of us had been hit by bullet or shrapnel. We handed over the child and the soldier to the nurse. They took the child for bathing. I was feeling well to be able to get him to the hospital[1].
I went upstairs to visit my father. Shahnaz was still there. Thanks God my father was feeling well. Although he still had respiratory problem and could not breathe easily, but considering the shrapnel that had entered his lunch, this was normal.
It was in the evening when I decided to return to Khorramshahr. Although we were expected to evacuate the office, but there was no final decision on it and our air work continued. Shahnaz accompanied me and Keshvar stayed in the hospital.
Near the sunset, we started walking towards Khorramshahr. We walked until airport square. Near the square, an unveiled young girl who had a pony tail and was driving a Jiyan, stopped near us and asked: "Where are you going?" I said: "Behrouz alley." She said: "Get in. I am going to Abadan but I will take you there first."
We got in. The front seat was full of cigarettes. We sat in the back. I told her: "Where are you taking all these cigarettes?" She said: "I am taking it for my fighting comrades in Abadan."
The left parties or Communists called each other comrades. She meant that she took them the cigarettes. I told her: "don't you think that your action is not good? You can help them by other means." She said: "No, on the contrary, I think my action is very good and proper. They are fighting and their nerves are wrecked. These cigarettes will help them a lot; will comfort them!"
We got off at Behrouz alley. We talked about the weird action of the girl while we were waiting for another car to get us to Khorramshahr.
On our way, near the bridge, we saw an ambulance exiting the city. A number of aid workers of the office were in it. Belgheys was giving us a sign from the window of the car. She was telling us to go back. Without paying attention to Belgheys's signs, Shahnaz and I went towards Jame mosque.
In mosque, we heard from the fighters that around noon at two o'clock, Sharif Ghanouti and a number of soldiers accompanying him have been captured as prisoners of war by Iraqis in Chehel Metri Street. We felt so sad. Losing Sheikh Sharif was not easy. He was always clothed. I was afraid that the Iraqis might be disrespectful to him. I was praying in my heart for him.
In the short while when the team members had evacuated the office and exited the city, a cannon ball had hit the ceiling of the office and ruined it completely. If the cannon ball had hit the office a few minutes earlier, only God knew how many of our team members could be martyred. As it darkened, the redness of the bullet wheezing around us, was more obvious.
In the twilight, I was standing in the yard of the mosque. My chest was so heavy that I could not breathe easily. I was not feeling well. I had never been confused and sad like today. It had been a hard day. There was no other woman in the mosque except Shahnaz and I. The office was also empty. The city felt like estranged and alone. There was silence everywhere. I felt as if my heart was exploding. I knew that we could not stay in the city anymore but my feet had no strength to take steps.
Where would I go?! This was my city … my house was here … my memories were here … I was in my thoughts when a mortar bomb hit near the entrance door of the mosque and shook the yard and chamber of the mosque. I could not stay in the mosque either. Besides the dangers of staying in the mosque, there was another issue. The mosque had turned into a male atmosphere and it was not right for Shahnaz and I to stay there among all soldiers. Shahnaz was devastated and said: "Sabbah, let's go. There is no use to stay here sister!"
I said: "You are right. If we are shot, the others will get into trouble for us."
We came out of the mosque. We walked towards the river while passing the mosque and the Enghelab Street which was under the dominance of Iranian forces. We got to Imam Khomeini Street where the vehicles which went towards Abadan, were there. Shahnaz wanted to go to the team members of the kitchen and I wanted to reach my team members of the office but we did not know where they are.
Although the sunset of Khorramshahr was also pokey and bothered us but this sunset was much pokier than ever. The reflection of red light of the sun on the water of the river was as if the river was filled with blood. it was as if the blood of all martyrs which I had seen until that day, had gathered all in one place and was flaunting the loneliness and estrange of Khorrmahshar more. I told nothing to Shahnaz about my feelings towards this sad sunset. She was silent and it was obvious that she is also thinking about his sunset of longitude and blood. My chest was heavy and in pain. Only God knew what I felt inside at that moment and how worried I was. I did not dare to look at Shahnaz's face. I felt that if we stare at each other, we would start crying. We still had a little bit of hope in our hearts. I did not want our tears to fade this hope away.
We reached Taleghani hospital. We asked all the fighters there whom we knew frequented in Marabeh[2] kitchen about the others and figured that they are stationed in Electricity Organization building. I asked them about the medical team members but nobody knew where they are.
It was night time already when Shahnaz and I went to Electricity organization building. Electricity organization was located in Abadan Khorramshahr road and more near Abadan. It included administrative building; electrical facilities and the powerhouse were all there divided by a big yard. The kitchen team members, who were stationed in the basement of the building, were very happy to see Shahnaz and me. They could not believe that Shahnaz could locate them and return to them again.
The team members were lying in each corner as a defeated army. Nobody was in a good mood. We were all sure that the city will fall today or tomorrow. We had a strange and indescribable feeling. It was as if they were cutting a part of our fleshes while we were still alive. I never thought that the soil could be so dear. Our soil was dearer than father, mother, sister, brother and … and now this dear one was fading away from us.
In the silence and darkness of the basement, I heard the news of the martyrdom of Mahmoud Farrokhi. I do not remember who broke this news to me; I just remember that I had no energy left in my hands and feet. What a heavy and ominous day was today. Twenty fourth day of first month of autumn had stretched and became an unlucky day instead of all the past days after the war. Many others had been martyred besides Mahmoud Farrokhi.
An estranged sadness was in our hearts. All voices had hatred in their tones. There was no use in not crying and keeping our spirits high to avoid hurting others. Soldiers were being martyred one by one and the city was walking step by step towards fall. One of the team members said: "This is the second night that we are not in our city…" although I was in my thoughts and was not paying much attention to the surrounding, but I heard them crying. The team members were crying. The situation was the same until morning and nobody could sleep.
In the morning, after saying prayers we waited for the sun to rise completely and then bid farewell and went to hospital along with Shahnaz. I had hopes that I could locate my team members in rescue team in the hospital. Either they would come to visit the injured or I could ask the members of Abouzar team who commuted to the hospital constantly.
This actually happened. In Taleghani hospital I saw a few members of Abouzar team and asked them about the whereabouts of my team members. They informed me that they are located in Abadan Karevansara Hotel. I was very happy. We walked out of the hospital without a minute to lose. Karevansara hotel had been built one two years before the victory of revolution and belonged to Gholamreza, brother of Shah. The hotel was located at the first entrance of the city from Khorramshahr to Abadan side and was a luxurious and big hotel. We walked in. a few meters forwards on the left hand, was the guard room. Two individuals were there. When we entered, they asked us: "With whom do you want to meet?"
I said: "We are a member of the Khorramshahr rescue team. In the past our group was active in Jameh mosque but now apparently, they are here. We want to go to them."
They asked our name and then brought a notebook and said: "Sign here and go inside." We signed and went in. A few steps away from the guard's room, there was a big and beautiful oval shape pool in the yard of the hotel which was full of water. God knew how much we missed seeing water; clean water where we could wash our dirty hands. I was looking at the turquoise pool of the hotel that Belgheys came towards us and hugged Shahnaz and me.
We entered the main building of the hotel. On the left side of the lobby, there was a covered hall where the team members were stationed. We went in. Keshvar, Ashraf, Ms. Akbari and Mehrangiz were there. We were so happy to see each other alive and healthy. All team members greeted us one by one and hugged us. We could not believe that nobody has been shot by bullet or shrapnel since yesterday. As the team members said the army forces had had lots of martyrs yesterday and practically its formation had been destroyed. Now that I had found my team members, I would continue my rescue activities.
Karevansara hotel was in the hands of a person called Seyed Mojtaba Hashemi and a big number of his forces, called Islam Fadaiyan, who had arrived from Tehran. Seyed Mojtaba Hashemi was a tall man with trained body and was quite like the commandoes we saw in Khorramshahr. He was talking with Tehrani accent and a kind of lootigari (generosity) was specifically seen in his behavior and speech. His deputy was a man named Sandoughchi. Mr. Hashemi was a middle-aged man of forty something years old who had beard and long hair. He wore an overcoat and six pocket trousers like guerrillas and had a commando green crooked hat. When I saw him for the first time, I thought he belongs to the official military forces but the team members said that they belong to public forces. We were located on the left side of the lobby of the hotel and the office of Mr. Hashemi was on the right side of the lobby.
To be continued …
---
[1] Years later, I regretted my decision about that child very much. I regretted why I did not go after that child that day and did not understand what happened to him after that. Maybe that kid could be a reminder of those days for me. A child who had lost all his family ran into my arms to share his displacement with me. The regret of having and keeping him still lingers in my heart.
[2] Ever since they stormed parts of the Jameh Mosque, kitchen workers have been working in the Marabeh Hosseiniyah, behind the Grand Bazaar and next to the Seyyed Ali Mosque.


Number of Visits: 149
---
http://oral-history.ir/?page=post&id=9822
---