Book review: From Godar Takhti to Ramadi
War memoirs are bad and bitter; bury them and do not recount
Memoirs of the freed POW from nomads of Bahmai Tribe
Jafar Golshan Roghani
Translated by M. B. Khoshnevisan
2021-03-09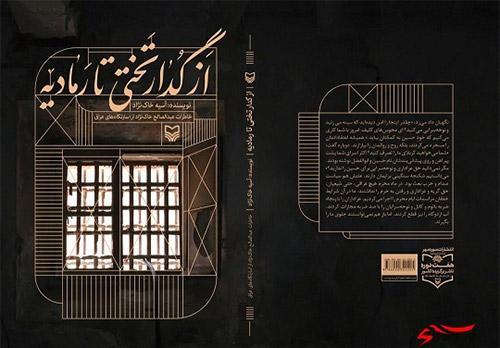 "When we saw the behavior of the Iraqi guards and their tortures, returning home was like a dream for us until we heard the news of Iran's acceptance of the UN resolution. I talked to all my roommates and they hoped for freedom. One night, an Iraqi officer ordered our guard to gather prisoners in the camp area. We gathered and he began to speak. They wanted us to say nothing about what was happening in the Iraqi camps in Iran. He said: Do not make your families upset by telling memories of captivity. Instead of telling the Iranian people what happened to you in the Iraqi camps, tell them about the freedom and joy of meeting them. Memories of war are bad and bitter, and by telling them you upset both yourself and them. Bury all the memories of the captivity here and return to your country." (P. 117)
These phrases can be considered as the most important reason and necessity for recording and publishing the memoirs of the combatants and freed POWs of the Iraqi imposed war against Iran. These statements clearly show Saddam's Ba'athist regime's fear of saying what has happened to the Iranian captives and can be a source of shame and humiliation for Ba'athist criminals for centuries and for historians to expose the inhuman and barbaric face of the Ba'athist forces to the whole world. Now, we can understand better how valuable the memoirs of every single prisoner and combatant can be. It is now possible to understand how necessary and important it is to pay attention to the literature of perseverance and resistance and to publish the memoirs and write the history of the sacred defense.
The above mentioned sentences are part of the book "From Godar Takhti to Ramadi" which is the memoirs of Abdul Saleh Khaknejad from Iraqi concentration camps, written by Mrs. Asieh Khaknejad and published by Sooreh Mehr Publications with the attempt of the Office of Culture and Resistance Studies in Kohgiluyeh and Boyer-Ahmad in 1398 (2020). Mrs. Paknejad has a master's degree in Resistance Literature from the University of Isfahan and this is the fourth book she has written. Many years ago, she published the memoirs of her uncle's five years in captivity, until in 1396, upon the suggestion of her brother, she decided to complete, rewrite and publish them. So, she completed and published the material again in 30 two-hour sessions over a period of 4 months.
In the book's introduction, Asieh Khaknejad mentions the three main problems she faced in compiling the book. First, "I could not stand it when my uncle talked about the torture, the environment, the behavior of Iraqis, health, etc., and I left the book for a while to come to my senses and start over." The other was that my uncle did not like to talk about those days, and I urged him till he accepted, and the reason was that he did not like to recall those bitter memories. Because he himself got upset and sometimes cried. Another was that a long time had passed since the captivity of my noble uncle and he does not remember many events and some questions remain unanswered. It often happened that I would leave a chapter of the book and dealt with it a few days later until he recalled the memoirs. I also got help from his friends and they shared their unspoken memories with me ... since during this time I was engaged with lots of questions, every time I faced with the reminding of the questions, I would go to my uncle or call him. (By hearing) the tortures and hardships my uncle had suffered during his captivity, I was in so much grief that sometimes I stopped writing. Nevertheless, I had sweet moments and successful experiences when each of the book's section came to an end. The spiritual pleasure of writing this book will always be with me." (Pp. 9 and 10)
Abdul Saleh Khaknejad, son of Ali Saleh Khaknejad, was born on the first of Farvardin 1331(March 21, 1952) in Godar Takhti village from the central part of Bahmai town in Kohgiluyeh and Boyer-Ahmad province. Like the other inhabitants of this village, he is from the family of Hassan from Baboli Tribe and is considered one of the Bakhtiari Lors and speaks in the Lori language. He is the third child among six brothers and eight sisters from out of three marriages of the father. He is one of the captives of the Ashayer or nomads and he himself says that we spent our lives in summer and winter quarters. One of his brothers was born on the day of his return from captivity and was named in Jahangir's identity card. "But my father calls his name at home as Azadi (freedom) on the occasion of my freedom from captivity, and everyone calls him Azadi." (P. 24) He continued his studies until he was 10 years old, traveling 30 kilometers to reach Sarkhooni village, to attend the class of the village's mullah, Haj Mohammad Javadan. He then dropped out of education to work as a laborer in order to provide living expenses. At the age of 15, he moved to Abadan, 450 km far from his village. There, he worked as a laborer to earn a living. In 1977, he married "Farang Jooj" the result of which was five children named Adel, Esmat, Zahra, Saber and Asma. Zahra died at the age of 4 months when his father was in captivity.
While working in Abadan, Abdul Saleh became acquainted with Imam Khomeini's thoughts. "I worked there during the day until the Maghrib or evening prayer and after that, I went to the Khorramshahr's Jame' Mosque. After prayers and dinner, I slept there on a carton. Ayatollah Jami was the prayer leader of the mosque and was saying things that many of us were unaware of. His words were about the situation in the country and the misery and poverty of the Iranian people and the existence of a leader who said that the people had followed him to fight against the imperial system. This is how I became acquainted with the thoughts of Imam Khomeini. When I came to the village, I repeated the words of Ayatollah Jami and informed them about the situation in the country. Since the people were very close to each other and went to the house of one of the villagers every night and get together, I talked about those lectures in the evenings." (P. 26)
After witnessing the fire at Abadan's Rex Cinema, he returned to his village. Influenced by the words of his older brother Mohammad Saleh, who encouraged the villagers to go to the fronts from the very beginning of the war, he went to the fronts for the first time on April 4, 1983 as a Basiji. After undergoing theoretical and practical military training in Yasuj, he joined the Al-Mahdi Brigade, which belonged to the guys of Kohgiluyeh and Boyer-Ahmad Province under the command of Sohrabi, and chose to work in the kitchen.
"Every day we cooked food and took them for the combatants by the IRGC vehicles." He returned home after about 9 months. Three days after his daughter Zahra was born on February 3, 1986, he went to the front for the second time and joined the 25th Karbala Special Division under the command of Morteza Ghorbani, who was among special combatants from Mazandaran, but also part of the forces of Kohgiluyeh and Boyer-Ahmad Provinces. The division was involved in Operation Valfajr 8, which aimed to seize Fav and then advance toward Basra. In this division, he was one of the forces of Saifullah 2 Battalion and under the command of Hossein Tafazoli and his successor, Martyr Atau'llah Hosseini. The operation began on the evening of February 9, 1986, which led to the seizure of Fav. After arriving in Fav, Morteza Ghorbani raised the Iranian flag over the minaret of the mosque at 9 am. The flag had been blessed in the holy shrine of Imam Reza (PBUH), and I was informed through one of the combatants. On the flag, the sentence "Peace be upon you OAli ibn Musa al-Reza". Everyone burst into tears and after the installation of the flag, hope and courage sparkled in everyone's eyes. After hoisting the flag, Ayatollah Khamenei, Ayatollah Hashemi Rafsanjani and Mohsen Rezaei were also present and Ayatollah Khamenei gave a gift to each of us. After that, the commander ordered us to move forward and said: "Other combatants who are at a distance behind us will join us within a few hours." (P. 39)
Abdul Saleh was among the people who were surrounded and captured by Iraqi forces as the forces advanced toward Basra, 45 km from the city and near the salt factory and the Death Three-Way. Of course, some of his friends such as Ali Khoobzadeh, Khodadad Ebadi-Fard, Mohammad Reza Dastan and Mandani Vahdatnejad were also martyred. "Iraqi soldiers covered our eyes with handkerchiefs and beat us with their boots and butt stocks. Although I was no longer free, I still could not believe that I had been captured. The only thing I did not think of during my time on the front was captivity. All my thoughts and desires were martyrdom, but fate wanted something else. When I was captured, I was very sad and I was saying to myself, what will happen to me? Is my family aware of my captivity? My mind was occupied with these thoughts when I came to my senses and saw that I was walking in front of the Iraqi soldiers. " (P. 41)
Mrs. Khaknejad has devoted the third and fourth sections of her uncle's memoirs (from pages 42 to 119) to describing his condition during captivity and mentions his memories of the hard days of 5 years. In the third part of the book, he recounts his memories from the beginning of his captivity until his arrival at the Ramadi camp in Anbar province, in the westernmost part of Iraq on the Jordanian border. Abdul Saleh was captured on February 11, 1986. After a failed attempt to escape, he was sent to Basra along with several others. "They gave us no water or food, and we could not talk to each other until near Basra. When we arrived in Basra, female dancers were brought and they started dancing in front of us to show their joy and happiness over our captivity". We took our heads down and the Iraqi soldiers slapped us under the chin, forcing us to raise our heads. Gradually, prisoners from other battalions joined us, and we were glad to be able to get information about the operation from them. There was no news of water or food during this period. That night, they forced us to go among the barbed wire and beat us with cables until morning. All our clothes were torn as a result of the strokes of the cables, and blood flowed from our body and mixed with the mud under our feet. After that hard night on March 15, 1986, several journalists and cameramen came for interviews in the morning. The dancers came again and danced, and if our heads were down, they would beat our wounded bodies with a cable to lift our heads. " (46)
Like other captives, he was interrogated and tortured in the Basra camp and intelligence section. In his own words, "their worst torture was to turn on the iron to heat it up well, and then pass it over our bodies. Other tortures carried out by Basra intelligence section included pulling nails, hanging prisoners on a ceiling fan upside down, burning their bodies with cigarette fire, beating with cables, and flogging. My heart wanted to burst with pain as the hot iron was passed over the wounds inflicted on my body by the cable. If I screamed, they would pass it more over my body. I had to be silent. Many were martyred under torture. " (PP. 46, 47)
After four days, he and other captives were sent to Baghdad. "When we arrived in Baghdad, we were being turned in the streets. Female dancers had come and were dancing in the street, throwing rotten fruit at us. We took our heads down, but they hit under our chins with Kalashnikov and raised our heads. There were bloods under our feet. We had become giddy by the fetid smell of blood. They harassed us a lot and said that you were not an ordinary soldier who came by force. You yourself volunteered for the Basij. Until the evening of that day, they took us through the streets of Baghdad amidst the joy and dancing of the women, and then they took us to the Baghdad camp. We endured all the tortures of the cells of Basra in the cells of Baghdad as well ... After about 8 or 9 days, we moved from Baghdad to the city of Ramadi in Anbar province. On the way, they asked us to chant "Death to Khomeini". But we did not and they beat us with cables. " (P. 47)
Mrs. Khaknejad has dedicated the fourth part of the book to the memories of her uncle in the Ramadi camp, known as Camp 10. In the first chapter of this section, the owner of the memoirs presents a picture of the location and the circumstances of the camp. "The floors of the halls were covered with mosaics and the walls were made of cement. There was no ventilation or cooling system. The rooms were built to be cold in winter and warm in summer. Two rows of fluorescent lamps covered the ceiling and were on 24 hours a day. Sections one and three were on the left, and sections four and two on the right. "(P. 51) He then describes his inner state of entering such a place as follows: I was silent and sank into myself without thinking about anything or anyone. When we arrived at the Ramadi camp in Al-Anbar province at 5 pm, I had a strange feeling ... When we entered, our eyes fell on the barbed wire, which we imagined in the form of a dreadful prison in our mind. No one was there, and we were the first prisoners to enter." (P. 52)
He goes on to recount his memories regarding how the Iraqi guards welcomed them and how the death tunnel was formed, saying, "We entered the sanatorium and each of us was given two blankets, a pillow and a glass. The camp was in poor health. About 65 of us were placed in a 4 in 10 meter-room with a ceiling fan hanging from it. There was no room for 65 people in the room. Little by little, other prisoners were also brought. We had to adapt to it. Some of the guys stood up so that others could sit and rest. There was no enough space for us to lie down in the room to sleep. The guys' legs were placed on top of each other and some of them were sleeping while sitting. " (P. 53) Then he talks about how they spent the first hard days that they were not even allowed to pray, and spent the days with minimal food. The communication of the 16-article rules of the camp and division of works among the prisoners, how to count and the psychological and physical effects of the bad atmosphere of the sanatorium on the prisoners, which was very hot in summer and very cold in winter, and that the prisoners suffered from various diseases such as dysentery and heatstroke, are among his memories in this chapter.
In the second chapter of his memoirs, Khaknejad recalls how he became a cook in the camp: "One day in the early days of captivity, we were taken from the room to the yard and lined up. The Iraqi captain started speaking and said, "Which one of you can cook?" We looked at each other silently. He repeated: If any of you do not declare his readiness to cook, you should eat raw food from now on. I, who knew how to cook, was about to stand up to say, but the guys grabbed my shirt to sit on. They had been afraid that they have plotted against us. Relying on God, I got up and said: I know how to cook.
After me, two more others who were from Tehran, got up. The Iraqis were amazed at our courage and boldness. They paused for a few minutes. The captain looked at us with angry eyes and said in a terrified voice: What was your job previously that you now claim to be a cook? I said in a hushed voice: I used to cook in the Iranian companies. He was silent. He looked again at Eskandar who was from Tehran, with the same anger. He asked him: What are you doing and when did you get acquainted with this job? He said: I was a cook in the Husseiniyahs of my master Imam Hussein (PBUH). He said: What is your relationship with Hussein? Hussein belongs to us, what is his relationship with you? They were looking for an excuse and because of Eskandar's words, they beat everyone again with cables. Then they chose me as a cook and Eskandar and 3 other guys as assistant cooks. " (Pp. 61 and 62)
In the same chapter, he narrates how one of the captives was martyred: "For the first six months, we were beaten three times a day with cables under false pretenses. One day they hit us so hard on the head with a cable that the head of one of the guys, who was from Semnan, was split so much so that he was covered in blood and fell on the ground bloodlessly and was martyred a few minutes later. We burned for him from within, but did not dare to raise our heads. The Iraqis lifted his body with the worst behavior and took him and told us to go inside the hall. It was as if they were afraid that we revolt." (P. 63)
In this chapter, he talks about the food ration for each prisoner. Each day, we had two loaves of Samoun bread (a kind of sandwich bread) whose dough was used to make Halva. We had Shourba mostly for breakfasts which was made with 4 kg of lentils and 1 kg of rice for 270 people. He well remembers that none of the prisoners during the years of captivity could sleep even one night with a full stomach. No one dared to protest; "Because they said they would give us as much food as we would not die and exchange us for Iraqi prisoners" (p. 67). There was no ice or cold water, as their drinking water was very hot even in summer.
In the third chapter, Khaknejad expresses his memories of holding ceremonies, including celebrations and mourning. Mourning for Imam Hussein (PBUH) was forbidden and there were severe punishments. Also, mourning for the demise of Imam Khomeini or the holding of celebrations for Bahman 22 (the anniversary of the victory of Islamic revolution) and Nowruz or New Year, "saying night prayers and mustahab prayers were forbidden. No one had the right to use a mohr or turbah to perform the obligatory or Wajib prayers. " (P. 70)
Mrs. Khaknejad has included her uncle's memoirs of the health conditions of the sanatorium and the camp and the behavior of the Iraqis and the training and entertainment of the prisoners in the following chapters of this section. Types of torture such as sprinkling salt on wounds, pulling the nails, ironing the body, dipping in ice water in the cold and whipping, lying on hot sand in summer in temperature over 50 degrees and pulling the teeth have been narrated in this chapter.
From the viewpoint of the narrator, the most attractive part of the captivity was the taking of the captives to the pilgrimage to Karbala and Najaf before freedom. "We arrived in Karbala with bloody hearts and teary eyes. All the guys cried loudly. We got off and went to the holy shrine by sending Salawat. The guards beat us with batons and cables as they were taking us toward the shrine. Gradually, many guys hid among the crowd and shouted: "Send Salawat for the health of the Imam and the destruction of the accursed Saddam." (Pp. 110 and 111)
Abdul Saleh Khaknejad was released in August 1990 after enduring five years in captivity. When he heard about the death of his daughter Zahra at the age of four months, he got so sad that he could not get rid of it after many years. Years of captivity have had a profound effect on his soul and body. As he puts it: "For some time after freedom, I still did not believe that I was no longer in the camp and that I was living in peace in my village. Every morning when I woke up I thought I was in the camp and I had to wait for the Iraqi soldiers. One morning, my wife found out that I was in another world. She called me and I answered in a state of fear and got up quickly. He asked: Why did you become like this? Did you have a bad dream? After that, I came to myself and said I thought I was still in the camp. I can't believe that I had gotten rid of all that torture and pain. Once, I picked up the bread crumbs fell to the ground, and ate them. I thought to myself that I would become full with them and do not need lunch. My sister Hakimeh called me: What are you doing, brother? I raised my head and said: Am I not in Iraq? He said: No. I said: I thought I was in Iraq and so I amassed the bread to eat and become full because they gave us very little food there. The effects of captivity on my soul, mind, body and thoughts still continue. I was very kind to my people and family and treated them kindly, but I could not control myself whenever something or someone made me angry. Every time I get upset with my kids and they do something bad, I get so angry that I look for cables and power cords and beat them. No one can stop me because I hit them with a cable. When I calm down, family members say, "You have become like Iraqi soldiers, and I am saddened by myself." (Pp. 130 and 131)
At the end of the book, several pages have also been allocated to the photos of Khaknejad which unfortunately had been published with a very poor quality.


Number of Visits: 1913
---
http://oral-history.ir/?page=post&id=9797
---