Iran to hold Int'l Conference on Ancient Iran, Oral History
Translated by Abbas Haji Hashemi
2016-04-17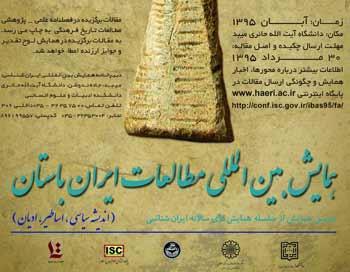 Iran is to hold the first international conference on Ancient Iran Studies with special focus on political thinning, religions and mythology at Ayatollah Haeri University in the middle-southern city of Meybod, Yazd.
The scientific secretary of the conference says the event is the second installment of annually conferences held on Iranian studies and will be mounted for two days on November 2 2016.
He said the event is aimed at raising awareness about the history of Iran in ancient times.
Saman Ghasemi Firouzabadi further underlined the significance of regional studies and oral history, adding that "Researchers and geography lovers in Meybod may submit their articles to the conference in three sections: development of religions in Meybod and its surrounding regions, status of myths and religions of ancient Iran in the region's culture and beliefs, and the impact of ancient Iran thinking on artworks in Meybod and the adjacent regions specially on clay works and rugs."
Abstract of articles may be sent to the secretariat of the conference at http://conf.isc.gov.ir/ibas95/fa or Haeri university portal at www.haeri.ac.ir.
The Islamica Encyclopedia, Tehran University and the Iranian Association of History have sponsored the conference.


Number of Visits: 4961
---
http://oral-history.ir/?page=post&id=6292
---