He had changed his policy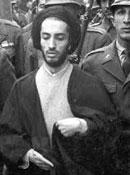 An interview with the political secretary of Nawab Safavi, Majid Tafreshi
Etemad daily, Jan 17, 2015- Majid Tafreshi believes that Nawab Safavi like any other social and political activist had been changing his policy of interacting with politics and politicians and if he was still alive, the destiny of Fadaeian Islam group would be something else. In this interview, we will have a brief review on the political life and viewpoints of martyr Seyed Mujtaba Mir Lowhi better known as Nawab Safavi.
Q: First of all, what was the impact of the family and social origin of martyr Safavi on the shaping of his personality and character? We know that Nawab started his education in modern schools and spent the secondary course in the German Technical School.
A: Numerous books have been written about the life and activities of Martyr Seyed Mujtaba Mir Lowhi known as Nawab Safavi from different religious, national, left, monarchial and secular viewpoints. An important point about his life is that the late Nawab Safavi was born and grown in an ordinary religious family. His education in the German industrial school had less impact on his viewpoints. Even due to the modern features of Reza Shah Era, a kind of westoxification emerged in him so far as he thought that he should do an important measure as a new-comer clergy during the first years of 1320s solar hijri and after the dismissal of Reza Shah. At the same time, he had brief traditional studying. At any rate, he thought that those who are campaigning against religions should be encountered intensely for the correction of the community.
Q: Martyr Nawab was the disciple of Allamah Amini the writer of Alqadir in Najaf. Amini's book is among prominent works in defending Shiism. Did such trainings influence in Sfavi's approach?
A: On the basis of the interpretation I have from the daily life and teachings and function of Allamah Amini, I do not regard him as a person who likes to campaign and he does his work on the basis of science, Ijtehad and Shiite and Sunni narrations. He himself was never involved in political activities and carried out scientific works. Meanwhile, we did not know to what extent Allamah Amini or Haj Aqa Hosseini Qomi persuaded Nawab Safavi in doing political activities.
Q: Some say that martyr Safavi brought Kasravi's book to the ulema and received decrees from them.
A: To me, this is not a precise interpretation. Issuing a legal decree does not mean permission to all. Another point is that when Nawab came to Iran, he did not intend to campaign from the first day. The documents of the Justice Administration and Interior Ministry show that he challenged with Kasravi and his followers which was later spread to street clashes. After these events, Kasravi and his secretary Haddad Pour were assassinated by Hossein Emami who was never tried and they were free until the assassination of Hazhir. Therefore, it should be noted that Kasravi's followers were not democratic and peaceful people.
Q: It was at this time (1945) that the Association of Fadaeian Islam was established. What was the main idea behind the establishment of the group?
A: Fadaeian Islam was born when the theoretical activities of some of the young clerics or religious youth mostly from Tehran and less from other cities reached an impasse. After August 1941 when they saw chaos or as they said immorality in the country and when an incomplete democracy was shaped, they decided to carry out a practical measure in order to solve the problem. Of course, they had some propaganda. But there was no deep political thought behind them and due to this, they were misused in several occasions.
Q: It is said that different approaches and intellectual currents existed inside the group, especially about Martyr Vahedi which is said that he was not supporting Safavi's ideas fully and had differences of opinion in some cases especially when Nawab Safai was in prison and he disobeyed his orders.
A: Vahedi brothers were among passionate clerics who found differences of opinion with Safavi in the middle of their way. If we take a look at the memoirs of Seyed Hassan Badla a close relative of Vahedis who passed away a few years ago, we see that he had referred to the differences of opinion and political practice between Nawab and Vahedi. For example, it can be referred to the famous communiqué Nawab issued about Ayatollah Boroujerdi and Ayatollah Kashani which led to difference between them.
Q: In general, we can conclude from your recent discussion that if those who have radical views are allowed to have political activities, they gradually learn the rules of the game whether or not.
A: The world of politics is far from that of idealism. Martyr Nawab Safavi was not initially the actor of the politics arena and was just after reforming the community while a political activist has an important goal and tool. His or her goal is to gain political power and success. A political activist who says I enter the arena of politics but am not interested in gaining power, is not a politician or has not recognized politics. A politician who is interested in interaction, dialogue and understanding and peaceful confronting with others, he or she does not recognize politics. Nawab realized this late but found out to some extent that yesterday's enemies can be tomorrow's allies.

Mohsen Azmoodeh
Translated by: Mohammad Baqer Khoshnevisan
Etemad Daily

Number of Visits: 4072
---
http://oral-history.ir/?page=post&id=4233
---