Interview: "Truth Be Told"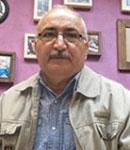 "Publication of the book worried everyone", said the author of "Truth be Told" about his book.
Ahmad Talebinejad, director, literati and film critic, has recently written a book which tells the stories and happenings behind Iran's film industry.
The book's unprecedented candid tone has made it outstanding among other works released so far in Iranian book market about the cinema.
Speaking with Iran Book News Agency, Talebinejad spoke about the aftermaths of the book's publication and its social reception.
What follows is an exclusive excerpt from the interview.

-You have adopted a blunt, straightforward tone in an iconoclastic book about a film industry fraught with roundabout expressions and interactions. In the first place, what made you decide to take this tone in the book?
I have been asked the same question repeatedly since the release of the book and many of my friends have started worrying about me for publication of the content. But, those who are more familiar with my working style know pretty well about my candor which is always with me and has caused troubles for me in many instances. As an example, they suspended my weekly under the previous administration mostly because of the blunt language we used in its articles. The other reason for the straightforward language in the book could be attributed to eight years of pressure I suffered during the presidency of the previous Iranian president and my strained confrontations with the Ministry of Culture and Islamic Guidance which suspended my weekly. I underwent tough days at that time and was skeptical about everyone who contacted me. This book is an outcome of those days especially the days that followed the restriction of my magazine.

-What were you after by publication of this book?
Well, writing memories is usually written by political and cultural figures with social influence, but for me, this memoir is simply a method for conveying my experiences to the future generations, because everyone has lessons to teach others.

-This is a norm among filmmakers who make films based on their life stories. How much does the book reflect your life?
"Truth Be Told" is in fact my story presented in the form of a novel. I also released a novel under the title of "The Year of Safar" in 2000 in which I pointed to some of the events that took place during my childhood. Unfortunately, the novel has not been allowed to be reprinted since then. I have another novel which has been kept in the Culture ministry for about 12 years and waits to be approved for publication. Furthermore, I penned this 26-episode screenplay with the name of "The Times" which has not been dramatized yet. In that work, I reflected myself as a writer in a symbolic society.

-An important feature of your book is that it mentions a widespread problem in the filmmaking industry of the country which is addiction to drugs among actors and producers. Why is that?
I do smoke myself but have seen many of my friends and acquaintances in the film industry to become addicts and ruin their lives. I know one of the country's best poets who was my friend and many believed he would once become an outstanding poet of the contemporary era; it is now a while that he has started taking drugs and has ruined his life even though we tried several times to make him stop using them. During my university years, all of those with whom I shared my room became drug addicts. Today, I am a university lecturer and see many students become addicts a short while after they enter the university. I intended to reflect on this issue as a growing phenomenon in our society.

-Where do you think such issues are better tackled; in magazines, websites or books?
I think issues like drug addiction must be covered in all kinds of media. Why are news websites interested in the private lives of movie makers and actors but are regardless of their addiction problems. They can focus on this issue without referring to their names so that the future generations are aware of the dangers and aftermaths of addiction. There was even a time before the Islamic Revolution that a generation of poets and their followers believed that only by resorting to drugs and narcotics could they reach out for their best potentials and become real artists! Of course, this is not specific to Iran and many foreign actors and artists are addicts as well.

-Your book was published by Cheshmeh Publication House. Are you planning to have other works published by the same publisher?
This is the same publisher that has so far released several other books on cinema and is a successful publisher in this regard. It has also released works from prominent filmmakers like Asghar Farhadi.

-A picture of you is placed on the book's front cover. Was this your choice?

I didn't want my picture on the cover of the book. I don't even remember when they took this picture. But Cheshmeh has this style for publishing cinematic books on which it puts the picture of the authors on the cover.

-What is the reason movie makers are not good book readers in our country? Do you think they need informing about good publications?
No, many great books are being published in the country even though not enough informing is being done here. Unfortunately, seeking knowledge is not the case in Iran's cinema anymore. They don't spent time reading books. Even the library in the house of cinema in Tehran is always empty and the number of the book readers in the cinema is diminishing day by day and it is much fewer than the number of titles published about cinema.
Translated by: Abbas hajihashemi
ibna

Number of Visits: 3914
---
http://oral-history.ir/?page=post&id=4231
---