A Piece of the War Diary; Ayatollah Jami
Translated by Ruhollah Golmoradi
2022-09-06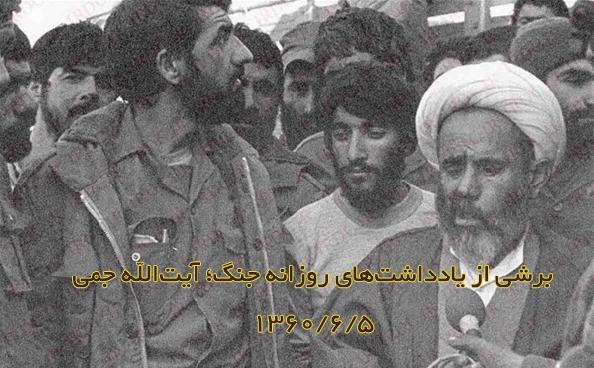 1981-08-27
I don't know, maybe it's been more than four months that I haven't been able to visit the fronts and I'm going to do it today. At around 9:00 a.m., brother Javadi[1] and two other brothers from IRGC came in a Land Rover. Together with my son Mahdi and one of my bodyguard brothers, brother Golestani, brothers Javadi and two others, we moved toward Fayazi front. After visiting this front, we returned home at 11:15. But what did I saw, and how were this front and works that the brothers had done. Alas, I have not the art to express [my own] observations as I felt them. And in short, dear reader, I can't put on paper for you what I saw today because it is visual and not audio. You yourself should consider it. You have to come and see it yourself, and then it will become clear to you why Saddam, with all the forces and ammunition and supported by all the superpowers, fails in this war after one year, and also you can also perceive the miraculous resistance of our fighters against the reactionary powers led by Great Satan, The America. Yes, you should come and see it; that is, Inshallah, after the end of the war and victory, surely visit the legendary city of Abadan and see the impact of faith that I, with my weak writing, do not have the strength to describe these scenes. Well, how and with what power can I explain to you what I saw during more than twelve kilometers among the groves and desert, from the bridge of Station 12 to the front line of Fayazi Front, and how to embody these observations. In the middle of all these palm trees and then the desert, how had been the road built and asphalted, and this work had been done neither by the ministry nor by the army engineer but also by all the brothers of the city's Jihad Sazandegi (Jihad of Construction). This wasn't all the story, wasn't it? When you go out of the groves, you will find the wilderness, and in the opposite side is the front of the Iraqis, who this desert easily is within their eyeshot and their mortar fire; and now how to travel this path. On both sides of the road, these brothers have made such a mountain of embankment that you can now drive through it fully comfortably. Now think of those hands who did such a thing in this field of death and built a road against bombardment, and place the road in the arms of a blockhouse out of the dirt mountain; what their driving force was: coercion or money. They were neither coerced nor had material benefits. How crazy and ignorant are those who ignore the role of religion in construction and once said "religion is the opium the people"; now they come and see which force can create such a movement in society. It is not only road construction and earthworks, but next to the trenches in that desert, ditches and furrows are built in the ground to protect the soldiers against mortar fires. It's also true that you don't have to worry about bullets when you step in there. Even though there, you are not more than four hundred meters away from the front line of the enemy, next to a mountain of dirt and among the excavated ditches, you can easily walk, and bullets and mortars siren caress your ears incessantly above your head. In the front line, which is not more than four hundred meters away from the enemy, the spirit of faith and love for Islam created another miracle. The underground corridors were built, like a Qanat, towards the enemy; they have been advanced to a distance of ten or twelve meters from the enemy and all of them are under the ground. This action is a prelude to the final camisado against Saddam, which, Inshallah, is near. And you, dear reader, should definitely come and see later, and then you will admit that this writing could not describe correctly a little from the many.
After crossing the bridge of Station 12, we went a few kilometers in the groves, which are all near to Bahmanshir River. We saw a huge mud bridge that connects the two sides of the river; it also became clear that it was built by brothers in Isfahan's Jihad during the war. And how strong and good it had been built that the car can pass easily. By observing these scenes, because of effects of faith, self-confidence, and reliance on the Lord, you will understand why Great Satan, America is trying to create chaos and tension in this country these days with all its powers. Well, it was very clear and obvious for them, considering the outward situation of our country, that with a war, in the form of a war, they will sink this regime until utmost one month, and bring another Mohammad Reza to power. But now they know that it wasn't in that way. A year has passed and Saddam, its puppet, is on the verge of complete collapse. What else it can do; except for bombings, assassinations, and creating an environment of terror inside the country. But I wish they would come to their senses so that they wouldn't dishonor themselves and wouldn't bothered us.
The truth is that today, during going and returning from the front, I saw things that I cannot ignore them. Unfortunately, I don't have the power to write them as they deserved, however, with this broken writing, I have to take your time the dear reader again. In the distance of about six to seven kilometers of this route, most of it was among palm groves and ditches, the fighters, in every few meters, chanted slogans such as "war until victory", "neither East nor West, Islamic Republic". Pictures of Imam Khomeini and Ayatollah Montazeri attracted public attention. These reflect the spirit of the fighters of this front. The commander of this front, who is one of the active and live brothers of Najafabad, waited for us and welcomed us in his trench with indescribable kindness and magnanimity. He was very happy that we were able to visit their front and he embarrassed us. He showed us the trenches of the same place and dug canals, which were more like a miracle than normal work; he said if infidel Saddam knew what kind of man he was fighting, he would not have lingered in this desert for so long, and I said he should dig his own grave by his own hands. and then descend into the hell.
In summary, today and its observations, like some days of the 12-month of the war, are some of the most wonderful days in my last year life; as well as, its memory always sweetens the mind and caresses the soul.
In the evening, as usual, at 6:20, we went to the cemetery to visit the martyrs. In the cemetery, today, the brothers in IRGC did noha and sineh zani [(pounded chests with the palms of hands)] for their comrades. It is worth noting that it is evident every week in the cemetery, and I may not have mentioned anything about this in the previous pages, that whenever you go to the cemetery, at least twenty graves have been dug, ready to receive [the] martyrs, and you see a few new graves every day who embraces the newcomer.[2]
---
[1] Engineer Roknodin Javadi was born in 1957 (1336 SH) in Abhar city. In 1975, he entered Abadan Faculty of Petroleum. He was one of the Muslim students and a political activist during his days as a student who fought against the Shah's regime; as well as, he is considered one of the founders of the Islamic Association of Abadan Faculty of Petroleum in 1976 (1355). His religious and political activities made him acquainted with Ayatollah Jami.
After the victory of the revolution, in 1979 (1358), Javadi, together with a number of other people interested in the revolution, was assigned to form IRGC of the cities of Khorramshahr, Behbahan and Mahshahr. After fulfilling this mission, he also became a member of the Abadan IRGC Command Council, and charged with intelligence-research there. Before that, he also played a role in the formation of the Abadan's Islamic Revolution Committee. He managed to finish his engineering studies in 1980 (1359). With the start of the imposed war, he stayed in Abadan and continued to work in the IRGC and was the deputy commander of Abadan's IRGC in Operation Samen-ol-A'emeh and the IRGC's representative in the war room. After breaking the Siege of Abadan, he was called to Tehran and charged with IRGC's engineering in Karbala Headquarters. For a short period of time, he also charged with engineering of Khatam-al Anbiya Construction Headquarters.
After that, Javadi returned to the oil company and continued his graduate studies in the field of management in 1993 (1372) and received a master's degree. So far, he has charged with various posts as a petroleum engineer in various oil and gas sectors of the country, and now is a member of the board of directors and the vice chairman of the board of directors of the Oil Industries' Engineering and Construction Co. and the project manager of this company.
(Interview with Roknodin Javadi)
[2] Source: Kazemi, Mohsen, (207) I wrote to Be Recorded. Tehran: Sooreh Mehr Publication, p. 417.


Number of Visits: 726
---
http://oral-history.ir/?page=post&id=10739
---