Memoirs of a Japanese Mother of a Martyr in Iran
By Faezeh Sasanikhah
Translated by: Zahra Hosseinian
2022-04-04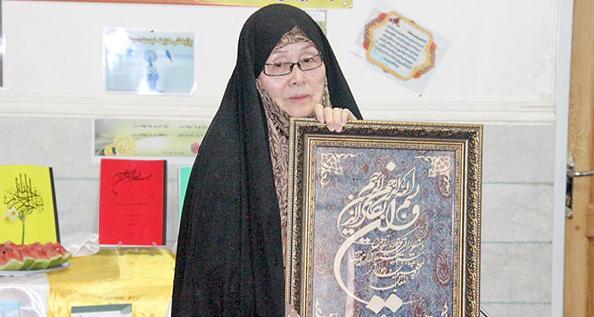 It was the spring of 1983. All the family members gathered around the Haft-seen and recited the New Year prayers, and listened to Imam Khomeini's Nowruz message. My husband recited the Quran as usual and then gave a gift to children. That day, all eyes were on Mohammad, who was about to return to the front. It was the Nowruz holidays. "Mommy, do you remember when I went to school, you once shaved my head?!" Mohammad said.
"Yeah, I remember well," I said, smiling and exciting, "I even remember when you saw yourself in the mirror, you said how much it looked bad!"
He sweetly smiled and added, "It looked so bad that when I went to school, they said it effects on my discipline mark; so I had to go to the barber again.
And how much the hairdresser complained that why didn't you come to me at first?"
I asked, "Why do you tell that memory?"
"I want you to shave my head again," he said.
Laughingly and kindly, I said, "It'll be screwed up again!"
He quickly fetch a comb and scissors and gave them to me. I had a lump in my throat. I both stroked his hair and cut them with scissors. When it was over, he said, "Recite a Salawat for the health of the only Japanese mother of a martyr." He himself recited Salawat loudly, got up from his chair, and stood in front of me. In a moment, I felt his height was taller and his face was more beautiful than before. I intuited that I will never see him again, and this is our last visit. The next morning he picked up his bag, said goodbye to all, and left.
Less than a week after his leaving, a letter was brought home by the Basij. Seeing the handwritten of Mohammad on the envelope, I calmed down. I opened it. "I was in the mountains on the western front," He had written, "but now I've come to the south. The deserts where the martyrs had walked and the blood of them has remained everywhere so that this country does not fall into the hands of the aggressors. God knows it is hard to abandon this holy land."
I read the letter several times and shed tears. I felt a sense of pride and honor. My husband also read the letter and said, "Mohammad has chosen the right path, and we are submitting to the divine command." My husband's words showed that he has prepared his jihad for any event with faith and certainty, and I also tried to reach that faith level and calmness by reciting the Qur'an.
A few days later, all the news of the country was overshadowed by a major attack in the south called Operation Valfajr-1.[1]
On the 13th of April, I was teaching how to paint to the girl students in the Refah School, when, out of blue, I felt sick, and burst into tears. The students looked at me in surprise. I did not know what happened to me. Most of the students were the children of high-ranking officials. One of them followed me out of the classroom and asked: "Ms. Babaei, God forbid, did something happen to your son, ‌who is in the front?"
"I don't know," I replied, "I just felt like I am out of my body for a moment."
I came home from school without any explanation to the teachers and students and without saying goodbye. Everything was normal. Salman was working in his laboratory and Belqis was playing with Zeinab. My husband returned home in the afternoon and seeing my pale face, asked: "It's like you're not feeling well?"
"I'm fine now," I answered, "but I felt sick in the class, and even didn't understand why. Did something happens to Mohammad?" My husband said, "No."
My husband hadn't used to keep things secret. If he heard something, he told me. He and Salman went to the Ansar al-Hussein mosque to perform their evening prayer that night. Finishing his prayer he returned home earlier than the previous night. He had turned pale and couldn't speak. "Mohammad was martyred?!" I asked. He closed his eyes and lowered his head, and I collapsed and burst into tears. Hearing my crying, Belqis was also informed and began crying. But my husband had just stared into a corner. When he saw that I was very restless, he said: "Mohammad was like a God's trust with us. He gave him us and took him from us. We should submit to God's will."
I went to perform my ablution, while I was crying incessantly. Salman arrived a few minutes later. His silence and look showed that he was informed too. I did not know if he had been informed my husband of Mohammad's martyrdom.[2]
Many locals and those who performed their prayer in the mosque came to our house accompanied by the Imam of the mosque that night. Some of them were the parents of martyrs.[3] [3] I did not cry in the sight of martyrs' mothers, but I drowned in my sorrows. The people and relatives visited us to condole for several days. Anytime my eye fell on Mohammad's picture, I felt a deep heartache, and the farewell scene came to life in my memory.
A few days later, I was alone in the house, when I heard the doorbell. I opened the door and saw two Basiji had come to deliver my son's bag. They said, "This is Mohammad's bag of personal belongings." I took it into my arms and closed the door. Then I immediately sat down there. I opened it; it smelled like Mohammad. There was handwriting with a small Quran and a prayer book in the bag. It was as if my old wound opened, and I started to mourn like the Iranian mothers of martyrs. Perhaps I had never seen myself so close to the sufferings of Hazrat Zainab until then. My husband always told me about the philosophy of Rozeh Khani and mourning and referred to the feeling of calmness after it. I calmed down a few days later. I just felt heavy in my heart. One week later, Mohammad's body was brought from the front with another martyr body from the locals. The funeral ceremony started from Ansar Al-Hussein Mosque and 5th Nirouy-e Havaei Street to Pirouzi Street with a large crowd. Most of the locals came to Behesht Zahra. I looked at Mohammad's face when they wanted to bury him. It was like he peacefully slept, just like in his childhood. My husband took my hand and separated me from his body. He told the one who had come from the Foundation of Martyrs, to register on Mohammad's tombstone: "Mother's name: Koniko Yamamura".
Until then, he had never called me by my Japanese name. I was sure he wanted to say that you are the only Japanese woman in Iran who became the mother of a martyr, and these were the last words of Mohammad in the last meeting.
From the next day, wherever my eyes fell on, I saw a trace of his memories, and I wanted to see his comrades. As it happens a group of them come to our house after the operation finished. I had heard from Salman that Mohammad's closest friend was a young man named Ahmad Nasrollahi. He had come too. His silent and sad face showed that he did not want to talk about Mohammad's martyrdom. His friends said that he had brought Mohammad's body back. Hearing this, my husband insisted that Ahmad Nasrollahi tell what had happened that night. He looked down and began retelling with a little reluctant: "We were in the Sharhani zone, and before the infantry, we moved earlier than the others as a destruction battalion to defuse the mines and make the passage safe for the fighters. Apparently, the enemy had prepared to confront us. As soon as we defused some mines, the enemy began firing from the opposite moorlands. The shots were so much that we had clung to the ground. Mohammad was by my side. We dug the soil with our battle helmets to make a shelter. But the ground was hard. The 60 mm artillery shells and mortars were fired incessantly. We put on our helmets. Through wireless, we were informed that the infantry could not come forward and we also should withdraw. Suddenly, I saw Mohammad bow his head. The shrapnel had pierced his helmet from the front and blood had been flowed behind his head...[4]
---
[1] Sardar Jafar Jahrouti: "After the defeat in the preliminary Valfajr operation, Operation Valfajr-1 in the northwestern region of Fakkeh to the Hamrin Heights began at 10:10 pm on April 09, 1983, and part of the Hamrin Heights, several villages along the Dobarj River, and Pichangizeh border checkpoint were liberated during this operation, which covered a total area of 150 km. Our division operated in a three-pronged attack." (In-person interview, 31/12/2019)
[2] Salman Babaei: "After the prayer, I had stood in the alley in front of the mosque with three or four of my friends, when a motorcyclist, who was in the green uniform of IRGC, arrived. He asked me: "Do you know this address?" I took the paper and read. It was written on the 5th Nirouy-e Havaei Street, the house of Martyr Mohammad Babaei. I kept silent. He had come from the cooperative unit to inform the Babaei family of Mohammad's martyrdom. "Do you know this address?" He asked again. I replied, "Yeah, it is our address, and this martyr is my brother!" he was shocked and apologized, saying, "I'm sorry." I said, "We were ready to hear this. You go. I'll inform my parents." (In-person interview, Kuala Lumpur, 26/11/2019)
[3] Ayatollah Hamidi, Imam of the Ansar al-Hussein Mosque: "The board of trustees of the mosque said that Mohammad Babaei was martyred, you should inform Mr. Babaei. I called him and began telling him that we all die someday. No one remains in this world; blessed are those who attain happiness through martyrdom and... As I was saying this, Mr. Babaei suddenly interrupted me and asked: 'Do you want to say that Mohammad was martyred? Blessed he is. Goodbye...' When one of the locals was martyred, it was customary to go to their house with the worshipers of the mosque. I told Mr. Babaei that we wanted to come to your house at night. As he was so disciplined, he said: "Ok, come, but please don't stay more than one hour, and I just accept your congratulation, not condolence." (In-person interview, 04/12/2018)
[4] Hesam, ‌ Hamid, Amirkhani Masoud, ‌ Immigrant of the Sun Land, Memoirs of Koniko Yamamura (Saba Babaei), the only Japanese mother of a martyr in Iran, Tehran, Surah Mehr Publications, 2020, p.168.


Number of Visits: 641
---
http://oral-history.ir/?page=post&id=10475
---