SABAH (102)
Memoirs of Sabah Vatankhah
Interviewed and Compiled by Fatemeh Doustkami
Translated by Natalie Haghverdian
2022-04-04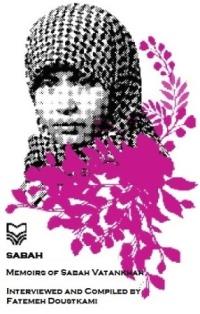 SABAH (102)
Memoirs of Sabah Vatankhah
Interviewed and Compiled by Fatemeh Doustkami
Translated by Natalie Haghverdian
Published by Soore Mehr Publishing Co.
Persian Version 2019
---
It had been a while that I was acquainted with Mr. Gholamreza Rahbar, director of Abadan IRIB. He was from Abadan army members and I became acquainted with him in my commutes to the army. Mr. Rahbar had asked me to work as speaker and executor in Abadan IRIB. It was a difficult decision. I didn't know which one is to my benefit; to stay in Abadan and work in IRIB or go to Sari to pursue my studies. Finally after reviewing, I decided to bid farewell to Taleghani hospital and go to university.
I was aware that the atmosphere of the university is chaotic due to presence of hypocrites and Organization of Iranian Peoples' Fedai Guerrillas. I felt that my presence if more effective in university rather than IRIB. I thanked Mr. Rahbar and told him that I had been accepted in university and prefer to go to Sari[1]. Because of my love to be a student in line of Imam, I quitted my job in IRIB.
After Nowruz holidays, I came to Tehran with Shahnaz. On the twenty fifth of first month of spring, I had to go to Sari for enrollment. I was supposed to go with my mom, but on twenty third of first month of spring, Ferdows's first child was born; a beautiful and sweet girl named Marziyeh.
She was the first granddaughter of our family. In that situation, her birth was quite on time and had brought us so much joy. In order to celebrate our joy, Shahnaz and I invited ourselves to cinema! "Ambassador" movie was on the screen lately. It was a good and meaningful movie.
In that situation, mother could not come with me to Sari. Ferdows and her child needed care. Mohammad Agha, Ferdows's husband said: "I will take you for enrollment." We bought train tickets and went to Sari with Shahnaz and Mohammad Agha.
In our compartment there was a young girl with Hejab at my age. She was travelling with her father. A few minutes after the train moved, Mohammad Agha started talking to the father. We understood that she has also been accepted in midwifery in Sari University and is going for enrollment. Her name was Nasrin Khabiri. Her father was one of the fighters of pre-revolution who was cooperating with Jamiat Fadaiyan-e-Islam. He told us about his memories; when he had been arrested by SAVAK and tortured. Our closed friendship between Nasrin and I started there[2].
When the enrollment was done, they said that the classes will start from the beginning of second month of spring. They said that the university doesn't have a dorm at the moment and you have to rent a house yourselves. I thought about this issue a lot. We were not in a situation that my father or mother could rent me a house. We had to return to Tehran to see what we could do. One two days before the beginning of classes, I collected my items and went to Sari with Saleheh. I had decided to go to Sari province war-stricken foundation and tell them about my condition. They might be able to do something for me.
I went to Sari province war-stricken foundation. I had to talk a lot and explain my condition and ask them to give me a solution. I said that we are war-stricken and are not in a suitable condition and my father cannot do anything for me. Honestly they reacted very well. When they heard that I am from Khorramshahr and war-stricken and have been accepted to study in their city, it was so interesting for them. Finally they felt pity for me and said: "We can provide you with a housing here, but you have to get a letter from Tehran war-stricken foundation stating that you are not under the coverage of your parents at the moment and we have to create a separate file for you. You have to be separated from there so that we can do something for you here."
We returned to Tehran and I got the letter and took it. They did all necessary without delay and gave me a suite in insurance plague in Farah Abad alley. The suite was half an hour away from university. Thanks God my problem had been solved[3].
My suite had a 24 square meters hall with a stair to the upper floor. The upper floor was a half a floor with a relatively big balcony. The window of the upper floor faced the sea and had pleasant and beautiful scenery. Since nobody had lived there for long, the house needed cleaning. The wooden ceiling was full of spiders and it smelled humid.
Saleheh and I started cleaning and made it sparkle by night. We were so happy at night that we fell on the color. Besides the personal items, we had just brought an electric kettle and two cups. We even hadn't brought a small pot for cooking.
We didn't know what to do. We didn't know anybody there. The man, who gave us the key to the suite, told us that our neighbor is a war-stricken family from Ghasr-e-Shirin. We were in our thoughts when we heard the door knocking. I opened the door. A young and smiling girl greeted me and said that her name is Shamsi and is our neighbor. She was very genial. She asked for permission and came in. She asked: "What have you done?" We said that we have been cleaning since morning and have just finished. She said: "Come to our house to sleep, you don't have any bedding and blanket here." Since we didn't know them, we thanked her and refused. So she said that she will bring us some bedding to use at the moment. For dinner we had sandwiches we had bought with Saleheh.
Shamsi brought us blankets, but the weather was so cold that we couldn't sleep. At the end I got up and boiled water and brought it under our blankets. We got a bit warm with the steam of boiling water and could take a nap.
Nasrin rented a house with a roommate in the center of Sari city. Nasrin's father had a stationery shop in Tehran in Karim Khan avenue and they had overall good financial status.
Saleheh and I returned to Tehran to provide some household items. My mother prepared a small carpet, a few pots and utensils and some basic edible items and accompanied me to Sari by train to see my university and my house to feel comfortable. As soon as I settled down, my mother returned to Tehran.
Our classes started. We had all kinds of students in class, but religious students found each other pretty soon; me, Nasrin, Moloud Aghajani who was from Babol, Nahid and Zohreh Feghhi who were sisters from Behbahan and Nastaran Aragh Soltani who was war-stricken from Ghasr-e-Shirin and were living in Karaj. We formed a group of seven individuals together with a woman whose name I don't remember but was from Shahroud and had a child. A group that all members thinking and believing similarly and closed. First of all we formed the Islamic Council of the faculty which had been out of business for one, two years.
Among the instructors, there were quite a large number of individuals who had Fedai Guerrillas and People's Mojahedin thinking. We were bothered by them a lot. In some of the lessons, the instructor gave us low scores when he noticed that he cannot fight with our thinking and reasoning and made us really upset. There were discussions and arguments among us most of the time.
But we were lucky that the director of midwifery group was on our side. Our faculty dean was a woman called Taringo. She was a midwife from Ghasr-e-Shirin and as she said she had been among the last ones who had stayed in army hospital where she was serving after the start of the war and prior to the fall of the city. After the fall of the city, she and her family become war-stricken and come to Sari. Although they had given her a position in university as an army force but as we saw she was bothered a lot. For example there was a woman called Ahmadi who was one of the Fedai Guerrillas and was deputy to Ms. Taringo and was director of our group. She was against Ms. Taringo and this was felt and seen by all. She did everything she could to remove her from the position of the director of group.
Once when Ms. Taringo had something to do and had to leave the university, Ms. Ahmadi called the main office and asked an inspector who wanted to inspect the university to come on the same very day. The inspector came and asked for the director of group. Ms. Ahmadi tried to ruin Ms. Taringo as much as she could and underestimated her performance directly and indirectly. We knew that her behavior would endanger Mr. Taringo's position in the university.
For the first semester, I studied general courses; courses such as math, language, Arabic and Literature. But starting second semester, the courses became more specialized. Courses related to gynecological illnesses and infants sicknesses, embryology and … were among the courses. The more I progressed in my studies, the more terrified I became for some things. For example when I came to recognize the different tissues of the body and I remembered how carelessly and inevitably some members stitched the wounds of the injured soldiers in emergency ward, I felt bad!
The volunteers did the stitches to the wound without knowing which tissue is for the flesh and which tissue is for the skin. Only God cared for the injured! Otherwise as we studied all those stitches could become infectious and create serious consequences for the patient. In all these moments I was just happy for one thing and thanked God that I never did any stitch on any wound on any soldier or injured. I've always been abstinent from this issue. I don't know why I felt that I cannot do this task and if God forbid I do any wrong stitch, I will never forgive myself.
Besides studying, we also continued our thinking combat. Sometimes it was really hard to endure the conditions of the faculty. I was not a type to keep silent. For example, on the first session of psychology the instructor started to analyze the psycho-cognition of revolution and revolutionists and said that each stream and path against the normal stream and path of the society, is an abnormal movement and a sick phenomenon! Little by little he was proving that the revolutionists are crazy so other students and I got into discussion and argument with the instructor. There was a humming in the class. I said: "What kind of logic is that professor? Can this be true?! Those who made this revolution happen did it based on a theory. They thought, studied, the wrath of the society, the oppression system of the society and couldn't tolerate it any more. If you see an oppression going on and keep silent, the mental health of those individuals of the society should be doubted."
To be continued …
---
[1] Gholamreza Rahbar was later martyred in the war.
[2] I'm still in touch with Nasrin and thanks God that this friendship lasted this long.
[3] After graduation I heard that Ms. Ahmadi ended up in Evin Prison.


Number of Visits: 555
---
http://oral-history.ir/?page=post&id=10471
---