Memoirs of the Late Second Lieutenant Nejatali Eskandari
Faezeh Sasanikhah
Translated By: Zahra Hosseinian
2022-03-08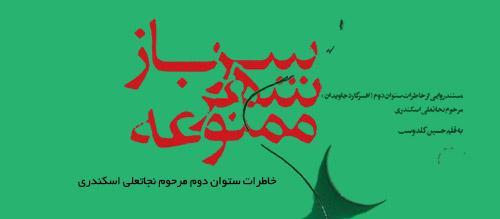 In the winter of 1979, a year after the victory of the Revolution, we were summoned to the army headquarter. We put on military uniforms and went to Lavizan. They led our battalion to a large-sized shed. It was the middle of winter, and snowing heavily. Shortly afterward, the sound of a car stopping outside the shed was heard, and several people entered. Surprisingly, we saw Sheikh Sadegh Khalkhali enter with two bodyguards and stand in front of us. The commander of our battalion also showed passionate acts beside this counter-revolutionary group. "The brave youths of this land are beheaded and skinned and tried to divide Iran by a foreigner's command. Your mission is to go to Kurdistan and suppress Komala and the Democrats ..."
He waited for a while to make sure everything was going well, and then added, "Those who are ready to be sent go to the division headquarters for doing related affairs, and be at the railway station tomorrow at six o'clock in the morning." The task became clear. Surely, the military order, especially in wartime, is not arbitrary for someone to make excuses that I will not go or I will go next week. Anyway, they gave all of us 1o thousand Tomans without any special formalities, and we were ready to go home to say goodbye to our family and leave for Kurdistan in the morning.
Before we left, they informed us to go back to your queue. Another point should be mentioned. We waited for five or six minutes and got busy talking with each other when a major entered the shed and shouted, "Stand up! Attention!" We all stood in attention position. Moments later, a tall man with soft, firm steps entered the shed with his head down, and several officers followed him through the gate and stood near him. It was Brigadier General Fallahi. I had not seen him up close, but he was a well-known figure to us, because of the photos published in the newspapers. He was thin, with a long body, a clean shaved face, kind and dignified look, but there was a deep sadness in his eyes. I felt that he had bad news or that he was very upset. He had worn a khaki overcoat and was in a simple state. He quickly threw his sad look on the faces of the troops and said, "Gentlemen! My brothers! You know that from the first day of the victory of the revolution, the traitors to the country, with the help of foreign agents in the west, started movements. If they do not suppress, it will lead to the disintegration of a large area of Iran. The troops of your division, the former guard division, came to the west with me from the eighth day of the victory of the revolution and fought in Kurdistan and Mahabad. You are obliged to sacrifice your lives to preserve the independence and honor of the homeland. The country has spent to train each of you as much as spending for an army. Today is the day when you should pay your respects to Iran and the revolution. God protects you."
I did not see Brigadier General Fallahi again until I heard he, together with Seyyed Mohammad Jahanara and Major General Fakuri, were martyrdom in the suspicious incident of the plane crash in 1981. In my opinion, Commander Waliullah Fallahi was one of the most honorable, compassionate, and patriotic commanders who appeared in the turbulent years after the revolution and played a very important role in maintaining the unity and superiority of the army and confronting internal and external enemies.
In that year, I had another child. My second child was also a boy. I named him Morteza. The children were too young to understand the situation, but my wife and her parents were deeply concerned; however, they tried not to show up and leave me in peace and hope.
Early in the morning I picked up a small bag and left the house. We all thought that the unrest would end soon and we would return home, while from the cold dawn of that February when I went to the railway station, my combat missions lasted ten years, and finally years later I was able to return with my family.
We went to Maragheh by train, and from there we went to Piranshahr by bus. As soon as we arrived, they ordered us to form groups of ten people. Our mission was to explore and clear the Alvatan forest. We walked and searched in the forest for three days; until we found some tanks in the center of the forest. The tanks belonged to the army, and the counter-revolution had looted them from the army barracks. "The Democratic Party of Iran" was carved on the bodies of the tanks.
They brought some Zil trucks. We got on and moved toward Sardasht. We came across an interesting scene near the city. The police officers stood on both sides of the road, chanting, "God protect you, army brothers! Welcome army brothers, welcome!" There was an intimidation and panic atmosphere, and everyone was waiting for the military units to enter.
Inside the Sardasht barracks, a skinny young man, who was a major artillery officer,‌ stood in front of us and introduced himself, saying, "Welcome, army brothers. I am Major Sayyad Shirazi. We needed a cohesive and trained force. God sends you. There is a threat and they may attack at any moment and take the city. You have to build a base."
It was clear from his unshaven face and the way he spoke that he was a religious man and a member of the Hezbollah forces of the army. He was active and persistent and had succeeded in making good relations with all disciplines and organizations. We set up bases on the four sides of the city and the hill. Each company was stationed on a hill. From the first day of the deployment, patrol groups were organized, and a security ring was formed around the city. Despite patrols and ambushes, each entry and exit was carefully monitored, and we constantly monitored the villages around the city with our binoculars.
But Komala and the Democrats acted in different ways. There were sparse oak forests on the hills and almost rich vegetation with a variety of shrubs and wild vines. People climbed up the hillو and collected dry twigs to use as fuel. The Kurds climbed up the hills, where the bases were set up, to reconnaissance our position, number, and equipment under the pretext of gathering firewood. Nothing could be done because they looked like indigenous people, but they were reconnaissance forces.
Once our guard had seen a teenage boy counting the number of our tents with his fingers and memorizing. He had run toward him and grabbed his collar. Chaos ensued. Less than an hour later, ten or twelve men and women came running up and shouting in front of the base. They had seen that one had been arrested. It was clear that they worked as a network and connected from a distance. An almost elderly woman stood in front of their group and cried out loudly, "Did you come for our safety, or do you want to ruin our lives? Are you a thief? A bandit? Who you are that steals a boy and hide him? How cruel and oppressive you are!"
The rest of the group, in Persian and Kurdish, and with similar words, called us cruel. They made such chaos that the commander of the group took the boy by the hand and brought him out of the tent and handed him over to his family. But before they left, he said, "Don't think that you deceive me. I know what you do. But the zealous of the Komala and using some women and children for its purposes?!"
Near the city, there was a village called Deh Molashikh. Local informants have repeatedly reported that the main counter-revolutionary nest was located there, and some of the most dangerous figures were stationed there. They fired our base with mortars. After ten or twelve firings, silence spread everywhere. It was reported again that mortar shells had been fired from that village. Two nights later, two attack groups were formed, and at midnight we attacked them from two directions. Although it was a secret plan, and we were informed at ten o'clock at night to be ready to leave, they had been informed by their sources and fled. Except for a few old women and men, and some livestock, no creatures existed in the village. They had gone with their family and had taken their evidence, weapons, and ammunition. It was a small village where there were no more than forty or fifty houses. We inspected all the houses and stables until dawn. Some evidence was found. The Army boots, military jackets, bayonets, weapons, and even personal belongings of military personnel were found in the corners of the sheep pen. They had deceived a poor soldier and had taken him to the village. And these were all that left of him. His body had been buried in an unknown place. Our commander ordered the pursuit. I and a few others settled in the village to arrest anyone who came in. A group of four jeeps and gendarmerie moved and tracked them down. They found them around morning. But they had been entered Turkey through the valleys, and our forces stopped at the zero point of the border.[1]
---
[1] Goldoust, Hossein, Soldier of the Forbidden City, a documentary narrating the memoirs of the second lieutenant (Officer of Javidan Guard) of the late Nejatali Eskandari, Ravayate Fatah Publications, 1st ed., Tehran 2021, p.78.


Number of Visits: 599
---
http://oral-history.ir/?page=post&id=10437
---