SABAH (37)
Memoirs of Sabah Vatankhah
Interviewed and Compiled by Fatemeh Doustkami
Translated by Natalie Haghverdian
2020-11-24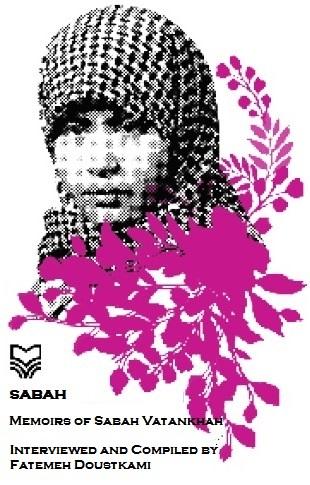 SABAH (37)
Memoirs of Sabah Vatankhah
Interviewed and Compiled by Fatemeh Doustkami
Translated by Natalie Haghverdian
Published by Soore Mehr Publishing Co.
Persian Version 2019
---
After the transfer of prisoners from the mosque, the Sepah soldiers paraded in front of the mosque for half an hour using the Iraqi trophy vehicles and tanks. We also thanked them with uttering Takbir.
We were sitting in the yard of the mosque with friends and Dr. Saadat and were dividing the medication that we had received from people or those that friends had gathered from stricken drug stores in Fakhre Razi Street. We were busy with the tasks and a young man walked in crying. The man was tall, had broad shoulders and was muscular and his hair, which reached his shoulder, was covered in soil and knotted. He had a thick and black beard and was wearing a khaki cloth. He was a full scale guerrilla. He was one of those who had been in war zone for months and had not been in the city for a long time! As he arrived, he looked around the mosque. Then he leaned to a wall and started crying like a baby. He was crying so hard that his shoulders trembled. I thought to myself that he has lost a friend or a dear one. It was weird for me. I had not seen him in the mosque before. Before anybody approaching him, I went forward and said: "brother! May God give you patience; you should not be restless."
He started crying with a louder voice without paying attention to my words. I said again: "brother you know better that we can endure such condition only by keeping our spirit high. Martyrdom is the utmost wish of any Muslim. The martyr has the highest reward."
He became calmer and said: "sister, I know these things. I am not crying for martyrdom of my friends… I am crying for oppression of this city…."
I was shocked. He noticed my shock and silence. The man said: "I am from Tehran. We were twelve friends. Brothers rather than friends …. We were closer than brothers, lady. When the events started in Kurdistan last year, we all went there and stayed in the battlefields for one year. We did everything including fighting and chasing the Komoleh group and the democrat forces and fighting anti-revolutionary forces. When the conflict died down, we returned to Tehran. When we heard that the war is tight in Khorramshahr, twelve of us hit the road yesterday towards Khuzestan and reached Khorramshahr at dawn. As soon as we arrived, we joined the forces in road police station. Not long after we arrived, my friends were martyred in Khorramshahr defenseless front line in utmost oppression. Now that I am standing here, I have the news of martyrdom of eight of them. I have come here to see whether there is news of the remaining three!"
When he got to this point, I wanted to cry too. How beautifully he had understood the oppression of Khorramshahr and its defendants. He cried more as the time passed. His heart was heavy. People gathered around him, made him sit in a corner and gave him a glass of water. When he was calmer, he said that he will wait for his friends for a few hours and if they do not show up, he will take the bodies of his eight martyred friends and return to Tehran.
As I was listening to him, I saw a young man, around twenty years of age, tall, tired who was wearing a white saddlecloth and army trousers, came inside the mosque and walked straight towards me. We greeted each other. I did not know who he was and what he wanted from me. He said: "I am Ali Hosseini, Zohreh's brother."
I remember him. I just didn't know how he found out that I am his sister's friend. He had an army uniform and a Kalashnikov in his hands. His chaotic appearance covered in dust showed that he had just been back from the front line. He asked: "do you have any news from Zohreh?"
I responded: "yes, thanks God she is fine. She was here a few moments ago but just went out."
He handed the weapon and uniform to me and said: "I have plundered this weapon from the Iraqis. Please give this to Zohreh when you see her and tell her to keep it for me. Later I will come and take it from her."
I took the weapon and uniform from Seyed Ali Hosseini and said: "sure. I will hand them over to Zohreh safe and sound."
He said goodbye and left without saying anything else. I felt pity for Zahra. She longed to see her brother. She had tried hard to meet him and exactly at that moment when she had left the mosque, Ali arrived. She said that she had not seen Ali for three four months. Ali had gone for a surgery to Tehran before the war and after the surgery, had returned to Khorrmashahr and gone to front line. The siblings had had no chance of meeting. I wrapped the weapon in the uniform and hid it up the cupboard of our rescue medicines.
Zahra came back in the evening. When I asked where she had been, she answered that she had gone to Jannat Abad to help. I told Zahra: "could you finally see Ali or not?!" she said: "no Sabah! I haven't found him yet." I told her: "when you were not here, Ali came to the mosque looking for you!"
She waned. She could not believe. She asked helplessly: "When?" I said: "just a few moments after you left the mosque. He has left something for you."
I handed her the uniform and Kalashnikov. As soon as she saw the uniform, tears appeared in her eye. She cuddled the uniform, smelled it, kissed it and said in sorrow: "can you believe it! I have been looking among the corpses and soldiers in the front lines or any other place all this time and he appeared when I was not here!"
I told her: "Zahra, there is nothing we can do now; so, do not be sad. Pray to God that he is safe and sound. This is worth a million." Zahra said: "Sabah, will you come with me to our house to hide the weapon? I will be more content if we hide it there. Many people come and go in the mosque and I do not know what to do with it."
We went together. They lived in the municipality organization houses located in Taleghani district. Taleghani was not a safe district. We placed the weapon among the bed sheets and returned to the mosque. It was prayer time. We said our prayers. It was around ten o'clock at night. The Iraqis had started raiding the city. Zahra, Ashraf and I were sitting in the apron of the mosque talking. All of a sudden one of the army soldiers came inside shouting and yelling: "help! They killed all the soldiers! They martyred our brothers in their soil and blood! The army headquarters has been raided…"
He was yelling and crying and hitting himself in face and head. My heart dropped. The worry for the life of my brother, Ali, made my whole body shiver. The soldiers were lying in the yard of the mosque free of any concern. When my mom saw that nobody is moving to do anything, she threatened those soldiers and men who were in the yard saying: "get up and be ashamed! Your brothers need your help and you are lying carelessly?!"
After that my mom asked the soldier about the location of army Headquarters. We set out of the mosque. There were my mom, Shahnaz, Ashraf, Elaheh, Zahra, and I. We ran anxiously towards the Daryabod Rasaee school which was the army Headquarters and was located in Chehel Metri and Bahar street. When we came out of the mosque, I saw my brother Ali standing with a mournful face at the bottom of the stairs besides the trench which was at the entrance of the mosque. He had come to the mosque to get help. I felt relieved when I saw him. When I approached him, I said: "Ali, are you alright? Are you Ok?" He answered: "I wish I were dead Sabbah!"
His voice trembled of sorrow. In the dark of the night, we all ran towards the Daryabod Rasaee high school. At the entrance of the high school, there were two soldiers of the army who were covered in soil and in desperate condition. They had lamps in their hands and were going around the school and the yard aimlessly. There was the scent of gunpowder and barbecued meat in the air. Although it was very dark, through the little light of the lamps, one could see the smog and dust which was covering the whole yard. We went further. We saw a Blazer car at the entrance. It was filled with the corpses of the soldiers of the army! There was also an ambulance in which a few injured soldiers were lying.
My knees were shivering. I had a bad feeling inside. My mom was crying and hitting herself in chest. For one minute I imagined if Ali was among these corpses, what would I do? The first thing which caught my eye among the corpses inside the Blazer was the copse of a soldier who was big but torn.
We wanted to enter the school but were not permitted. They said that a few cannon balls have hit the roof of the school and one of them might not have blasted. They were dragging the martyrs out of the rubbles little by little and transferring them to the Blazer with tears in their eyes. We stood in a corner and watched. How oppressed they had been martyred.
This was the work of the fifth column for sure. Which other organization could provide the Iraqis with such exact location of the army Headquarters?! The army soldiers were observing all security issues and changed their location every few days to avoid identification. But the attack of tonight showed that the fifth column had strong presence in the city.
To be continued …


Number of Visits: 237
---
http://oral-history.ir/?page=post&id=9590
---