SABAH (35)
Memoirs of Sabah Vatankhah
Interviewed and Compiled by Fatemeh Doustkami
Translated by Natalie Haghverdian
2020-11-10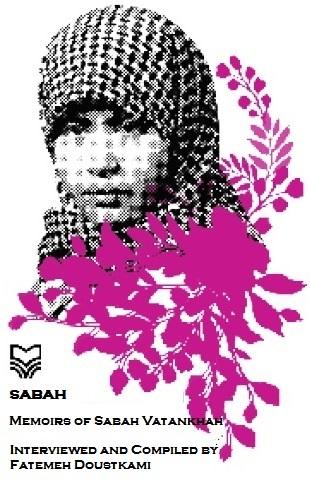 SABAH (35)
Memoirs of Sabah Vatankhah
Interviewed and Compiled by Fatemeh Doustkami
Translated by Natalie Haghverdian
Published by Soore Mehr Publishing Co.
Persian Version 2019
---
As the situation got calmer, two three soldiers decided to move the injured soldier one more time. Abbas Alivand and Hassan Sorkhou and I set our weapons to fire and set a fire line for the others. Under the cover of the fire line, the soldiers could move their friends out of a water stream with utmost care. He was shot in the stomach and had lost a lot of blood. We placed him in the back of the pick-up truck to move him to a safe place.
We dismounted the food and water supplies from the back of the pick-up truck quickly. Only at that moment the soldiers noticed the water supplies. They were so excited to see the water supplies and smiled with their dried and cracked lips.
We had to return quickly. The injured soldier had already lost a lot of time and blood. We had to get him to the hospital very fast. We got into the car. Alivand said that they will drop me off near the mosque and they will go to the hospital. In an intersection near the mosque, they stopped the car in Chehel Metri Street and I got off.
I told my friends that I had gone to the front. They all gathered around me and wanted to know how it had been and what had happened there. I told them the story of wandering army forces and also the injured soldiers who was lying in a water hole for half a day. I told them about the shortage of equipment and fighting forces; influence of a 106 cannon in the front line which forced Iraqis to move back. A whisper started going around. They all wished to go to the fronts. From that day on, it was proposed to send girl rescue teams to the fronts; a proposal which was not so welcomed by the male soldiers. Their honor did not let us go to the fronts. On the other hand, they believed that they still had the strength to fight and transfer and rescue the injured to the back.
In the afternoon, I saw uncle Hossein who was at the mosque with his bus. I was really surprised. I did not know how he had got from Borujerd to Khorramshahr in that situation. He said he was there for us. At the entry point of the city he had been denied permission to enter Khorramshahr, due to the dangerous situation, but he had insisted saying: "my sister and nieces are in the city and I have to find them and take them with me."
I was still talking to my uncle when my father arrived. He was coming directly from the front line and was covered in dust and soil. Only God knew how happy I was to see him safe and sound. My mom and friends were also near the mosque. We all hugged my father one by one and kissed him. We were all in one place. My uncle said: "sister! Get ready to go." My mom said: "to where? My uncle responded: "Boroujerd! It is not safe here and you should not stay!" my mom said: "I cannot leave my children here and go. Ali is somewhere; Saleheh in another and the rest are here. Where should I go with you, brother?!"
Uncle Hossein tried for an hour to convince my mother to go with him but she refused. She said: "I'm happier here. At least I can get an update on Ali and Saleheh. My children are with me and I feel better." My uncle kept talking and every once in a while he bent his head with the noise of the explosion of mortar bomb. It was obvious that he was not used to these voices. Despite my uncle's perseverance and argument, my mom refused. The poor guy said: "We are worried about you. We cannot get any update on your situation or visit you. Why have you gathered your children around yourself? Why should Mona and Mohsen and Abbas suffer in such condition?"
He was right. Living in that condition was harder for children. They took refuge to my mom like birds with the sound of every bomb. Mona was in first grade and Mohsen and Abbas were in forth and firth grades. They were very young to have an understanding of the war. Their nutrition was not good. They had very little food on each meal. The hygiene was also bad in the mosque. We had to stand in queue to use the bathroom. My mom who was more reluctant now, turned to my father and said: "what shall I do? Shall I send children away? We will be more content if they go." My father said: "I agree but I do not think that Mona will stay with her uncle's wife. She will give her a hard time and they won't have access to us." My mom said: "you are right. I will send Ferdows with them."
Ferdows got upset with the news. She did not want to go at all. She said she wanted to stay with us. My mom pleaded her to go with the children. She finally accepted. She was only 15 years old at that time and we preferred her to accompany the younger siblings.
None of the children wanted to go with my uncle but since this decision was made by my father, they did not have the courage to protest. My uncle asked my cousin, Elaheh, to go too. He said: "your mother and family are not here, so why are you here?"
Despite uncle's perseverance, Elaheh did not agree to go and said: "I will stay with auntie and her children."
When children got into the bus, we were all crying except for my father. My mom was crying so hard and was advising Ferdows to take good care of the children. At that time, uncle Hossein had four children; Mohammad Hassan, Ali, Reza and Elham. My mom was constantly advising all not to bother my uncle's wife and his children. She was worried that they might fight together as they were all young. We felt as if this is the last time we were seeing our uncle and our siblings. With the existing situation in Khorramshahr, nobody knew what would happen in the next few minutes. Mona did not let my mother go. She had hugged her tightly and was begging my mother to go with them. My uncle separated them and they got into the bus.
After saying goodbye, they set off. When the bus turned towards Chehel Metri Street, it was as if our hearts were removed from our bodies. We whispered prayers and pleaded God that uncle and children get to Borujerd safe and sound. Uncle's bus was quite obvious from far away and we expected a strike every minute.
We needed to go to bath. All our clothes were covered in soil and blood; our clothes were so dirty that it did not look like clothes and had turned into sticks. The situation was the same with other girls. We hated our appearance and situation. Although I had gone to take a bath at Khadijeh's place a few days ago, we were so dirty as if we had not taken a bath in months. We did not know what to do and how to sort this issue. Suddenly Zahra Hosseini advised to consult Abdollah Maavi. Maybe he can find a solution.
Abdollah was fifteen sixteen years old but he looked older in appearance and size and we felt more comfortable with him. Abdollah said: "my auntie's home is in Abadan. They are out of town but I have the key. I will give you the key."
He went and quickly returned with the key. Zahra Hosseini, Elaheh, Belgheys and I collected the key and got on a pick-up truck and went to Abadan. Abdollah's aunt's house was very simple. We took bath one by one. When it was my turn, I washed my clothes first so that they would get a bit dry by the time I get out of bath. I had just started washing myself that the alarm for red code was heard. The noise of airplanes and bombardment filled the Abadan sky. I washed myself not completely and wore my half-dry clothes quickly.
We all returned to Khorramshahr, gave the key back to Abdollah and thanked him.
As soon as we had the chance and time, we made splints. We made them out of strong woods. When we went out of the mosque for rescue or any other business, we looked for strong and useful piece of wood in our surrounding. When help arrived, our task was easier. Most of the donated items were various fruits which were placed in wooden boxes. We extracted the nails out of the boxes and made splints out of them.
Since the splints were in direct contact with the wounds, they had to be sanitized and clean. Sometimes the injury was so deep that the bones stuck out of the flesh. Such wounds were highly prone to infection. Therefore, we covered the splint with sterilized cotton or with bed sheets we had compiled from people's houses.
I was making splints in the yard of the mosque that I heard an explosion from Fakhre Razi Street. Although I was sure that there are no residents in the houses because Razi Street and the surrounding streets meaning Ferdowsi Street were the location of soldiers commuting, I hurried to that location. When I reached there, I saw that the mortar bomb has hit one of the empty houses and nobody has been injured. I returned to the mosque.
On my way back, I noticed a shoe store which had been hit by mortar bomb and all the shoes were on the ground in the street. On my way to the explosion site, I had been in a hurry and had not noticed the store at all. When I saw the shoes spread there, I remembered the shoes of soldiers in the front line. Yesterday I had noticed the shoes of some of the soldiers who were taking food and water for the front line. The shoes were worn out and the fingers stuck out. The soldier was very young and when he noticed that I was looking at his feet, he was embarrassed and tried to hide his toe in his torn shoes.
To be continued …


Number of Visits: 186
---
http://oral-history.ir/?page=post&id=9562
---