News of the Month; Mehr, 1398 SH (September/October, 2019)
Talking and Writing About Value of Oral History
Compiled by Mohammad Ali Fatemi
Translated by Ruhollah Golmoradi
2019-10-30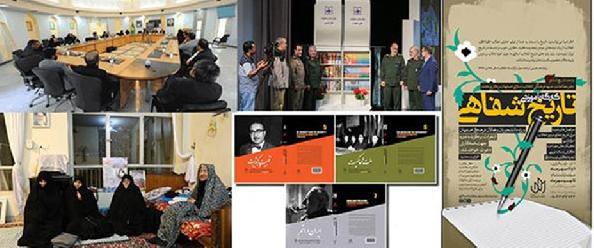 According to Iranian Oral History Website, "News of the Month" is the title of a series of reports on the website. These reports take a look at news related to topics of the website in written and cyber media. As follows, you read the news from Mehr 1398 SH.
Ali Mohammad Naeeni, head of the Center for Sacred Defense Documents and Research, said in the book launch of about ninety new works titled "Names and Remembrances" on September 25: "Much of the war documents make a meaning by oral history of commanders, and so oral history of commanders is complementary to textual and documentary research." He added, "As some commanders hardly present in front of the media camera and sacred defense's advertising management during the war, in oral history also if there was no Supreme Leader recommendation, they wouldn't be easily convinced to write or expressing orally history of war. That is why it can be said that oral history of commanders is an important part of the sacred defense history of the Iranian people." Noting that the Center for Sacred Defense Documents and Research has planned for oral history of 350 commanders and managers in specialized areas, Naeeni told: "We anticipate that with the full implementation of oral history of commanders, about 400 oral history books will be released to the interested. At the present time, for oral history of commanders, there are active now three studios for professionally visual recording and 60 experts and executives. So far, 800 hours of oral history of commanders have been produced. 60 documentary research and productive works are planned for 60 persons of the great martyred commanders, under title of Oral History of Martyr Commanders as narrated by their companions and using existing documents related to those martyrs."
The fifth, sixth, and seventh volumes of "Oral and Visual History of Contemporary Iran (Second Pahlavi Period)", compiled by Hossein Dehbashi, were published and released by NLAI. The fifth book, titled "Minority and Majority" addresses oral history of life of Farhang Mehr (1923-2018), Deputy Prime Minister for Economic Affairs under Amir Abbas Hoveyda, one of the influential in Ministry of Petroleum and Ministry of Finance, President of Shiraz University (Former Pahlavi) and President of the Iranian Zoroastrian Association. "Nation and Sovereignty" is title of the sixth book that narrates memories of Kazem Vadiee (1928), Minister of Labor and Social Affairs of Sharif Emami administration, a member of the directorate of National Iranian Oil Company, Deputy Minister of Education under Ministry of Education Farrokhro Parsa and Head of Faculty of Law at Tehran University. He was also the deputy secretary general and in charge of the committee for managing and training and propaganda of Rastakhiz (Resurgence) Party of Iran. The seventh book, "Iran and Atom", contains memories of Akbar Etemad (1930). He was head of the Atomic Energy Organization and president of Bu Ali Sina University in Hamedan during the Second Pahlavi era.
In Urumiyeh, there were book launch of five books on oral history of sacred defense. The books titled "Result of Patience", "The Backpack of Command", "from Darlak to Tikrit", "The Expectant", "a Piece of Bread for Dolphins".
◄ Oral History Department of Isfahan's Office of Studies Cultural Front of Islamic Revolution, held oral history workshop for students and cultural activists of the city, including topics of fundamentals of folk history of the revolution, subject-finding, techniques of interview, writing and text simplification, and writing experiences of writing, on October, 3 and 4.
The Director General of Preserving and Publishing Relics of the Sacred Defense Values ​​of Kohgiluyeh and Boyer Ahmad considered insufficient knowledge of the historiography practices, the lack of sufficient funding to employ skilled and capable individuals, and lack of a proper archive of combat interviews as challenges of compiling oral history of the sacred defense. Amir Abbas Asmand told IBNA reporter: "Unfortunately, due to lack of budget and inaccuracy in formulating oral history, quantity of the works greatly outweighs their quality, and this has led to not correctly address about the war untold. Since pioneers cannot play a major role in field of historiography, their statements are often miswritten and role of powerful and experienced writers in this field is also diminished, so oral history is not properly conveyed."
Mohammad Alipour, General Director of Khuzestan's Foundation for Preserving and Publishing Values ​​of Sacred Defense, also told the IBNA correspondent: "To compile oral history of the sacred defense in Khuzestan, we divided the work into three parts: role of the armed forces, government, people and guilds who were at the war. We started work in eight cities that were engaged in the war, including Abadan, Khorramshahr, Dasht-e Azadegan, Shush, Andimeshk, Dezful, Mahshahr and Ahvaz. Not being ready universities, incoherence in defense, support, services and therapeutic layers, and lack of strong researchers were some problems that we encountered in the way. We negotiated with universities and science centers so that finally different projects were presented by researchers. After reviewing the projects, a group of advisors and supervisors was formed under supervision and control of the Foundation. With the providence, we were able to advance oral history of people of Khuzestan province." He added, "Another problem in compiling oral history of the sacred defense is lack of sufficient funding and lack of sense of duty and need in the administrative and military structure of the province. There should be a division of labor between the Armed, Artesh, Land, Air, Air Defense and IRGC forces, managed by Khuzestan's Foundation for Preserving and Publishing Values ​​of Sacred Defense in order to move the process forward faster. Also, with involvement of governorates and announcement to the county that were engaged in the war, counties can, in a short time, adjust and compile their role with oral history approach so that the work to be done faster. The next obstacle in this direction is not believing that Khuzestan, as the capital of the sacred defense and warfare in all social, cultural, economic, political, and military layers, should play a more active, influential and bold role. Another important issue in this process is role of medicine in the sacred defense; unfortunately after three years we have not yet been able to find a researcher who can formulate role of nurses, doctors, hospitals, pharmaceutical structure and treatment, and dispatches from province to other cities. The first problem is our belief, and the second is asking high fee by researchers that we cannot agree on. We need to be able to put together oral history of nurses, ambulance drivers, spaces and places, medical services, field hospitals and all the sacred defense medical records of the province. The former location of Imam Khomeini Hospital, which has been nationally registered, could be a good place to collect a medical role in Islamic Revolution and Sacred Defense era. Hospitals now have passed stages of digitally compiling files, and each hospital has been required to hand over the sacred defense files separately."
◄ The first meeting of a series of sessions on "Future Studies in Iranian Oral History" was held by Working Group of the Sacred Defense Literature, and Oral History of Razavi Think Tank of Astan Quds Razavi Library at Sheikh Bahai Hall of building of the Islamic Research Foundation of Astan Quds Razavi. Exploring concept of oral history, the difference between oral history and oral historiography in the war history, the degree of validity of oral history as a historical document, and the effective components in compiling oral history of the war were among the topics discussed at the meeting. Expressing that there is a difference between oral history and making history oral, director of the Department of Documents and Press of Astan Quds Razavi stated that "making history oral means that some of the events are verbally spoken and then to be written and this is the same thing that has happened in the sacred defense literature." Abolfazl Hasanabadi declared: "In Iran oral history is presenting oral utterances in the form of writing, while in other parts of the world this is only one of the outputs of oral utterances." He added: "Our initial understanding of the term oral history is incorrect and so we must now discuss how much, for example, we can manipulate utterances; while in other parts of the world, the first thing that is done after the interview project is to load all the interviews on the internet and that for what it will be used is in next steps." Hasanabadi spoke of defining historiography and its difference with oral history in other part of his lecture, and said, "In historiography, one seeks to approve or reject the point, but in oral history we seek merely to record facts in one subject." Hasanabadi continued: "We are reluctant to use the word documents for oral history data and we say those who use this data not seeking approving or rejecting some point firmly. Ali Barati Gajvan, author and literary critic, said in this regard: "some people should approve a memory in order to be citable. We need a third-person angle of view in historical realm, and until that is not happened, the historical document will not be formed."
◄ Reviewing Ayatollah Abolghasem Khazali's memories was started on the television program of "Iranian oral history". Mehdi Moayedi, producer of the program, stated: "memories of Ayatollah Khazali will be broadcast in thirty sections on the antenna of IRIB Mostanad. The narration of Ayatollah Khazali's memories includes periods of struggles, exile and imprisonment, and his positions after victory of the Islamic Revolution."
Seyyed Jamal Hadian Tabaei Zavareh, Head of Public Relations and Information Center of Ministry of Communication and Information Technology, pointing out that one of the projects that has been underway for more than a year is Oral History Project of Ministry of Communications and 45 Ministers and Directors have participated for giving content and Information, said "The project has been carried out in collaboration with all the ministers and deputies of influential ministers in Ministry of Communications, as documents, papers, experiences and special events that have been less heard have been documented in the collection. Oral History of the Ministry of Communications has been produced and compiled in ten television programs and twenty books, and three parts of this documentary are currently available for broadcast. The first section is devoted to the pre-revolutionary period. The second part deals with communications during the Holy Defense. The next section also will be dedicated to the Asadabad Center in Hamadan, and the rest will also be advanced in terms of topics and will be ready for broadcast soon."
◄ Masoumeh Zahiri, cultural and advertising deputy of the Sisters Seminary of the country, during a meeting with the Sisters Seminary manager and the delegation accompanied family of Talebeh (theologue student) Martyr Fatemeh Asadian on October 5, stated: "martyr familis are a treasure of oral history of martyrdom in the country that unfortunately most of them had died." She emphasized that oral memories of the martyrs 'survivors should be written by the martyrs' own families. Shahr-e-Kord was bombed by Saddam's army aircrafts at 11 a.m. on March 10, 1988, and Fatemeh Asadian was martyred.
◄ Gholamreza Alamati, Head of the Sacred Defense Documents and Papers Organization, on October 21, at the inauguration ceremony of the seventy-year anniversary of ratification of the Geneva Conventions in the garden of the Islamic Revolution Museum and Holy Defense of Tehran, informed of book launch of the four-volume book including documents on the exchange of prisoners between Iran and Iraq in a close feature and stated, "The Red Cross measure on captive exchange between Iran and Iraq have been described in detail in this book. The International Committee of the Red Cross (ICRC) worked well with Imam Sajjad's (AS) research project which was conducted in Tehran and Geneva, and provide Iranian researchers with part of the Red Cross reports on visits to Iranian captive camps. We hope that by completing the partnership, we can have a good historiography of the issues related to Iranian captives. We expect to increase two-sided cooperation and at least be able to provide oral history of two hundred Red Cross representatives by interviewing them."
On October 29, Hamshahri newspaper published a text entitled "Oral History and Its Functions" by Hasan Anousheh, a researcher in history and literature. It is pointed out in the text: "Recognizing important events based on views and quotes is called oral history and through it an important part of written history emerges or is evaluated. But parts of history are also heard in the public expression and literature. In particular, many elderly people have what they have seen and heard that are very important and at the same time interesting. Sometimes we see gatherings where both the elderly and the young are present. The old men are downcast, and the young are busy with mobile. Those who know value of oral history and its impact on people's culture are saddened because of seeing such landscapes, because it is true that such opportunities to be used to express old memories where many events are hidden. Rapid changes in our age life have made many differences in life of last decades with those of our times. Older people have seen different lives in the past, so their talks in this regard can be helpful. How good is in such cases to ask older people to talk about the past and about people behave and conduct. Give them a chance to represent the past and compare it with the present, and we know that in the heart of these sayings and stories, important points will be conveyed, and maybe dark angles of history would become clear. One to two decades ago, there were many who had seen with their own eyes the world War and the Alliance forces in Iran, and every scholar could easily use what they had seen and heard. Now there are also many who have seen events such as August 19 coup, events of the Islamic Revolution and the imposed war. What we hear today is more valuable to the prosperity. In addition, it engages our minds with history and gives our vision more power and value. In addition to spreading interest in history among the people, especially the youth, it will also make generations closer and eliminate generation gap. Having the elderly, it is a pity to ignore their talks and experience, and to be busy with mobile computer games!"
◄ The second volume of the series of "Oral History of Bushehr Market" entitled "How to Create Guilds and Chamber of Guilds" by Siamak Borazjani will be released by Nayband Publication. Borazjani said, "This book, which dates back to formation of Bushehr Chamber of Guilds during the Pahlavi era, is result of two years of study, interviews and research in Pie field of oral history of Market (Bazar)."
The book "Pay-e Pol-e Sabeleh (column of Sabeleh Bridge)", which is dedicated to memories of Karim Karimipour, commander of Salman Battalion of Masjid Suleiman, was printed and published. Setareh Erfanirad, director of literature and publications for Administration of Preserving Relics and Publishing Values of Khuzestan's Sacred Defense said, "Interview and editing of this work was done by Seyyed Hossein Hashempour, of the warriors of the holy defense period, and the book was published by Sarzamin-e Noor Publication which is affiliated to Khuzestan's Administration of Preserving Relics and Publishing Values of Holy Defense​​."
Shahed Mojtahedzadeh Ardebili, author and documentary filmmaker, Pary Akhteh, author and memory-writer, and researcher and writer Seyyed Saeed Athar Niari, conversed at a cyber roundtable with IBNA about recording oral history of the holy defense. Mojtahedzadeh Ardebili said at the roundtable: "One of the problems in this area is lack of contextual and specialized information about the interviewee by interviewer. An interviewer who take steps in interview way without any information and familiarity with used equipment and utensils, geography of war, the military terms and names of particular equipment and locations can easily lead to failure in the process. The narrator's distrust, disinterest, and losing clue due to elementary questions, lack of general information of memory-writer, and consequently a reduction in effective time to obtain the necessary information, are secondary problems in conveying oral literature. Another problem is that the narrator is not skillful in rhetoric and speaking. It has been seen repeatedly that the narrator -even of commanders of an important operation- has not been able to portray his memory even well like the forces under his command. The ability to find appropriate wording, being master in the interview language (if the language is other than the narrator's native language), and interview stress -if he/she is for the first time in front of the interviewer's camera or microphone- are also some of the issues that can lead to problems. Focusing on well-known people and disobliging anonymous veterans or lesser known is another facets of ​​the problems. Most of the complaints of respected veterans are also classified in this direction."
Colonel Hossein Forutannezhad, representative of the Sacred Defense Documents and Papers Organization, at a special session of the pre-conference of role of the gendarmerie in Sacred Defense which was held in NLAI, informed of the Sacred Defense Documents and Papers Organization's readiness to receive oral history of the gendarmerie commanders during Iraq imposed war against Iran. He spoke about available documents and reports from the gendarmerie about Saddam's forces invading the Islamic homeland before September 22, 1980, and it was planned that in the future memories of the gendarmerie commanders during the Iraq imposed war against Iran will be published in collaboration with the Administration of the Foundation for Preserving Relics and Publishing values ​​of Sacred Defense in the provinces.


Number of Visits: 898
---
http://oral-history.ir/?page=post&id=8862
---