An interview with Dr. Seyed Reza Mortazavian
Days after operation
Ahmadreza Amiri Samani
Translated by: Fazel Shirzad
2019-10-08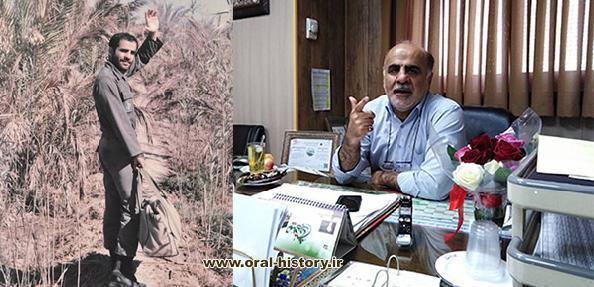 Note: Dr. Seyed Reza Mortazavian is now the chief of martyr Ayatollah Sadoghi Hospital in Isfahan. He is a physician who holds precious memories of sacred defense era and has been the director of two Choubdeh's Field Hospitals (in Arvandkenar) and Ali ibn Abi Talib (AS) in difficult days of war. He was present in all the time of sacred defense in war zones of the south and west of country, and at the same time, he left the mechanical engineering academy and entered into medical field. His mind was full of different memories of war; memories of salvation and life, not death and fire that are the essence of war. Doctors and medical staffs were the vital hands of the injured people of war, and he witnessed the worst and most urgent situation of combatants at the first station after he got injured. The same experience caused one of a hospital volunteer staff became the manager of two hospitals and entered the medical field through this experience. Dr. Seyed Reza Mortazavian received anesthesia and intensive care proficiency certificate from Isfahan University and has served as a physician and hospital director for two years in Khuzestan and Isfahan provinces. I heard a lot of memories from him in an interview; I prepared part of that interview for an Iranian oral history website's addresses.
■
Introduce yourself!
In the name of God. I was born in Esfahan in April and in the former workers area (current Saadat Abad Street). I grew up in an almost religious family, and my father was a worker of spinning company. We were a family with ten children and I was the last one. We are originally from Shahrekord, but my father came to Isfahan when he was ten years old. I educated in the same neighborhood and got my diploma.
When did you start your academic education?
In 1983, I entered the field of General Mechanics at Isfahan University of Technology. Two semesters later, Badr operation was taken place. I was dispatched to Zaid area as infantry force. I was there from Mid-March of 1983 until the thirteenth or fourteenth of April 1983. I was injured in last day. Before university, however, I was involved in the liberation of Bostan in operation Tariq al-Quds as an infantry force in the year 1981 and was injured in the ear and both hands. But in April 1984 we were directly fighting with the Ba'athist forces. I was both injured by the wave of bombs and by quivers in different places in my body. The wave of explosion made me some problem psychologically for a long time, and got nervous. Although there was no problems in my education, I left the university preferably.
After getting better, I joined to the hospital of Revolutionary Gards. A few months later – i.e. late 1984, I was employed as an accountant in the newly established Shahid Ayatollah Sadoghi Hospital. I was working both as an accountant and a receptionist, and was sent to the war zone as a corps relief and medical officer. During my first deployment, I stayed in the area for about ten months; I was interested in medical field. I was stationed in Abadan. When commander general Fathyan, respected commander of Southern Combatant Hospital met me for first time announced that he wanted to send me to a field hospital in southern Abadan. I thought I should work as a simple force, for example in the office or supportive unit. Anyway, I was accepted and sent to Fatemeh Zahra Hospital in Choubdeh, Arvandkenar. But as soon as I got there, I was employed as the manager of hospital. I said that I had no experience in the affairs of hospital and I don't know what I should do! They replied that they thought I was experienced in it. It was the ten days after operation Valfajr 8, and the hospital was bombed about ten days earlier. It had a messy atmosphere. By the time I got there, the hospital had neither a manager nor a chief. Before me, Dr. Awaz Haidarpour was the chief of hospital, who had been injured and returned because of chemical bombing. I became the manager of hospital, without head chief; I was responsible for all of affairs of hospital, and I had to start looking around and getting to know the affairs. That's the first step that got me on the path of health and treatment.
What is the difference between a manager and a chief of hospital?
The chief of hospital usually is someone who oversees specialized and medical work. For example, appoint a surgeon for operating room, appoint an emergency physician, and order medical devices for operating room, and monitor doctors and so on. A chief of hospital is also a doctor. The manager is most responsible for the management of the hospital. Supervision over staffs, facilities and nutrition, electricity, water, gas, traffic and ambulances, and these are the responsibility of the manager. Whenever chief was absence, the manager could intervene in affairs. About twenty days after my arrival, a chief was brought to the hospital.
How big was the hospital? What were the possibilities?
It was the first field hospital in country. A few field hospitals, such as Imam Reza and Khatam al-Anbia Hospital, had been already built with metal columns. Their ceilings were made with metal plates covered by soil. It was very vulnerable. But Hazrat Fatemeh Hospital was built with reinforced concrete rings and frames that spanned five to six meters. I think we had six or eight operating rooms. The rectangular frames were put back to back and made a tunnel to the operating room. There were same corridors and narrow paths made in the same way. There were even dining and rest rooms for staffs, and so on. There were also some rooms that were separated from the hospital, such as gasoil and food rooms, and so on. The pieces of concrete were very secretly piled up, and covered with ten meters of soil. Once a powerful bomb hit the roof of lab; it get broken, but no one was seriously injured and only a few people were injured by the wave of explosions.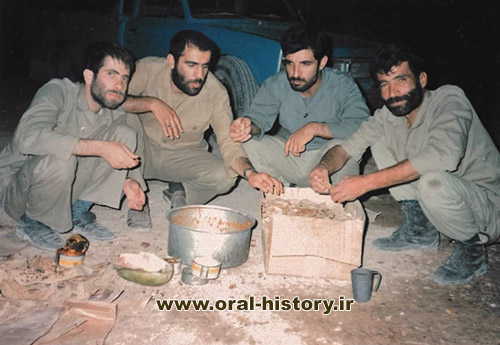 The second person from left: Dr. Mortazavian
You were close to Faw[1]. Weren't you?
It was just 2 or 5 kilometers far from our hospital. We were on side of Arvand, and Faw was on the other side. The faw had just been recaptured, and Iraq's attacks were had reduced. But there was still conflict. The bombardment continued and the area was operationally active. After we were deployed, operation Karbala 3 was began to liberate al-Omiyah and al-Bakr docks, and we quickly equipped the hospital for the injured. Fortunately, we didn't have many injured forces, but it was a marine battle anyway, and divers and boatmen were injured and brought to our hospital by bomb and mortar; we also did the necessary treatments and surgeries and sent them back. Three or four months later, the Jihad Construction's forces started building Be'sat Bridge on Arvand River. A very long and risky project. Iraq, which did not want this bridge to be made, was bombing it every day. The hospital was being constantly received new injured forces. Especially, technical forces and engineers of Revolutionary Guards who had been bombarded and fallen in boisterous water of Arvand.
What about your situation and facilities?
We had good facilities. When it was the time of operation, two or three equipped surgical teams (surgeons, anesthesiologists, operating room technicians, anesthesia technicians) came and operating rooms were sometimes busy and empty. But in the case of defenses when the war was being normally handled, we only had a team of surgeons, including a surgeon, an orthopedist, an anesthesiologist and their staff. Each time these teams came from the same city; once Mashhad, once Shiraz, once Tehran and...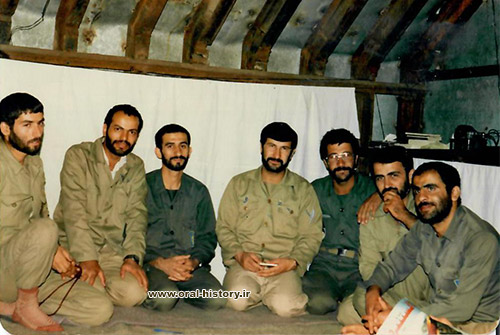 The second person from the right, next to Dr. Mortazavian, is Dr. Mehrdad Memarzadeh; he is one of the most active sacred defense practitioners who set up Ali Abi Talib Field Hospital in Abadan.
I remember that, in operation Karbala 3, we had prepared the hospital. At this time, another of my friends, Dr. Mehrdad Memarzadeh, also joined us as head of the hospital. I learned a lot from them. The routine of operation was that the comrades would attack the enemy at one or two o'clock of nights. In the morning, they began to bring the injured. We circled around the hospital and checked everything. But it was two o'clock in the morning when we were announced that the operating room was flooded by sewage water! Surprised that we had checked everything, we ran towards the operating room and mobilized the forces of construction unit. After two hours of work, we found that unfortunately someone had pushed a a bottle of serum into the sewage pipe. Well, among oppositional and hypocritical group, there were vandals who were causing trouble as much as possible for them. Our comrades were working in the operating room until the morning and they were really tired more than ones in the operation. By the morning the pipe was opened and the floor of the room was repaired. We washed and disinfected the room; when we were tired and exhausted and wanted to take rest the injured were brought there.
What was the physical condition of the injured?
We had patients, for example, was injured by quivers and only his muscles had been torn, and those who were in bad physical condition and coma. But the mood of them was great. Many times we saied to the injured that We had to send you to the operating room or we had to move you back; he was crying and telling me to dress up to go the frontline again. It showed they were in Basij and epic spirit.
What about the lack of facilities? Did you have any facilities at all? For example, suture, gas, anesthetic drug, etc.
No. We were really supported and everything was provided.
What was the heating and cooling system?
We had chiller. The housing and urbanization and engineering forces of Revolutionary Guards had a lot to do. There were two chillers in two parts of the hospital. There was bad weather there. Occasionally when our electric motors were broken and needed to be repaired, the hospital was really like hell in hot and humid basement. We also had F-X phones that we could call directly to Isfahan.
Was hospital attacked directly during the period you attended in there?
Not anymore. The attacks were done before me. (He Laughs.) It was late in the ten-month period of my presence in there that they were planning operation Karbala 4. We realized that a very large operation was going to be started. There was a war hospital called Ali Abi Talib (AS) that was being built near Abadan. At that time, we would occasionally drive along Ahwaz's road. It was much larger than Fatemeh Zahra Hospital. Dr. Memarzadeh was gradually disassociated from Fatemeh Zahra Hospital and went to that hospital to equip it for operations. I also went to work there occasionally and advised on the equipment and its emergency space, or the number of beds they needed, and so on. When the building was finished, we went to Isfahan and, with Dr. Memarzadeh, attended an administrative meeting at the Collage of Medical Sciences of Isfahan University announced that we were going to equip this hospital; either by using manpower or equipment. At that time, Dr. Ahmad Akbari was the president of the university. At that meeting, he announced that we would gave help as much as possible, but we didn't have much enough equipment. I was in charge of getting the equipment from Dr. Memarzadeh. With a letter, Dr. Akbari introduced me to Dr. Mohammadi, who was in charge of medical and pharmaceutical equipment at the Isfahan's University. They were going to give us some tools that we, with my insistence and the help of Dr. Mohammadi, carried them to Abadan in a six trailers and trucks. There was even a radiology device and a laboratory refrigerator in our equipment. Luckily, more than two-thirds of Abadan's war hospitals were equipped with the same equipment.
How much time did it take?
It took twelve to thirteen days, and then I went back to Fatemeh Zahra Hospital in Choubdeh, until the night that operation began. Actually it was clear in the evening that an operation was going to do.
Was it operation Karbala named 4?
Yes. It was five or six o'clock in the afternoon. The weather was still clear. One of the deputies of Sardar Nasrallah Fathyan, military commander of Revolutionary Guard, called me from Ahvaz and said:" "Sir, we want to send the medical teams, but we should send them when the operation is started. We have no access to anywhere and the sounds are cut off. Go out and see if it is starts, let us know!" I walked from Chobda to Abadan. We always passed this path for 45 minutes - depending on whether or not we were shot by enemy. There was hour and a half remained to sunset; I saw the sky is full of light. Operation was revealed and enemy was shooting lighting bullet. It took me two and a half hours to get to the hospital. Planes shot everywhere; from the road to the front lines.
You must have had a lot of injuries! Haven't you?
Yes, a lot. When we arrived – as usual the injured were going to be carried to hospital in the morning - we found ambulances were bringing injuries just after one hour operation. I called to official in Ahwaz and stayed there to help. Immediately, I became the driver of ambulances. We also had an ambulance bus. (The buses whose seats were removed and its floor was covered by soft mattresses.) I put the injured ones, who were in a little better physical condition, on the corner of bus and lay the rest who were in serious physical condition on mattresses. Usually ten to fourteen injured people were able to lie down and ten to twenty were able to sit on the buses. We would send each ambulance back with two or even three injured persons. When the weather was cloudy and cold, helicopters came to transfer the injured. Suppose! The hospital grounds were full of the injured who were lying and waiting for the vehicle and helicopter. On the other hand, all eight operating rooms of the hospital were active; a number of the injured were being operated in emergency unit. We took the rest and put them back in the operating room. There were really doctors who had not slept at all for six hours and were operating constantly; Nurses, technicians, and anesthesiologists and so on. We had a group named: Ansar al-Hussein. They were helping the injured. Their job was to transport the injured by litter to operating room, lab, helicopter and ambulance. These were very tired. That is, they were not able to left litters in the morning. Eventually, I used to run and slap on the back of them and say: "Come on! More power to you! I tried to persuade them to treat patient more. Of course, I helped them too. Mr. Fathyan himself returned with two or three others from the war area, and when they saw the situation, they left the rest and began carrying the injured. As they began to work, Ansar's children regained their spirits. This continued until the afternoon of the operation.
Was your hospital the gate of the injured?
Yes. Each army or unit had its own relief and emergency room where everyone was injured should be taken there and stopped his bleeding, then carried to Ali Ali Abi Talib Hospital by ambulance. In addition to operating room, we had two surgeon doctors who tied their devices to their belts and went among the injured and did vital work. For example, if someone was injured by quiver in lung and was suffocating, they would make a hole in his lung to drain the blood and to able to breathe. The service forces, whose job was to clean; they was working like a car. When the injured lay on bed, under bed would be full of blood; we dressed them up and put them on the ambulance, they cleaned there quickly. They placed all blood sheets, clothes, gas and blood bands sloppily under the bed, but some seconds later you would find it cleaned. Someone who was from Shiraz was responsible for it. He commanded them with a certain manner and words. Everyone was responsible for a bed; two minutes later beds were ready to receive the next injured. There was another interesting work done; in the evenings and afternoon when the injured were in low number, the forces that supported the work would sit and prepare bands as gases for sterilization. Because the consumption was high. For example, we would consume maybe 10,000 packages a day. About ten gases were wrapped in paper. Then they were kept by sterilized glue. These packs were put in autoclaving device to be sterilized and were ready for use. This is how we would supply shortages.
When was operation finished and injuries transferred, did you return or stay in the hospital?
After Karbala 4, we stayed in the hospital for about fourteen days. Then we went to Isfahan and rested for a couple of days when Dr. Memarzadeh again announced that we had operations (Karbala 5) in the same area and we returned to Abadan.
---
[1] It is a port town on Al-Faw Peninsula in Iraq near the Shatt al-Arab and the Persian Gulf. The Al Faw Peninsula is part of the Basra Governorate.


Number of Visits: 1301
---
http://oral-history.ir/?page=post&id=8821
---