305th Night of Memory
Memory-telling of Tehran Mayor and Three Other Narrators in Memory of "Bamu"
Maryam Rajabi
Translated by Ruhollah Golmoradi
2019-09-11
According Iranian Oral History Website, the 305th memory night of the holy defense was held in Sooreh Hall of Hozeh Honari on Thursday, August 29, 2019. In the program, Mohammad Azimi, Pirouz Hanachi, Ahmad Ostad Bagher and Massoud Shadloo spoke of courage and braveness of those who detected Bamu Mountain operational area. The 305th session of Holy Defense's memory night was also dedicated to re-introduction of the book "Bamu: Memories of Detection of Qasr-e Shirin and Zahab" on the occasion of its new printing.

A few important points
Sardar (General rank in IRGC) Hajji Mohammad Azimi, commander of Najaf Ashraf Headquarters, was the first narrator. He said, "Before I address my memoirs, I want to make a few points. The first point is that the sacred defense is a very valuable treasure in our country and unfortunately we have not been able to use it well to this day. We have not been able even to explain a minimum of the facts of the sacred defense so that today's generation and our posterity will pay more attention to what has happened. The program organizers made an effort and played a few photos from that time; in my opinion any piece of these photos can have a lesson. Could warriors of this age and operational abilities and capabilities be able to do what they did that day? One of the most important issues that we should pay attention to is that each action must be analyzed according to its own situation. If we want to analyze the sacred defense given our country today situation, we may not get good results for many reasons; because today our condition is different. That day, our maximum capacity of human forces that should manage these scenes was the same warriors we see their photos here. How much experience did they have? What were their experiences and abilities in the matter of war and military work? From our commanders and managers to the general of our warriors, there was really no experience and expertise. But you see, in these hard scenes of the war, there were events that no one could have predicted that day. These are facts that no one can deny.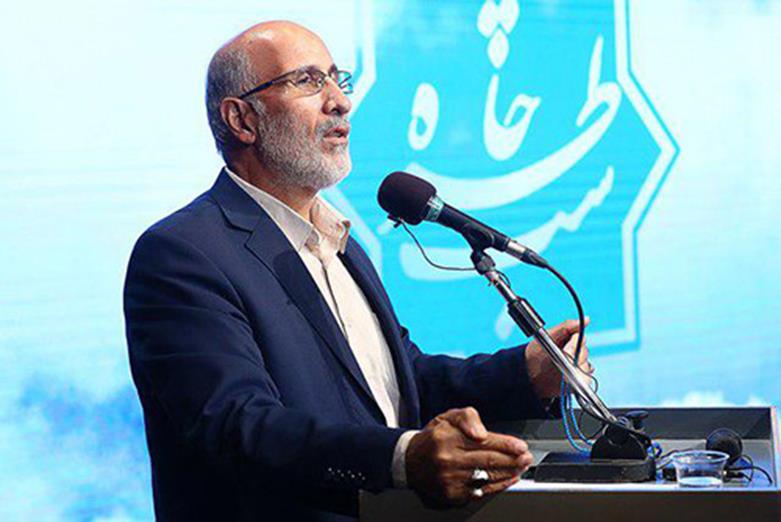 The operation in Bamu area was an operation with a lot of controversies; because of the impassable area, many of friends thought it should not be operated here. Of course, that this area was chosen for operation had its own reasons too. It had to be chosen and there was no other way.
The second point I want to make to you is that thanks to God Almighty, sacrifice of the warriors and unprecedented devotion of our nation, we were able today to reach and settle in many places where they tried and failed to get there. Friends have come up Bamu heights and photographed it. That area is in hands of our warriors today. When we climbed Bamu we realize more greatness of their work; that how much those militant guys who worked in our defensive line suffered is a point that we should consider as a milestone in the sacred defense.
Third, we had certain conditions in the West and our Sunni centers. People of part of Kermanshah and the border centers and those areas are Kurdish. One of the issues that the enemy thought from the early days of the revolution could advantage from was using this ethnic and religious diversity. They thought they could bring this part of the country with Kurdish slogans and religious arguments in a position that stand against the revolution; by the way, it happened on the contrary what they wished. This was done by people like martyr Mohammad Boroujerdi. Of the 9800 martyrs of Kermanshah province, 1382 are Sunnis and Kurdish martyrs, who make a large percentage of our martyrs in proportion to their population at that time. 730 of our martyrs are from Ahle Haqq (Yarsan) people of Dalahu. They died a martyr mainly in conflict with the counter-revolution.

The first day and to the side of vineyards
When it was decided to do an operation in Bamu, I was not in operation intelligence unit; I was in charge of Javanrud staff. Our brother Sardar Hajji Akbar Hajibabaee was our commander. Hajji Rahman Heydari was in charge of the operation. Martyr Mohammad Ibrahim Hemmat came there and set up a meeting. The first meeting was for this doing operation. Because Martyr Hemmat had worked in Paveh, he knew that Javanrud and Paveh had similarities; He knew that we had both an indigenous force in the area and that our Sunni brothers were working at different levels. Most of our force was indigenous. We also had a number of troops who had come by commanders we had in the area, such as martyr Saeed Mohtadi who was from Pishva. Some had come to Javanrud with this martyr and some with Hajji Rahman Heydari. The guys of Shiraz and around had also come. We had forces whom had been dispatched from all over Iran. As Hajji Hemmat knew the area told Hajji Akbar that we want to operate in the area. Because of sensitivity of this operation, we don't want native people to be aware of it. We want some of your dispatched troops help guys of 27th Mohammad Rasulullah Division. Mr. Hajibabaee is really a beloved commander who accepted the request. He separated four to five of us and said, "You have nothing to do with your office task now. Go and help the guys of intelligence forces of the division." We had no headquarters or station in the area. Minimal detection of the area had been done, but no coherent measure had been done!
The first day we were going to the area, we went to an area around Shakh Shemiran. The Iraqis were not stationed there, but the today Barezani in Iraq had control of the area and it was their headquarters. They were not permanently settled in that area, but they dominated there. On the first day, all the division teams and intelligence warriors had to go into the area and stay there form morning until night and no one would see us. We were particularly worried about the traffic and coming and going of these Barzani. If they saw us, everything would disarrange. There was a garden with a fountain in the area which was border between us and Shakh Shemiran. We didn't get close to the springs so they wouldn't see us. We went higher. The weather was very hot and situation was very difficult. There was no shrub, tree, or shadow. The kids stayed up until sunset to detect different areas and then divide the work and each team advance based on its own mission and work in the area. The kids endured until sunset. Thirst and hunger pressured much. They were under the sun. A percentage of the guys were nearly disabled. Near sunset, where we thought the Barzani might not be trafficking, we approached the springs and saw that there were relatively good vineyards. The kids ate that kind of grape with that warm water was streaming from the ditches. They overate, and shortly as the weather became dark, I saw no team could go to work tonight. We returned to the headquarters that night and friends came in a situation that our work postponed.

Team of brother Ghahramani and martyrs of Bamu
Then we divided in groups and area of ​​the Bavisi Strait was axed to DarbandiKhan Lake. Detecting this area was a really hard work. The kids worked hard. We had a person named Shahid Ghahramani whose catchphrase was Dadash (brother). He was Turkish and very conversationalist. He had repeated the catchphrase as much as that he was called "Dadash Ghahramani". With his team who were seven, they climbed rocks of Bamo. Unfortunately, every effort was made we didn't get any trace of them. A few years ago, one of reformed counter-revolutionary forces reported that they were stuck in the rocks at the same time and because they had no bread and water, they all died a martyr there. The research forces went hardly and brought remnants of their purified corpses. Beside martyr Ghahramani group, we also lost five of Javanrud's kids there. Martyr Hossein Rashidi was one of our very good guys who was soldier and only male child of his family. He tried much to climb Bamu. He went through one of the ways he could go. It was about twenty meters to reach the top of Bamu that he stuck in the rock. Whatever the guys tried couldn't get him out. He held himself for about two hours and then fell down and died a martyr."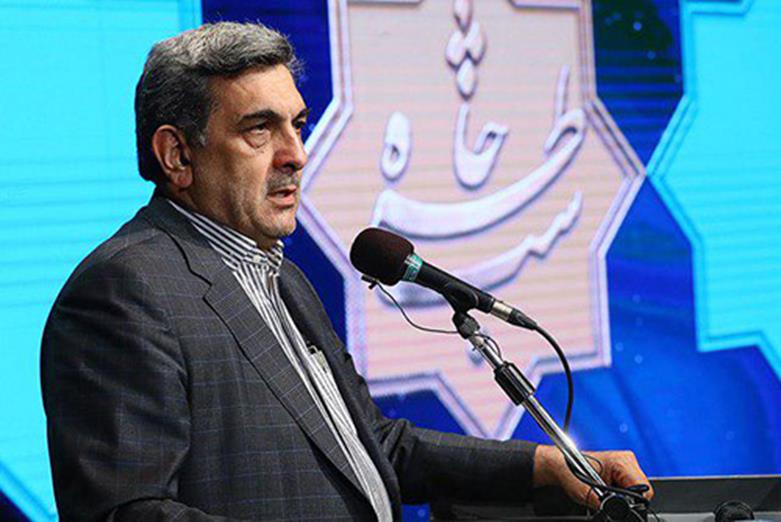 Turning the biggest threat into the greatest opportunity
The second narrator of the 305th night of memory was born in Tehran on 1964. He has PhD in Urban Restoration and Reconstruction of Historic Cities. During Iraq's imposed war against Iran, between 1980 and 1988, he was involved in operations such as Matla-Ul-Fajr, Valfajr Moghadamati, Khyber, etc. He participated in constructing Khyber Bridge in Majnoon Island and several engineering operations and in designing and constructing field hospitals and strengthening emergencies. Pirouz Hanachi, current mayor of Tehran, was the second narrator of the session. He said: "In September 1981 and after victory of Islamic Revolution, something happened in the country that was perhaps the greatest threat to the country at that time and now, as we evaluate. The army had disintegrated and the country had no internal cohesion. We had unrests in various parts of the country, such as Kurdistan, Turkmen Sahra, and elsewhere, and the Iraqi invasion was complementary of final threat. Turning threat into opportunity is one of the goals pursued by strategic management, and Imam Khomeini did so. He made this biggest threat into the greatest opportunity for the country. If the country today has dignity and operates according to "Muster against them whatever you are able of force" (Quran, 8: 60) in the region, it is because of all the efforts that have been made in the eight years of the sacred defense and its foundation have been made those years. Converting the threat to opportunity and turning the country's advantages into capability and preventing the weaknesses from becoming threat were what Imam did. We had a young and motivated population in the country at that time, and this young and motivated population backed this great measure.

Friendship with Ebrahim Hadi
I was seventeen or eighteen at that time. Because of the atmosphere of the country, right after we got our diploma, because universities were also closed and the war started, we chose this path. We went to Gilan-e Gharb with some of my friends on the pretext of spraying the trenches and the issues that the fighters were involved with. We didn't consider ourselves as warrior. We went to the terminal, got on the bus and headed to Islamabad. We arrived there from six to eight in the morning and then we had to get on the car again and drive to Gilan-e Gharb. Cars took us step by step. I once encountered a scene whose memory is still in my mind. I got off at the crossroad that goes from Sarpol-e Zahab to Gilan-e Gharb. I saw a warrior with a taqiyah (skullcap) and a long beard. He was wearing a Kurdish pants, a scarf in his waist, and a G-3 on his shoulder. I thought all the fighters wear in this way. We weren't involved as much as until then. At first we scared a little, but got on a Peykan and headed towards Gilan-e Gharb. This person was martyr Ebrahim Hadi, and later we became friend. He died a high rank of martyrdom in Operation Valfajr Moghadamati, missed, and his corpse never was returned. He was the one who would drive the newcomers to the front at night in Gilan-e Gharb area. In order to cause the guys overcome fear, he would say handclap, they would handclap and he would say it is an Iraqi tank. He was lionhearted and was fearless.
Three books
One of the good things that Hozeh Honari has done to record events of the war and the revolution is publishing books. In these published books, in my idea, that I have had an opportunity to do a research work, three books have rich research value; one is "Bamu", the other "Platoon-1" which was referred to by the leadership too, and "Da". "Platoon-1" is story of a platoon of a company, a battalion, a brigade, and from a division in a night until morning of Operation Al-Faw (Valfajr-8), many of whom died a martyr too and a few remained. I would like to thank my colleagues at Iran's Islamic Development Organization who persecuted this work continuously. I saw signs that this work should be pursued more vigorously. I recently saw on abroad TV broadcasts that one of their singers read a poem about our Basij forces and warriors. The word and act does make sense. That is, in spite of all their actions, they felt that people value this memory, background and experience and cannot take it from the people. They are seeking to confiscate it, otherwise there haven't been any precedent they have made a movie about warriors of the war and respect for them. In my opinion, this is an important issue and therefore it doubles responsibility and importance of recording these memories and events properly; because if it doesn't, then somebody else will narrate it in another way. Eloquent pen along with beautiful memories shapes this enormous research work. Usually our warriors are not penman or, if they were, they were not very talkative. You have to pump them for something and write it so that when someone opens this book, he/she wouldn't find it in his/her heart to close it. Having read "Da" gave me another sense too. Khorramshahr landmarks are clear; Jameh Mosque, Shatt al-Arab (Arvand Rud), the cemetery, etc. This book was written in such a way that I could draw picture and map of Khorramshahr. It was attractive. When you opened the book, you didn't find it in your heart to close the book.
Valfajr Moghadamati
I did not have the honor of being in Bamu Operational Zone, but I became aware of it in the third chapter of "Bamu" through the words of Ahmad Ostad Bagher (in the sacred defense known as Sheikh Ahmad). It wasn't easy to say No those days. It had many consequences and caused other marginal discussions, but it was recorded in history of the war that young warriors of operation intelligence of the division that had gone course of the operation, according to martyr Hojjatollah Ma'arefvand, in a heavy meeting, persuaded top military commanders of Artesh (Iran's Army) that your information is wrong and that is not what you are saying and you should deal with it in another way. Those commanders were persuaded to listen and eventually revised.
I had the opportunity to participate in Operation Valfajr, later renamed Operation Valfajr Moghadamati. The operation was supposed to be Operation Valfajr-1, but because it was not successful, and the operation had been revealed before starting, and the warriors acted in a situation when they returned Iraqi tanks hunted them in the plain, name the operation was changed. Since that time only cedar tree and Rashideh Outpost has remained where martyr Ebrahim Hadi became missing; the road that worked like a fortress and unforgettable twin hills where many of martyrs of the same operation are from the same area. I remember that in the morning of the operation, when we were all exhausted and we were retreating, Mr. Hojjat Ali-Awsat, of engineer guys, was bringing back carrying warriors with a bulldozer. They were mounted as many as that body of bulldozer could no longer be seen.
Two weird bridges!
In the fourth chapter of "Bamu" the martyr Hajji Behrooz Poursharif is mentioned. I want to remind the martyr that he played a great role in impossible tasks of the war. He never said it is impossible and cannot be done, and he tried to find a way. We met each other in Gilan-e Gharb. He was one of those who were on the fronts during all the war, and two bridges Khyber and Bethat were designed by him and his colleagues. In both bridges there is engineering finesse and meticulousness. These haven't been trained anywhere and are results of self-confidence, self-esteem and finding solutions to the problems that existed at the time. We were supposed to go from overland of Iran toward Majnoon Islands for Operation Khyber in one of the fronts. The distance was about fourteen kilometers. The bridge was designed, and nobody had to be noticed. Logistic operation of building the bridge was inside the country. Almost all of the country's major industrial plants at that time, including Wagon Pars and Soule Iran and many of the major companies at the time, were responsible for constructing skeleton or injectable foam of the bridge, and how the bridge to be shipped to the area. The bridge was transported to the army's logistics garrison in southwest Tehran. From there it was transported by railway to the south and then by truck to Khyber area. Each truck could carry at least six parts. If I am not mistaken, some six to seven thousand pieces were shipped to the area and the bridge was installed. We had operated where we could only support the warriors by boat. It is basically unacceptable in classical world wars to send an army and then support it by boat. The bridge was installed and then was connected to the road. Even more wonderful was Bethat Bridge that was installed on Arvand Rud. We almost filled cross section of Arvand Rud with pipe. The idea of ​​how heavy pipes carrying three of them in on truck to get to the area and be located in the middle of Arvand Rud where it should be and its pins to be connected was itself a process that happened with a creative mind, using tides and turning the pipes into air tank.
I show the two bridges to the students of architecture as influences of engineering debates in the war every September of the year when universities open; we usually haven't had opportunity to deal with this. Then the structures that we built in war changed according the threats arose. At the beginning of the war the Iraq fire was not heavy and our greatest threat was quiver. Trenches made of gravel bags, plates, timbers and the like were fruitful. When the Iraqi fire became heavier and trenches were subject to direct hit, the engineers thought and designed trapezoidal frames that more soil would accumulate and prevent quivers, but again they were not so sturdy against direct hit of cannon bullets or aircraft bombardment. I remember that Khatam Hospital in crossroad of Fath was the same. The hospitals did not resist when they were fired. The engineers in the war proposed concrete, and the commanders never believed concrete as an effective thing, until several concrete hospitals were to be built. Fatima Zahra Hospital in Chu'ebdeh, Imam Reza Hospital and a hospital in al-Faw were also constructed. One of the hospitals was struck by a rocket and one died a martyr. The structure of the hospital was not destroyed and they soon replaced the damaged part and the hospital returned to normal. After this a massive evolution occurred in the war on concrete structures that lead to forming a chain of field hospitals from Chu'ebdeh to Piranshahr. These hospitals had several features; they had many operating rooms. Some of them had eight operating rooms with full recovery equipment. There was also a helicopter pad and possibility of carrying the injured. After the war, the war engineering commanders claimed that we broke the record for the first moment of injury until operating room so-called Golden Time compared to the Vietnam War; USA with its equipment and facilities and we with the simple equipment. In any case, I recall Engineer Poursharif, who was in charge of supporting operations in the field of war engineering. I hope we succeed in reflecting some of these efforts, not for our own generation, but for posterity that if the country today has honors and is proud and has something to say, it is the result of hardships that have been endured through these times."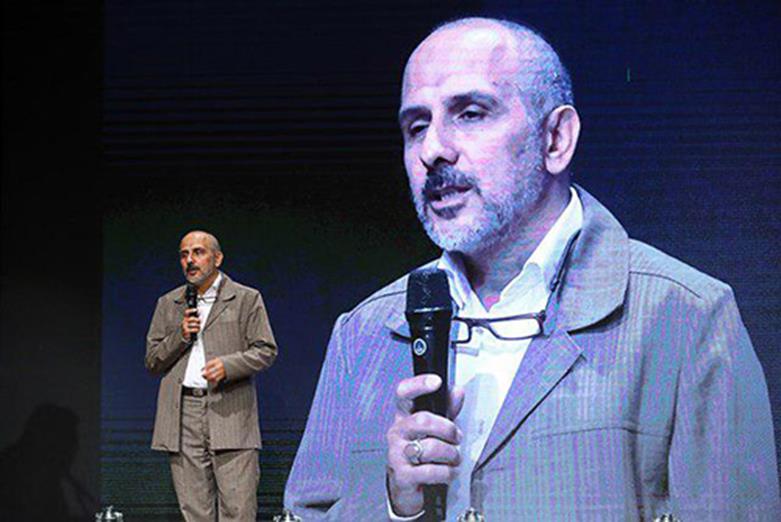 The whole solution!
In the following of 305th night of memory, Ahmad Ostad Bagher (in the sacred defense known as Sheikh Ahmad), one of narrators of "Bamu", told a memory: "Bamu is a height in the northern end of Zahab Plain, about four hundred to five hundred meters away from Ezgeleh. It is a height which is twelve kilometers long and is six kilometers wide, which is about seventy square kilometers. It has 300 to 400 meters rocks on the four sides like an inscription. One of the difficulties we had was that our friends who went for detection faced obstacles. The first barrier was the counter-revolutionary who had stations and we had to go through their ambushes. Martyr Ghahramani was engaged with these ambushes and was eventually died a martyr by their attack. Our second problem was facing natural obstacles; climbing rocks while it was usually impossible to cross those paths.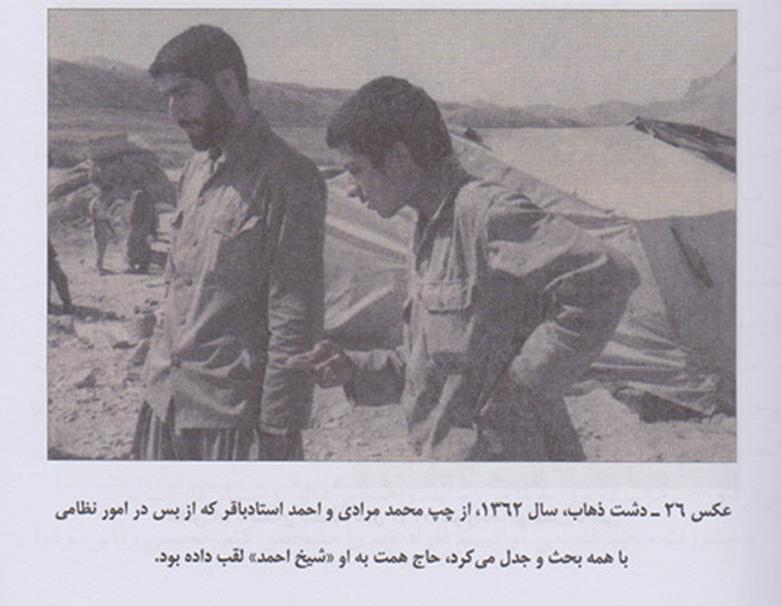 Concerning the hole solution, I should say that geologically Bamu structure is such that under a fold there suddenly rises four hundred to five hundred meters from the surrounding terrain, creating a rock and grooves in which upon one of these grooves, from Above, a rock about sixty cubic meters has fallen and crushed. This is related to millions of years ago. We got help from our friends when we wanted to cross and climb Bamu. There was a resolution to pass across rocks and reach a surface that was about one and a half to two square meters, then we had to take the wall, where included only our first knuckles and also at night, and went up. The hole solution was where stones on the rocks had fallen and we had to pass a hole, pipe-like, and climbed. Inside the hole we climbed, it was so narrow that it was impossible to climb. We wore thermos, grenade and gun at our waist. We had to take them off, someone would go up and handed them. In the hole, we had to press our bodies to the walls. Since it had no edges, we had to press our feet downward, and with that pressure, we climbed a few meters in order to get to a point with climbing handhold so that we could cross. At the end, there was a five to six meters cliff. In the cliff, we would also have to approach our hands and legs in places we already knew and moved. A few times our kids had fallen from above. If we couldn't catch them, they would have to climb again. We climbed that hole dozens of times. If someone's body was a bit fat, he would get stuck in the hole resolution. We lifted up Martyr Ali Akbar Hajipour, who was commander of Amar Brigade of Mohammad Rasulullah Division, for the first time from there. The rocks that are there, in the conventional sense, are out of marble. When we wanted to climb these rocks, our bodies would stick to them and all our clothes would be torn. At that time, we were given clothes in a six month ration. Artesh forces were given one pair of boot in a year rations, we in a two year ration, and if it was intact, the kids wouldn't get the portion. When we got into Bamu and started detection, we tore a pair of boots every three months. So we said many times to the division logistic, brothers! We need, they didn't listen. We went to higher-level meetings in tattered clothes and everyone laughed at us. We had to wear plain clothes. They asked us why you wore your personal clothes. If we put on Kurdish clothes, there would be another problem. We were in straitened circumstances in terms of food too; because we needed a food to give us physical strength to climb the rocks. It should be a special kind and they would not give us that kind of food. They treated equally.
Brigade commander at the top of Bamu
When we took Martyr Hajipour at the top of Bamu for the first time, he got stuck in the hole because he was belly. He neither could go up nor down. Companions held him hand and lifted him up. He couldn't breathe and suffocated. Then he climbed Bamu and saw there and the remarks he wanted to say became complete. When we came back we had to come with the same hole solution and he got stuck again. One of the kids stood on his shoulders and pressured from above so that he could cross and go down. We were worried about what to say if, with the pressure that comes, suddenly there would be loosened and he fall six meters down and his hands and legs to be broken and get hurt. We are told that you have taken the brigade commander and troubled him! Alhamdulillah nothing happened to him. They brought him down and took care of him. He was an athletic man. He was no one who wouldn't have fought and climbed up and down the mountain. At the end of the route we took him down the next night, our friends lifted him up from sides and pulled him. As if when he got down, he got on a Toyota and went back to the division headquarters and to Ghalajeh, and didn't come back for a week.
In front of us was a plain we overlooked. We had ordered that no one come and much commuted so that Iraqis would not count our movements and to know where the next operation would be. Suddenly, I saw a Toyota in that day in that plain was coming toward us fast. If anyone wanted to come, he would have to come at night. I told the troops, "Go ahead and arrest him." They went and when came back all were laughing. I asked, "What is it?" They said he is commander Hajipour. I was ashamed of the order I had given. I told him, "You know the conditions, why did you do that?" I saw the Toyota was full of groceries, clothes and shoes. He said to me, "Take this presently. Whenever you need food, compote or groceries, tell me, I myself will bring for you."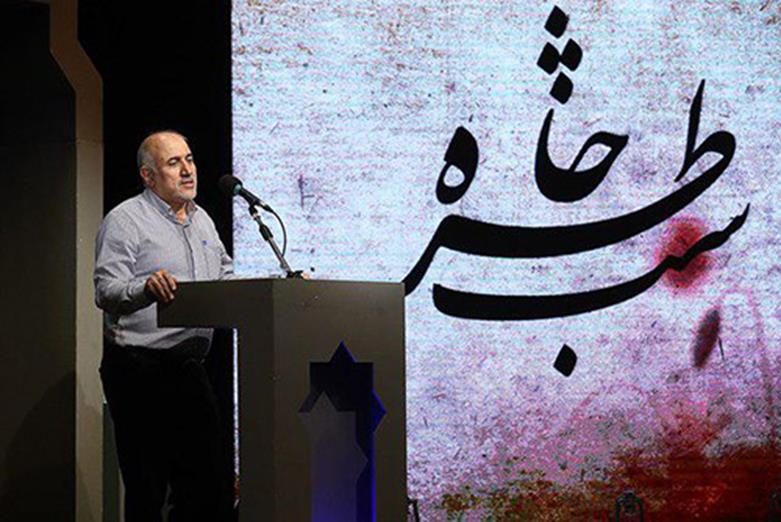 The hardest war zone
The last narrator of the program was Massoud Shadloo. He said, "I was in Bamu for a very short time, but I became intimate with Majid Zadbud in that area, so I did my duty to remember this great martyr. Prior to Operation Bamu, in operations Valfajr Moghadamati and Valfajr-1 when operation intelligence warriors of the 27th Mohammad Rasulullah Division were present, the role of this noble brother was very prominent. At that time, I was instructor of Imam Hussein's (AS) Garrison. I visited Martyr Majid Zadbud for the first time during Operation Valfajr Moghadamati.
In the early year of 1362 SH (1983) in the Bamu area, my role was as I participated in operation intelligence and then I would return to Imam Hussein's Garrison and presented operation intelligence trainings to various commands. My relationship with martyr Ebrahim Hadi dated back to Operation Valfajr Moghadamati. He presented in operational area that a number of loved ones had left in the canals. I had the honor of being alongside Komeil and Malik al-Ashtar battalions of the 27th Mohammad Rasulullah Division. On the third night of Operation Valfajr Moghadamati we passed the front line; something about ten to fifteen kilometers far from the axis on which famous Komeil Battalion attacked the line and we crossed the famous canals of the operational area. Ebrahim Hadi was alive then. Abbas Zandi and I were missioned for the third night. Our left and right divisions could not advance with the 27th Mohammad Rasulullah Division. We received retreat order from Saeed Qasemi, Operation Intelligence Officer, by portable transceiver. The commander of Malik al-Ashtar Battalion had died a martyr, and we were able to find a road and bring back about two hundred people with help of maps and compasses that we taught the warriors how to use them. If the sun rose, the warriors would definitely be cut.
At the time Operation Valfajr Moghadamati had been leaked but several thousand of our young men did their task; a task that has a different meaning today. Other words are stick to it. The difference of operation intelligence warriors with ordinary forces was that they knew the operation would fail and stand. Martyrs Mohammad Rahat, Majid Zadbud and Ebrahim Hadi differed from other combatants in knowing that the operation would fail, but they stood. Today, our country needs such people. In Valfajr Moghadamati operation intelligence warriors realized the contrast between love and reason with love. They told martyr Mohammed Rahat that you have five children, why are you going to lead Ashura Division, an army that you do not even know it, and you want to lead them at the night of the operation? But Mohammed stood. He was shot at the first night of the operation and remained on the battlefield, and his corpse was brought later.
In detecting Bamu, people who knew the land, enemy, and atmosphere, was able to tell the commanders that your plans are wrong and this is very important; because of that not to operate in the area became valuable. Operation intelligence was a unit in the time of war that had to know more than all the enemy and region. Majid Zadbud was alive after Valfajr Moghadamati. I would commute Imam Hussein Garrison. I had assigned a mission for myself to read war books, be in the war zone, learn from these dear ones, and turn these to instruction and notebook under title of company commander, battalion commander and brigade commander and present them in the garrison. I was a trainer and that was my role. The year 1983 I was accepted in Amir Kabir University. Before that I went to Sarpol-e Zahab for about 25 days. Majid had a great motorcycle. He said to me, "Get on and let's go and see the area. Visiting the area will help you because your work is analysis and planning." At that time I would hear about detection by Martyr Hojjatollah Ma'arefvand's team and Mr. Ostad Bagher's team, but I was not with them. It took about two days to see the whole area. I became aware of challenges and problems of this region and generosity and greatness spirit of Majid became apparent to me. With his explanation of the area and detection of Bamu showed that he had worked hardly there. Operation Valfajr Moghadamati was confrontation of love and reason, and Bamu detections were contrast between reason and love with nature. The hardest war zone from Kurdistan to the South is nowhere else but in Bamu. In this detection, our understanding of nature was such that we were able to influence the designed plans of the war commanders. But in Valfajr Moghadamati concept of protection, as it should be, had not yet been formed. They had built dunes in Dokuheh Garrison and explained the area to everyone. Monafeqin forces escaped through the warriors and leaked the area."
The 305th memory night of the sacred defense was held by the Center for Studies and Research on Resistance Culture and Literature and the Office of Resistance Art and Literature in Sooreh Hall of Hozeh Honari on Thursday, August 29, 2019. The next session will be held on September 26.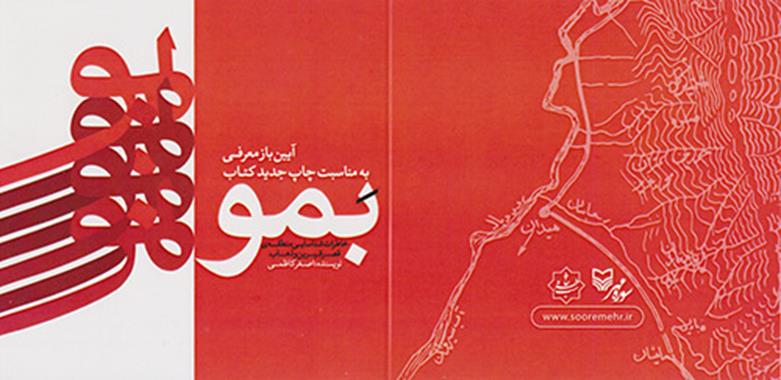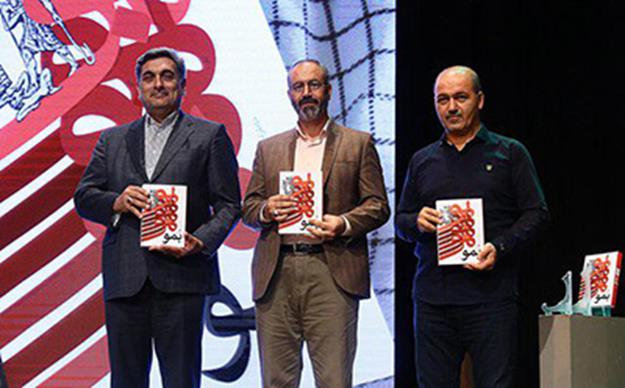 Number of Visits: 1048
---
http://oral-history.ir/?page=post&id=8788
---