Oral History Workshop – 15
Book engineering
Shahed Yazdan
Translated by M. B. Khoshnevisan
2023-03-14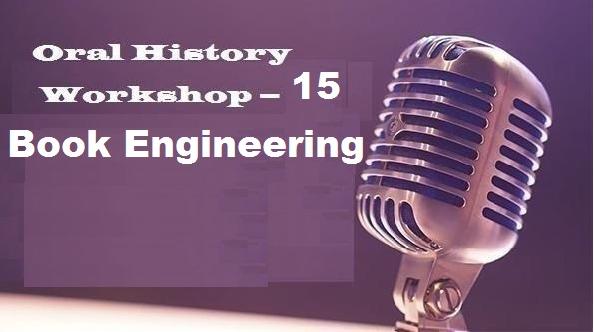 The oral history website is going to provide the educational materials of some oral history workshops to the audience in written form. The present series has been prepared using the materials of one of these workshops. As you will see, many of the provided contents are not original or less said contents, but we have tried to provide categorized contents so that they can be used more.
***
Book engineering
Book engineering includes cases that should be considered in addition to text preparation. Although these cases that will be explained further, may seem small or unimportant, their collection will play a very prominent role in the success of the book. Paying attention to them makes the reader understand the value of the work more and more.
-Book's name
The first point regarding book engineering is its name. Just as it is not customary to use metaphorical names for scientific books, if an oral history book is viewed from the perspective of a scientific work, a direct name should be chosen for it. Even if the publisher wants to use metaphorical names to sell more books, you should resist this.
-Cover design
Cover design is an expert work and should be carried out by a professional designer. As the compiler, you can express your opinions about it, but you have to trust that expert and let him do it professionally.
Regarding the cover design, the point is that the designer needs to read your book in order to give you the best result, otherwise we can't expect a professional work.
-Publisher's introduction
The publisher also has the right to insert an introduction or foreword in the beginning of the book, up to a few pages.
- Book's publishing
The quality of book printing is one of the things that should be paid special attention to. Some printing houses may lower the printing costs with some tricks, but surely this low printing cost will lead to a decrease in the quality of the work.
If possible, the quality of printing and binding should not be sacrificed for the low cost of its production.
Dr. Mirshamseddin Adib Soltani has written a book titled "Guide to Preparing Books: For Authors, Translators, Editors, Media, Librarians, Publishers, Printing Houses and Book Lovers" in 1381 (2004), which was published by Scientific-Cultural Publications and with more than 1200 pages, it has provided detailed explanations about book engineering, including cover design, fonts, titles, size, etc.


Number of Visits: 635
---
http://oral-history.ir/?page=post&id=11099
---