Interview with Farah Talebi, Wife of Martyr Mohammad Karimi
The Narrative of Resistance
Interview & adjusted by Maede Shahnazari
Translated by Ruhollah Golmoradi
2022-05-18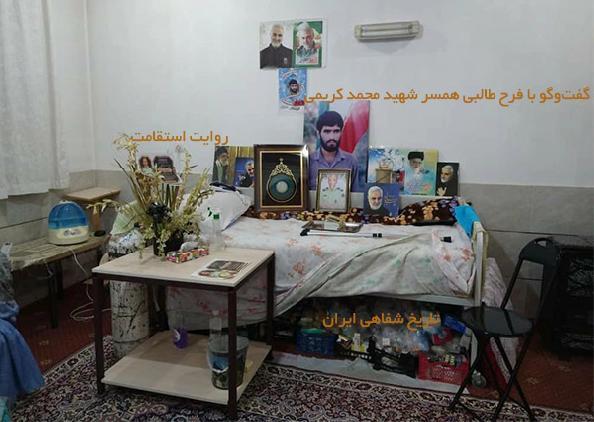 In March 2022, we were informed that Colonel Hajj Mohammad Karimi, after years of suffering from injuries and diseases due to the imposed war, joined his martyred companions; a man I was waiting for to publish his oral memories. On February 21, 2022, his body was escorted on the shoulders of Nain people and was buried in the hall of martyr's cemetery of Mazraeh Emam Village in his hometown; on this occasion, we had an interview with the wife of this martyr:
■
Mrs. Talebi! Please tell about yourself first; how did you meet Hajj Agha? Did you have any activity other than caring for him after marriage?
I am Farah Talebi Mazraeh Shahi, wife of the late veteran Mohammad Karimi Mazraeh Shah. The marriage resulted in a son named Rasoul Karimi. Regarding that how we became familiar and got married, I must say that because Hajj Agha and I were relative, we were introduced to each other by our relatives according to that they had known both of us; as well as, because he was rarely on leave, and on the other hand, both his family and he himself considered the marriage to be complementary and as protecting half of the religion, when he was on one of his short leave, we became familiar and did first talks, and all the ceremonies were held in a very simple way. Haji was my cousin, but we didn't meet each other much. My family and I lived in Tehran, and before that I had never seen Haji in that way. Once we had gone to the village, when we went to my aunt's house to visit each other, Hajji, who was then a young fighter, arrived. Since I had heard of him before by many relatives, I was very happy to visit him. Without asking my mother's permission or notifying her, I quickly approached him and hit his hand fully unconsciously and involuntarily, and I said, "Hi, Mamad (Mohammad) Jebhei (some who go the front)", but Hajji, who did not expect my greetings and this act, was taken aback, and, it seemed he became upset. He leaned and unbuckle his bootlace and immediately went to his room, and slammed the door. We entered his mother's room and then left his house. I was also very worried that my mother would quarrel me later because of this behavior, but she didn't say anything and it ended well.
That same night, at Hajji's father's house, they talk about proposing. Haji's brother-in-law gives him a list of names of relative's daughters to choose one among them. Interestingly, my name was the last name on the list, but Hajichooses my name. After dinner, his family came to my uncle's house, where we were also guest there, and there they proposed marriage to me. The elders began to tell and narrate old stories and conditions of farms and agriculture, etc. ... but Hajiprotested, "Please leave these for later and go back to the main issue."
The elders also accepted Hajji's demand with a sweet smile, and the rest of the meeting was about deciding Mahr and other aspects of the proposal. Finally, at 3:00 a.m., our marriage was solemnized, while the relative's children had fallen asleep in the wedding room and around our Sofreh Aghd. Hajihad never seen me clearly until then, and at the time of the marriage, I had covered my face with my Chador. After the marriage, Hajidrew my chador back a little and said, "Let me at least see what you look like? Let me see who I got married to?" The next morning Hajiimmediately returned to the front and I went to Tehran with my family. I could not visit him for a long time, as I had even forgotten his face and when he returned to Tehran to treat the wounded, I recognized him because of presence of relatives around his bed.
Also, regarding my job, in the last 14 years ago, since the opening of Police +10 office, I have been working in this office. On the other hand, considering that our house is located on the upper floor of the office, I visited my husband several times during a day and recently I kept him permanently. That is, I both took care of him and worked in the society.
I was in the charge of internal management of this complex and Hajj Agha himself managed the complex. But recently, I went there much less because Hajj Agha needed much more care and was in poor physical conditions. He insisted me being with him all the time. He told me your hands had a special warmth that soothe my pain. Hajj Agha also needed dialysis three times a week due to the injure by the war, and I had to take him to the hospital myself. Of course, sometimes my brother and son also helped me, but mostly I would take him on my shoulders and move. Whenever oxygen capsules finished, I myself had to move and connect the capsules. Even when my father died, I was unable to go to Tehran for his funerals, seventh day, 40th day, and death anniversary ceremonies. I was neither willing to go nor Hajji's conditions allowed. Once I told Hajj Agha, "If you die, I would be very lone, I have nobody." Haji said, "well get marry." I said, "I cannot, I have got used to you." Later, he said, "I will wait in other world so that you will join me." I couldn't really sleep a wink in the last three months. I spent three months of sleepless nights. After his funeral, I told his niece I am wilting out of drowsiness and I fainted there. When I regained consciousness, the emergency cadre stood top of over me.
During the last three months when he had severe leg cramp and could not even be moved on the bed, we provided for him an electric medical mattress suitable for bedsores. He was so restless and uncomfortable upon this mattress that I had to remove him from bed. In some ways, he felt that this mattress was a luxury and aristocratic device. When his pain intensified, he let me put the mattress on his bed again, but he still wouldn't let me turn it on. Only when he slept, without his knowledge, I switched it on for a few minutes. Recently, even at bedtime, he insisted on me to be with him and not keeping my hand away from him. As much as I said I couldn't and I had a work to do, he wouldn't accept it.
There were so many drugs that everyone who came to see us would be surprised and said, "How do you not mix these up?" Haji said, "Hajieh takes care."
He himself willed to donate all his dialysis medications and injections to poor patients, and we fulfilled it too. We have donated dialysis injection drugs and we will soon donate the rest of the medicines.
He willed me not to seek welfare services of the Foundation of Martyrs and Veterans Affairs after his death. Even when we went to Isfahan Medical Commission with the Foundation of Martyr's ambulance to increase disability rate of Haji, he became very tired, and, because he waited and was annoyed about five, six hours, he said I would not pursuit this again.
After martyrdom of Haji, in a call they had with me from Police +10 office, considering that our office ranked first in giving service, they asked me to take over management of this office after Haji.
What about this Hosayniya downstairs in your house?
The Exhibition of Beit al-Zahra was created at the suggestion of Haji financed personally with the aim of reminding the martyrs and their memoires, familiarizing the younger generation with legacy of the martyrs, and for holding prayer ceremonies and Rawda Khwani in an atmosphere appropriated to the front. For example, the used palm trees in this place have been transferred from the south and are currently there too. It is interesting to note that about a year before martyrdom of Haj Qasem Soleimani, he also came for a short break to the same place that is now Beit al-Zahra and blessed it. Of course, due to some security issues, we did not quote this story anywhere before his martyrdom and we took precautions. At that time, here was not like the present and in the name of Hazrat Zahra Salam Allah Aliha.
Tell us from Haji, on what date and where he was born, what about his education stage, and how did he enter the arena of struggles and battlefields?
My husband was born on October 22, 1964 in the village of Imam Mazraeh [(formerly Mazraeh Shah)] in a religious family. He was the second child of the family and passed his elementary stage in the village of Mazraeh Imam, but continued his education like other students in Naeen city, and later, at the same time, attended the battlefields and completed his education at the military associate degree. After studying in 1977 and 1978, he started to work in his father's bakery in the north of Tehran, according to the past tradition when teenagers and young people worked during the holidays and they themselves paid their expenses. At the time of the revolution and the turmoil in Kurdistan, in the complicated conditions prevailing in Kurdistan, it was not possible for many Basij members to attend because of their young age; but as soon as the imposed war was started, because of his love and interest in the struggle, while he had not passed military training, he went to Sanandaj at the age of 16 and served in Towhid Garrison for about five months and was then transferred to Darkhovin.
He was in operational areas informally since the beginning of the war, and of course, quoted by himself, has no evidence of that era because his presence was informal. At that time, when he continued his unofficial struggles, he had the honor of being comrade of Shahid Beheshti and Supreme Leader (Ayatollah Khamenei) in 1981. He participated in the Operation Commander-in-Chief and the Defense Zone known as Khat Shir, and officially participated in the rest of the operations after deposing Bani-Sadr.
Regarding his injuries I should say that due to chemical injuries, that quiver had hit one of his kidneys during the war, and kidney drainage, chemical materials influenced all his bodies during the war, and with the loss of his other kidney for more than twenty-several years he was under continuous treatment and dialysis, and he was unable to do kidney transplantation due to chemically induced pulmonary problems. It wasn't a kidney either. Recently, due to these issues, he had severe osteoporosis, and also due to continuous coughing his ribs broke; blindness and deafness from one ear and eye, and visual impairment and hearing loss from the other eye and ear, and lately hip fractures and severe lung infection weakened him further; finally, all these cases came together to his ascension [(metaphorically, his death)] after many years of enduring the disease.
He was never unthankful, and of course, I was careful that God forbid that he would not be unthankful. He always considered these diseases and pains to be gifts of the Ahl al-Bayt (a.s), especially Hazrat Zahra Salam Allah Aliha.
What were his responsibilities during his presence at the front?
He had been initially dispatched in the form of a simple Basij member. After that, he was active in the intelligence unit of operations and enemy identification, and during the post-war period, he also worked in the 14th Imam al-Husayn Division (a.s). With the formation of Disciplinary Force, as this institution needed efficient force, he was transferred from IRGC to Disciplinary Force, and worked as the deputy commander of Naeen's Disciplinary Force and the Commander of Shahid Sherafat gateway. As far as I remember, he had been involved in operations Commander-in-Chief, Chazabeh, Tariq al-Qods, Ramadan, Muharram, operations Valfajr 1 to 8, various harassment operations, operations Khyber, Badr, various operations of Karbala (4 and 5), etc. He also participated in the 14th Imam al-Husayn Division (a.s) and Imam al-Rida (a.s) Division.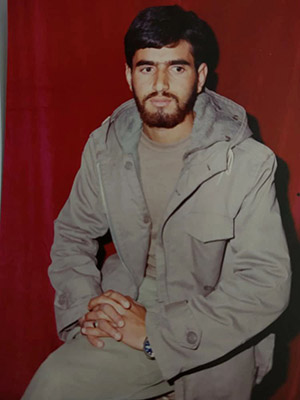 Tell us about the memories he had told you from the Front.
Let me give you his own implemented text. For example, I tell you the memory of his injury:
On the morning of January 11, 1987, we were inside the trenches when Iraq began chemical bombardment. They struck the space between the two bastions with a rocket. We all 16 people were chemicalized with mustard gas before we could use the mask. A number of my fellow-feeler fighters died a martyr, some of them were also retreated. I remained on the front and didn't come back. I felt I hadn't been hurt, but in the evening, the guys told me that your face is black and blistered. My eyes were red too. I was better than the other guys who had been chemicalized. In the morning of the same day, because we didn't have bread, I had eaten only some honey. I had been sent to a field bath. The bathroom water was very cold. When I came out of the bathroom, my eyes were in severe pain and I couldn't see anywhere anymore. I was nauseous and vomited all the honey I had eaten in the morning, which had become extremely bitter and disgusting. That's why I hate honey for a while. About two hours later, I was retreated by ambulance. I didn't see anything during the journey, and the light of cars coming from the front annoyed my eyes so much as if they sticked needles in my eyes. At first, they took me to the golf base, where we waited for several hours to dispatch. We were detained so much. I heard one of my fellow citizens. He was Mostafa Imani. I told him to dispatch us, we feel much pain. Eventually, the guys who had been chemicalized were transferred from Ahvaz to Tehran by train. The train we boarded was slow-motion and stopped at all stations. It took us 24 hours to get to Tehran, and during this time, we were not given any food. It was extremely difficult as it was difficult for the guys to go to the toilet. They found the toilet through touching the train walls. After we reached Tehran, they tardily transferred us to Azadi Stadium, where those who were in worse condition were transferred to the special ward and they wouldn't allow anyone to visit them. I was sent to a gym. As I arrived, my blisters had increased and blackened, and the effect of chemicals on my skin had begun. Many of the guys also had died a martyr. Of these 16 comrades, only one from Kashan, one from Isfahan and I survived. Some of us were taken to Germany for treatment when they died eventually a martyr. It was March 1987, when I returned to the front. At the point, Haj Husayn Kharrazi had died a martyr and the operation had been stopped.
I also remember a memory of Shahid Kharrazi, who Haji said: "A few days before Operation Karbala 4, I was guarding one night next to Arvandrud. Our trench was in front of an old castle that was 50 meters away from Arvand. I saw someone coming out of the castle and coming towards me. I didn't see his face, when I asked: "Who are you?" he said: "Hosayn Kharrazi." He entered the observation trench. Iraq fired flare continuously. Haj Husayn knew that I was of Naeen guys. I said, "bless me" he said, "Mr. Karimi! we on the point of death, you stay, you experience mental and physical hardships, be careful that it is a test and be patient."
Don't you have a memory of the days of his injury?
When Haji had been sent to Tehran and was hospitalized at Azadi Stadium, my family first hid it from me and my mother told me, "We want to go to your aunt's house." I had just arrived from the school and was very tired. I said, "I will not come. We were at the aunt's house last weekend, it's just only Monday" They insisted, "This time it's an exception and they insisted that let's go, you won't regret." Anyway, they took me. When we arrived at Azadi Square, I had a hunch that something had happened and they were hiding from me. I asked my mother, "What happened?" and she and paused said, "Nothing, Mohammad was slightly wounded." I entered the Stadium agitatedly. I was worried if even I saw him, I wouldn't remember his face. I set eye on my aunt and my uncle's wife who had stood top of over Mohammad. I quickly went toward them. Mohammad sat in a chair and was seriously injured. I quickly went forward to hug him, but the nurse who was there stopped me, saying, "This patient has been chemicalized, and if you get close to him, you might chemicalize too." I stood in front of Muhammad and starred at him. His eyes were so swollen and his head and face were full of blisters. He didn't have vision at all and he didn't see me. When he noticed my presence, he called me and said, "Come on, I want to say something." I approached my ear to his mouth and he said slowly, "you didn't cry, did you?" I said, "Why cry?" he said, "I want you to be patient like Lady Zaynab bint Ali. Firm and strong." I said, "aye aye sir, whatever you say." It was two hours for visiting time, and in the two hours I was there, he was close to tears as much as, when two boxes of tissues were used to clean them. I stayed with him until end of the visiting time. I was the last person that left the hall.
The hall where Haji was hospitalized was covered with a turbid window glass around him. I had much trouble for watching inside his room, but I as found an opportunity, I would still go to the stadium immediately and look inside the hall through these opaque glasses. It was also to my advantage to visit him and I met him many times through glass.
I went to the stadium as many as in the days to visit Haji that nurses complained and asked Mohammad, "Who is this woman who visits you every day?" Haji denied it at first and had said, "she is a poor guy, let her be relaxed." But nurses hadn't accepted and said, "this lady isn't natural at all. She is very worried, come and go, and insists on seeing you and being with you." Finally, Haji had said, "she is my wife and we got married recently."
Unfortunately, his eyes had no vision at all. No one even hoped he would remain alive; they would open his eyes hardly to put eye drops medicine in his eyes. One day, when my brother visited him, he told me he tilted his spoon due to his injuries. Haji always tilted the spoon and ate, and it reminded me of the same day my brother had come and narrated this.
One day when I was coming back from visiting Haji, it was near noon adhan and I was very upset and nervous. I remembered one of the first days of my marriage when there was talk of hardships of living with a chemical veteran. Suddenly, I turned to my mother and said, "I love my husband even if he's injured, even if he has a spinal cord, even if she doesn't have eyes." My mother quarreled me and yelled at me, "what are you saying? How did you come to this mood, girl? Do you really want to live with such a husband?" It was when I told myself, my God, I made a mistake. At least give him his eyes to him so he can eat something himself. Haji's treatment lasted, but thanks to God, his eyes were treated gradually.
I remember that the first day he was transferred to Azadi Stadium for treatment, he asked me to take his clothes as a memento from the cadre there. They gave me his clothes which were contaminated with chemicals. I also put clothes on my hands and kept them in the same state all the time. For a moment, I felt my hands starting to itch and burning. I said, "I don't know why my hands are burning." Nurses noticed what had happened and took the clothes from me, washed my hands, and bandaged me. They put the clothes in a nylon and returned them to me. I still kept them to myself as a keepsake. At the same time, I washed them seven times and spread them out for seven days under direct sunlight so that they would no longer cause any complications, and I put them in nylon and kept them in a special place.
Tell about the post-war and Haji transfer to Disciplinary Force.
He had two posts in Disciplinary Force; one was the deputy commander of Disciplinary Force and the other was the commander of the new gateway, whose task was to combat smuggling goods. At the time of his task, he didn't sleep at home even a single night in a year. He worked full time. He would come home only to take food and water, and immediately go to his workplace. He didn't use Disciplinary Force food either. His only use of Disciplinary Force facilities was to use water for renewal of Wudu. He sometimes rested in the car. It was not as if they had not provided him with facility. They had bought the best tables and chairs for his room, but had no opportunity and constantly worked outside the office. From 1983 to 1996, and 1996 until end of his career he worked in the disciplinary force. He was a colonel and eventually became Brigadier General and retired with a rank of 27.
Do you give us information about publication of Haj Mohammad Karimi's memories?
Yes! Some measures have been taken in order to compile Haj Agha's memories in the form of a book, but it fundamentally requires editing and changing the layout and framing, and Haji himself didn't like the book in this amateur way. So, we are currently unable to publish and it is unlikely that the book will be published and released soon.
Once Sardar Rastegarpanah came to our house and wanted to make sure about dates and accuracy of Haji information, and verify them. Therefore, he misrepresents date of one of the operations, and Haji immediately recognized that this date was wrong and reminded him. Then Sardar Rastegarpanah said I wanted to try to see if you remembered everything carefully. He himself created this opportunity for these oral history interviews and reports of Haji.
Regarding martyrdom of colonel Mohammad Karimi, I must also state that his case is still ongoing in the Medical Commission and a definitive answer regarding official announcement of his martyrdom is being pursued. In fact, at the request of officials of the Foundation for Martyrs and Veterans Affairs, a case was filed to increase rate of his disability, and his medical exams were hardly carried out. Isfahan Physicians Commission's opinion was positive, but Tehran Commission rejected the case. Again, at the request of the same officials, the case was docketed, and exactly the same day Haji died a martyr, the commission's letters were received and now it is still being pursued. However, the dear and martyr-nurturing people of Naeen city have spontaneously printed banners and posters, and installed them in the city as Rashid-e Shahid.
On the last day, due to chemicalization of the lungs, his blood oxygen had decreased to 33, when I informed his doctor, they said, "He should be hospitalized immediately or he will not survive." Finally, after dialysis and during hospitalization in the special ward, he meets his death.


Number of Visits: 1464
---
http://oral-history.ir/?page=post&id=10544
---