SABAH (75)
Memoirs of Sabah Vatankhah
Interviewed and Compiled by Fatemeh Doustkami
Translated by Natalie Haghverdian
2021-09-14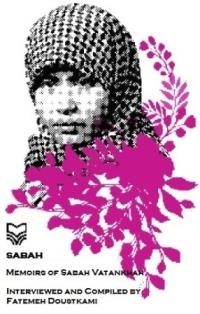 SABAH (75)
Memoirs of Sabah Vatankhah
Interviewed and Compiled by Fatemeh Doustkami
Translated by Natalie Haghverdian
Published by Soore Mehr Publishing Co.
Persian Version 2019
---
Ebika company was between Sarbandar and Mahshahr, right after the camp B station. As Saleheh said Ebika was a company for foreigners that army took charge after revolution and start of war. I asked Saleheh to take me to the company to visit her friends. I knew some of her friends prior to the war. Robab and Sakineh Hoursi, Fatemeh Deyhim, Banouyi, Kobra Aref Zadeh and Fatemeh and Narges Bandari were those individuals I knew. Saleheh accepted.
Next morning, we went to Ebika. My stories from front was interesting for the girls. They had gathered around me and asked questions constantly. They wanted to know about the front and the events that had happened in the past three months. I talked to them for a long time. They asked: "Why have you stayed here and do not return to front?" I said: "I have come to visit my family. Meanwhile the Zolfaghari front is stabilized and the situation is static and there is no use to stay there."
I stayed in Ebika for two days and returned home.
It had been a while that Fouziyeh had come out of Karevansara hotel kitchen and had gone to Taleghani hospital as aid worker to help the nurses. The day that Fouziyeh was supposed to come to Sarbandar, my mother had cooked rice and Zobeydeh fish. Thanks God she was feeling much better since we were around. She also cooked. We were having lunch that Fouziyeh said: "Sabbah I have an important news. Ghasem Farrokhi has been martyred! They brought his body into the morgue[1] of the hospital two days ago."
As soon as I heard the news, my food got stuck in my throat. I felt so shocked hearing this news that I could not swallow my bite. My mother gave me a glass of water. I did not believe that Ghasem has been martyred. I felt so sad that my throat was aching. I tried very hard to pull myself together and asked: "Fouziyeh, are you sure?" She said: "Yes I am sure. I saw him myself."
For a moment I remembered my dream last night. I had a dream in which me, Belgheys, Ghasem Farrokhi, Abbas Alivand and Dr. Sa'adat were sitting around in a trench. All of a sudden, a sharp and cutting item which I did not notice what it was, hit my head and burnt my skull. The trauma was so severe and painful that I woke up suffering from burnt and pain. In the morning when I woke up I had a strange headache and was not feeling well till noon. My dream was interpreted and the news of martyrdom of Ghasem Farrokhi hit my head like a big hammer. I told Fouziyeh: "this means that haven's buried him?" She said: "He was in the morgue today when I left. He will be buried today or tomorrow. The burial was delayed because his father should have come to take the body to Kazeroun. Maybe a coordination is needed to transfer him."
I felt that there is no oxygen and I am suffocating. I went out. I was looking for an isolated place to cry and feel light. The smiling and kind face of Ghasem did not go away from my eyesight. All the memories I had with him in the past walked in front of my eyes like a movie. In the corner of the yard I leaned and cried. My tears did not stop. Although martyrdom was really graceful for him but I don't know why my heart was aching and burning of the news. I went insie the room. I tried to control myself. I told my father and mother: "if you allow me, I will go to Abadan to participate in the burial ceremony of Ghasem Farrokhi. We were together in Zolfaghari front."
They did not object. Saleheh said: "Wait. Fatemeh Bandari and I have permission of leave from army and want to go to Abadan. Come with us." My mother said: "At least wait for tomorrow morning."
We accepted. It was possible that we could not get permission and suffer in the port during night.
In the evening I went to the photo printing shop to get my personnel photos 3x4 which I had taken a few days ago. They were ready. I returned home. I needed the photo to carry weapon. I was trying to get a permission to carry weapon since a while ago. Since the fifteenth day of first month of autumn when I took an injured soldier to Darkhouin field hospital and they took my weapon and did not return because I didn't have permission and I had to go to Abadan police station with Jounshan to get it back, I was following up to get a permission to carry weapon. I took the photo to get the card.
Next morning, I had a few bites of breakfast and left. We went to aviation. The aviation was a location in which the army forces helicopters commuted from Imam Khomeini port to Abadan. Since I had come with a permission, it was easier for me to get permission for returning but Saleheh and Fatemeh could have difficulties. Since Fatemeh had the sign of army on her overcoat sleeve, she had to apply though army for the permission. Saleheh was also in army but since she was wearing a casual jacket which didn't have a sign from army, they granted me and her permission. It was as if the spirit of Ghasem had got permission for us to exit Abadan and arranged quickly for our entry and we could get permission without the usual difficulties. Fatemeh Bandari could not come with us.
We waited for forty minutes for the helicopter to arrive. It was around noon that we reached Choubedeh. From there we walked to Khosro Abad road. A Toyota came and we got in and went directly to Karevansara hotel. Saleheh went to her friends and I stayed in hotel. In the yard, I saw Alivand. I greeted and said: "Is it true that Ghasem has been martyred?!" He said: "yes, it is true." I said: "How did it happen? Do you know?"
His eyes became wet and said: "last night we were in front and Ghasem went forward. They shot him with snatcher. He was martyrdom on the spot. The previous night, he had killed seven Iraqis."
I knew that he was not afraid of anything. Many times he disappeared for three four days. Later we would find out that he has gone to the front for identification. I said: "Where is he now?" He said: "in Taleghani hospital morgue … but good for him, at least before his martyrdom, he took revenge for his brother."
Alivand was talking and crying. I said: "Do they want to bury him in Abadan besides Mahmoud?" He said: "No. Mr. Farrokhi says he wants to take him to Kazeroun to be buried besides his mother's grave."
The family of Mr. Farrokhi's spouse were from Kazeroun and due to war, she and her daughters had gone there. I said: "Who will go to Kazeroun with the body?" He said: "I don't know. I will go with Mr. Farrokhi. I don't know who else is coming." I said: "Can I come?" He said: "No, sister Sabbah, you can't. we don't know how we will go and you can't come."
I said goodbye to Alivand and went to Taleghani hospital. I coordinated with the person in charge of the morgue and went inside. The morgue was not big and I didn't waster time to find the body. At first sight, I noticed Ghasem's body which was on the left side on the floor. I kneeled above his head. His body was intact except his forehead and skull. There was a deep cut on Ghasem's forehead and part of his brain could be seen. I couldn't believe his martyrdom until that moment. I always told myself that there might have been a mistake. But now …
Ghasem's eye were semi open. It was as if he could see me. I looked at his face. All of a sudden, Mr. Farrokhi's face came into my mind. Poor man had seen the martyrdom of two of his sons in less than two months. I could not believe that I was sitting above Ghasem's body. He was a revolutionary and brave young man who never talked about his love to martyrdom in front line. The goal of many people in war was martyrdom but he wasn't like that. Every time we talked about such things, he would say: "Don't worry nothing will happen to me!" Even when he wanted to progress for identification and his friends would tell him to be careful, he would say: "Be sure that I will return safe and sound." There was hope in all his words.
The morgue was half dark and only a hundred watt bulb was on. The breeze and darkness of the air gave me a strange sadness. I was crying in the silence of the morgue and was talking to him. Ghasem Farrokhi was the first martyr with whom I was saying goodbye. I told him: "My brother, we will meet on the other side. As you were always supportive of others and I in aid team, promise to remember us in the other world … promise that you will talk about us to God …"
I talked and cried. I didn't feel that I was talking to a person who is not alive anymore. It was as if Ghasem was sitting opposite me and was listening to what I was saying with tranquility.
I remembered every moment of risks we did with Ghasem. I remembered that once in Zolfaghari a mortar bomb hit near us and he and Elaheh lied on the ground but I just bended my knees a little bit. At that moment he started complaining: "How stupid you are Sabbah! Why don't you lie down? You don't wear a hat, you don't lie down!"
I could hear his voice. He was so angry that he could even slap me if he was not shy. Ghasem was dear to me like a brother and I didn't get upset if he reprimanded me. A deep sorrow was in my heart. I was sure that his comrades will miss him a lot in front line. Ghasem was a leaning point for us in front line. Wherever he was, we didn't worry about equipment, ammunition and food. We were never left unsupported. I could not stay more. The morgue environment was not comfortable to sit beside a martyr and talk. Usually everybody who came to identify or receive martyr, remained for a moment and left. I bid Ghasem farewell and returned to Karevansara hotel slowly.
In hotel, I saw Mr. Farrokhi. Fadaieyan Islam members had gathered around him. Everybody said something. Some were crying. Ghasem was dear to all. For those who were with him in hotel or front line, it was not easy to lose him. I waited until Mr. Farrokhi was alone. I waited for a few minutes. When other went, I approached him. I tried very hard not to cry when I was talking to him. I congratulated and offered my condolences to Mr. Farrokhi and asked: "What are your plans for the burial?" He said: "I want to take Ghasem to Kazeroun." I said: "when do you leave?" He said: "Today. I will go with Abbas Alivand and Akbar Lak."
Alivand was right. I could not accompany them in an ambulance where all were men and the distance was long from Abadan to Kazeroun. One instance I remembered when Ghasem was digging trench for us in Milk factory front line and asked what we will pay him! I had promised him that if you become martyr, I will not let your body on the ground. At that moment nobody thought that our joking words would turn to reality so soon. Who thought I would stay and the regret of attending burial ceremony of Ghasem?!
I returned to Karevansara hotel but I made my heart way to the burial ceremony of Ghasem. I was sure that I won't forget him for the rest of my life[2].
I went to Ms. Pour Heydari. In this situation she was the best person to comfort me with her words. She was like a mother to us and everybody felt calm besides her. I threw myself into her arms and cried. They had all heard the martyrdom news of Ghasem and were sad. Ms. Pour Heydari took my hands and started talking. She recited a verse from Quoran and said: "dear Sabbah! We haven't lost soldiers like Ghasem. We have just gained them. God has said that they are alive and are living with me."
Her words reached my heart. Whatever she preached, she did it herself. When her husband was held captive, she was very patient and accepted God's will. I stayed with her for a while and then returned to my friends in aid department. They were all sad. Among them Belgheys was crying the most. We had been long with Ghasem Farrokhi in the front line. The memories of those days kept moving in front of my eyes like a movie.
That night was a bitter and heavy night. I whispered curses about the war and its cowardice. I was not feeling well at all. I cried myself to sleep.
To be continued …
---
[1] Ghasem Farrokhi was martyred on 10 December 1980.
[2] I never forgot Ghassem Farokhi; Even years after the war; Even to this day ... the night when the author finished writing my memoirs, without knowing anything about it, Ghassem came to my dream happily and gave me the good news that this work was coming to an end. The fact that he was overseeing this work strangely encouraged me.


Number of Visits: 729
---
http://oral-history.ir/?page=post&id=10086
---