An interview with Golestan Jafarian, the author of memoirs of "Mirrorless Days"
I left everything to narrator
Faezeh Sassani Khah
Translated by M. B. Khoshnevisan
2017-04-19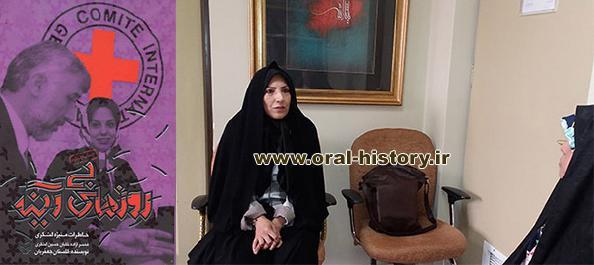 The book "Mirrorless Days" includes memoirs of Mrs. Manijeh Lashkari, the wife of war veteran Hossein Lashkari who spent 18 years of his life in the captivity of Saddam's army. It has been authored by Mrs. Golestan Jafarian and added recently to the sacred defense memory books. The release of the book by the Office of Resistance Literature and Art and Sooreh Mehr Publications provided an opportunity for the correspondent of the website of Iranian Oral history to have an interview with the book's author who is active in the area of the sacred defense for years and owns several works in this area:
*To what extent is "Mirrorless Days" based on memory-writing and to what extent on oral history?
*This is a professional debate and perhaps the experts can answer the question better; but in my viewpoint, the book is based on memory-writing rather than oral history, because the definition of oral history is clear. Questions are asked from the narrator and answers are received, and published with an edition and without alteration and amendment; but it is obvious from the framework of the book that it cannot be based on question and answer. However, I talked to the narrator for more than thirty hours the result of which is this slim book. If I wanted to work the whole interviews on the basis of oral history, the book's volume would very more than this.
*In fact you were not involved in oral history knowingly.
*Yes. It is correct. In my other works, I have also tended more to fiction and do not like oral history much for memoirs. I feel that memory-writing works better. It is short and brief. Especially for resistance literature, when it moves toward literature, it is more attractive for the audience.
*That you say you tend more to fiction, you mean that you have an alteration and amendment in the text?
*No, in writing the book, I did not use my imagination and mentality at all and it is based on reality. To me, it is very important in memory-writing that you are able to sort out thirty hours of interview word by word in the form of fiction. It means that memory should have the framework of literature and story. Your hand is open in framing and can move the text toward oral history, documentation and docu-fiction. When I say fiction or docu-fiction, the reader's mind should not be diverted that there may be an alteration and amendment in the work. No, in the structure of the book and for these thirty hours of interview, I decided to work in this frame. So, this book is totally based on the interviews.
*The book's narrator is a woman with special characteristics. Her husband is in captivity for eighteen years; she has no information about him for a long time and does not know whether he is alive or has been martyred and many more issues. Why has the memories of a man with such great features been written in 150 pages while it is a few years that paying attention to the details has become prevalent in memory-writing?
*Perhaps, my most voluminous book is "Four Seasons of Migration". Even the book "My Entire Thirteen Year Old" about the memoirs of Mehdi Bat'haeian had the ability to be written at least in 700 pages, but it is close to 400 pages. I like the memoirs to be short and not to be expanded very much. Thanks God, now that tendency toward resistance literature has become more common, I prefer my works to be slimmer. From the feedback I have received from the readers, I feel that they like this frame. They say that we read the book in a short time. I feel that this frame works better. It may be very difficult for me to try to write memoirs very orderly and on the basis of a clear framework. To me, it is very easy for a writer to write memoirs in 700 pages.
*Of course, there is still the question that when we face a subject which covers many memories, how did you become sure that thirty hours of interview is enough and that you have gathered the best memoirs of the narrator?
*See, the husband of Mrs. Lashkari was missed at the age of 20. She did not look at herself in the mirror until the age of 23. We are facing with a woman in this work who has weathered many crises and it took almost five years for her to be able to find herself. If I wanted to open the same five years and dealt with many other subjects to which have been referred in the book, it was very difficult to collect them and the book became very voluminous. These memories demand another opportunity and the frame of my work was not to work widely. The point I should say is that it was a miracle that Mrs. Lashkari was ready to have an interview and her memories are written. During this period, he contacted me many times and asked me not to publish this work. I talked to her again and convinced her. I said, "Let others know how you spent these years. If your memoirs are retold and read, it might be stressful for you now, but later it will cause your calm and feel that there are many men who have been suffered with your suffering and have cried with your tears. I promise you that if your memoirs are published, your mental conditions will improve, because you have divided this suffering with others and this is the law of the nature that whenever you divide suffering with others, you will be improved." It was very hard to convince her.
*Was one year enough for the interview for convincing the narrator whose life has been full of ups and downs? I ask this because the narrators according to their nature trust the other side very late and hard. I mean much time is needed that a narrator trusts his or her interviewer and starts talking and retelling the issues which they do not allow to enter in the initial interviews.
* I concentrated on the interview for one year in order to draw her view, allowing her to bring up her complaints about different cases in order to calm her mind. But it took a few months for me to be able to convince her. Whenever I visited her, her view toward me was so strange and full of distrust that I worried. I was worried how to conduct an interview with her. I have conducted interviews with different people for twenty years and was not an inexperienced woman in this regard. I was agitated several years ago, although I had the experience of conducting interviews with different people for a long time. But when I went to Mrs. Lashkari, I did not have any stress. The problem had been solved for me for years. I knew totally what I wanted from the interviewee, what the framework of my job was and how to draw his or her trust. Nevertheless, when I sat in front of this woman, I felt that I was totally disarmed, because there were loneliness, distrust, and tiredness in her eyes, and this had made the work very hard for me.
*How did you turn this strangeness into intimacy?
*I respect different thoughts really and wholeheartedly. When Mrs. Lashkari saw this spirit in me, she established relations with me immediately. I did not have even a curious look at her. The sufferings of this woman were so sacred for me and I was so humble before her that I feel that she understood me. I even did not show any reaction against her probable different appearance. I also did not show any reaction to harsh words. At the same time, I had similarities with her, and always worried how I spent my youth period, and this made us closer together. All of this caused the wall between us to be broken and the intimacy happened soon. After two or three months, she welcomed me with smile. We talked together and she told her memoirs more contentedly. She told eighty percent of her memoirs and did not tell twenty others which were very private and personal.
Mrs. Lashkari had told me that she had been invited many times by IRIB and other places. She looked at the interviewer and said I didn't interview him or her. Everyone who starts working in the area of resistance literature should have inner self-education and must not go to such people with a view which have been proved for himself or herself and with a mental structure which has been framed very much.
*We are facing in this book with a female narration; it means that the femininity aspect is dominant over the war. If we erase the name of the narrator in some books or interviews, it is not clear whether the narrator is a man or a woman. But here the female narration is totally obvious. Even, the book's title has been chosen on this basis. Talk about this subject and tell us to what extent it was important for you.
*It is a good debate. I have always been against male or female classification. The book's narrator is a woman who is very woman. She says why I could not be a woman and why my husband is not present to see my beauty? Perhaps, many of our women during the sacred defense did not think of such things and maybe looked at the mirror in their privacy and said that the wrinkles were the result of the sufferings they have tolerated. But appearance is important for Manijeh. She took photos in different ages in order to show them to her husband to see her in different ages. She wants to be young, dresses well, and lives modern. She is not a woman for whom the structure of the female life is not important. On the contrary, it is very important for her. One of her problems is that she says that the war deprived me of my femininity and youth. This proved me to what extent the female narration can be dominant over the work.
I have said this everywhere that I had no intent to divert it toward a special direction and left everything to the narrator. I did not concentrate even on the chapter of Hossain's freedom which I liked it very much. But I was intent on dragging the work toward female narration, because I can say that sixty percent of the woman's suffering is that she had not lived as a woman. Even when I found out that she had concentrated on this, I encouraged her toward this direction.
*What new experience did you gain especially in this work and in the field of interviewing the narrator and memory-writing?
*In my previous works, I have interviewed men or women who had much shaped and fighting minds. For instance, I have interviewed ladies who wished to marry with a revolutionary guard. Although they had suffered hardships after the martyrdom of their husbands, they were ready to face many difficulties in advance. In this work, I faced with a woman who had a different life. She said anxiously, "Why did I stay put in this situation without the right to choose?" When we face such a person, we cannot talk about memory-writing merely. I wanted to analyze the mind of a woman and a human who has been involved in a situation inadvertently. I felt that an earthquake has happened and shaken the life of this woman. A woman who has chosen a man who had been to America, lived modern, and was fluent in two languages and after eighteen years, faced a man who has memorized the entire holy Quran, and his thoughts have been changed. The thinking structure of the two has been changed totally; a woman who has waited for eighteen years for this man to come back but experienced new conditions with her husband. The woman has a complicated life. I think that my work on the memoirs of Mrs. Manijeh Lashkari is completely different with other ones.
Of course, a woman like Mrs. Lashkari was not unexpected for me. I had already interviewed the family of martyr Abshenasan and the conditions of his wife were close to that of Mrs. Lashkari.a woman who put much importance on appearance, and was very modern but became veiled willingly, believed in the way of her husband very much and believed in revolution and in fact, the structure of her life had been changed. But at that point, that development had not happened for the daughter of martyr Abshenasan and the question was posed to her why I should miss my father at the age of fifteen? Why should I be a member of Abshenasan family? And the name of Abshenasan has had many consequences for me? However, she is now reaching a mental maturity and knows her father. Now whenever she faces a problem, takes the holy Quran and Divan-e Hafez, and goes to the grave of her father; the maturity happens for such people.
I like the memory-writing to be dragged toward such people and they are provided an opportunity to say their words. It was a long time that I had understood this and wished to work on these people. It is at least five years that I think that resistance literature should go to the people who have spent this thinking line. Martyrdom is not a tragedy. To them, it is the missing of a loved one and this is the same tragedy. It takes time for these people to understand what way and why their fathers had gone. These people should tell their memoirs so that others know what sufferings they have tolerated. When I faced with Mrs. Lashkari, I thanked God for putting me in such a situation to depict the sufferings of a woman whose heart has prepared slowly for your examination and she did not think of being put in this path. That both of us were women helped us a lot. In the debate of oral history, it is said that it is not important that the interviewer is a man or a woman, but in different phases of the work, I concluded this is very important in relation with the narrator.
*The classification of the book's periods is almost like this: The narrator's memoirs until before the captivity of Hossain Lashkari in 71 pages, the narrator's memoirs from the years her husband was in captivity in 30 pages, and the narrator's memoirs from the freedom of her husband till his passing away in some 50 pages. Tell us on what period and why you emphasized more?
*Let me open a parenthesis here and add another part to this classification and that is the period of the unawareness of Manijeh from the fate of her husband which took almost ten years and she spent hard conditions.
*Of course this period can be classified in the same narrator's memoirs from years of his captivity …
*Well, all of the chapters are unique for me and I had no intent in highlighting a special part. I feel that every part of the book has its own special world. When the two made familiar with each other and married, it is so passionate that you do not believe that the joyful world of the couple is supposed to be ruined. Everything is wonderful there. In the next part, the war broke out and Manijeh was faced with a storm in her life. There, a special situation was imposed to the narrator too and we see a special form of the female world of the narrator. It is a strange world for Manijeh. She tolerated the loneliness and eventually found herself. Then, enthusiasms returned to her life and she decided to wait, playing her mother role very well. These are maturity for her. She decided to wait for her husband at the age of 27 or 28 and groomed her son without any complaint. When the Iranian POWs came back to their country from Iran, Manjeh became upset again, looking for her husband. She heard the sound of happiness and rejoicing from the houses of the neighbors whose husbands had been in captivity and now had come back, but she still had no news of her husband, suffering a crisis and despair again and this brought her a new situation. In this phase, we again witness her mental maturity. To me, Manijeh grew in this path. That is why I urge that we should find such persons. When she receives a letter from her husband that he is alive and asks whether she is waiting for him, again it is a new chapter for her. But in the chapter that Hossain comes back, it is a new world for her, she is facing with a man who does know him.
This life really has many ups and downs. I cannot say on what chapter I have emphasized more, because all of them are important in their own status. That is why I say that the work is totally the life of Manijeh Lashkari. If there has been emphasis in some parts, this has been on the side of Mrs. Lashkari not me, because the life of this woman has been so much full of ups and downs which placed no room for me to highlight. But if you ask which part was shocking for me and liked it, I say when Hossain came back him from captivity. Unlike others who think that the separation time had come to an end, I feel that the hard life of Masnijeh had just begun. I thought that the two were strongly strangers with each other despite their love to each other. At that time, such cases should have been treated tolerantly. The families got together again after years of separation and the wives and husbands faced with each other. The psychologist might be involved in such new relations, and other works could have been done but it was not! Perhaps, if I want to write a novel, I'll expand this chapter.
*Is it likely that more complete memoirs of the book's narrator is published or you suffice this?
*I think Mrs. Lashkari is still challenging with herself why I allowed my memoirs to be published. Meanwhile, it depends on the book's feedback. If she sees a positive feedback to make her calm, it is likely that she may be even ready to allow for producing a documentary.
*Thanks a lot for giving your time.
* I also thank you for the interview and the good questions which were asked.
Number of Visits: 836